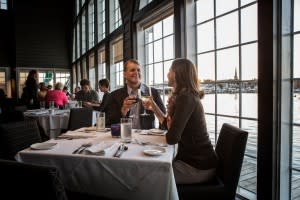 12th Annual Annapolis Restaurant Week Saturday, February 29 through Sunday, March 8 Participating Annapolis-area restaurants info@downtownannapolispartnership.org
Forty restaurants in downtown Annapolis and the greater Annapolis area will be offering two-course, price-fixed meal selections for $12.95 for breakfast and $15.95 for lunch. Three-course dinners will be available for $34.95. Select locations will offer additional bonus items and specials. price fixed menus. For those looking for a wider range of menu experiences, many of the restaurants have added gluten-free and vegetarian options to their menus. Others will be highlighting chef specials available only during Restaurant Week. Many of the restaurants are also going greener. During last year's Restaurant Week, many restaurants elected to provide straws only upon request or converted from plastic to paper straws. Restaurants have also eliminated Styrofoam this year and are reducing single-use plastics. Restaurant Week is a great opportunity to visit your favorite restaurants and to explore those you haven't yet experienced. Sponsored by the Downtown Annapolis Partnership.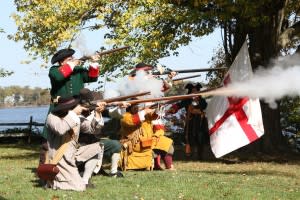 Historic London Town
13th Annual Maryland Day Friday-Sunday, March 20-22 Time: Varies by location Historic and cultural sites throughout the Four Rivers Heritage Area of Annapolis and Southern Anne Arundel County, MD Admission: Free or $1 410-990-1993
Maryland celebrates its 386th birthday on March 25. As a prelude to the big day, the Four Rivers Heritage Area of Annapolis and Southern Anne Arundel County will be hosting dozens of family-friendly events. It's a perfect time to explore heritage sites for free or just $1. This year's highlights include climbing aboard a tall ship, nature hikes, historic home, farm and garden tours, museum exhibits, historical reenactments, gallery tours and art center open houses. Many of the participating event sites bring on extra staff for tours, demonstrations and other events that are unique to Maryland Day weekend.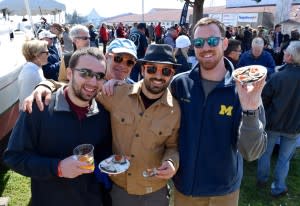 Annapolis Oyster Roast & Sock Burning
Annapolis Oyster Roast and Sock Burning Saturday, March 21 Noon to 4:00 p.m. Annapolis Maritime Museum & Park, 723 Second Street, Annapolis, MD 21403 Admission: $25/person general admission; $30 at the door; People's Choice Tasting, $75 – Taste the creations of 12 restaurants and vote for best oyster dish 410-295-0104
Celebrate the spring equinox and the beginning of boating season by burning those nasty winter socks. Enjoy live music, a shucking contest and boat tours of Back Creek. With a People's Choice ticket, participants can join an exclusive tasting and vote for the Best Oyster Dish. There will be plenty of raw and roasted oysters to eat, and drinks will be available for purchase. Proceeds benefit the Museum's education and outreach programs.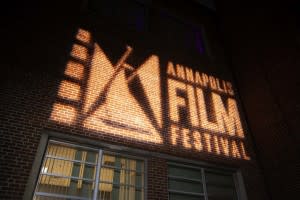 Annapolis Film Festival
8th Annual Annapolis Film Festival Thursday-Sunday, March 26-29 Time: TBA Viewing locations to be announced. Last year's participants were Maryland Hall for the Creative Arts, Hotel Annapolis, Asbury United Methodist Church, St. John's Key Auditorium, Annapolis Elementary School Admission: Visit website 410-263-3444
More than 70 diverse shorts, documentaries and feature films spanning the globe will be screened, some for the very first time. Film enthusiasts also have a chance to socialize and converse with local and international artists and movie makers. Tickets can be purchased individually online beginning March 1.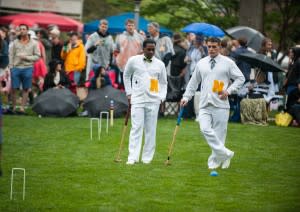 St. John;s vs. USNA Croquet Match
37th Annual St. John's vs. USNA Croquet Match Saturday, April 18 1:00 p.m. St. John's College Campus Front Lawn, 60 College Avenue, Annapolis Admission: TBA 410-626-2539
The "Johnnies" and the "Mids" vie for the coveted Annapolis Cup during this annual rite of spring. The croquet match brings together two starkly different institutions for an event Sports Illustrated says has "no parallel in intercollegiate sports". Attendees dress "Great Gatsby"-style while enjoying a lavish lawn party that includes serenades by the St. John's Freshman Chorus and swing music provided by the Naval Academy's Trident Brass Band. The "Johnnies" play in different "uniforms" each year – ranging from camouflage khakis, to U.S. Naval Academy Imitation Crackerjack, to Vikings' attire, to bare feet. The "Mid" follow the United States Croquet Association dress code.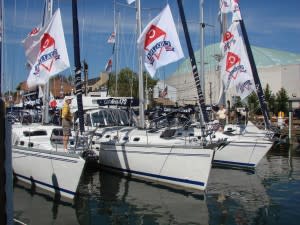 Annapolis Spring Sailboat Show
Annapolis Spring Sailboat Show Friday-Sunday, April 24-26 Friday and Saturday, 10:00 a.m. to 6:00 p.m.; Sunday, 10:00 a.m. to 5:00 p.m. City Dock, Annapolis, MD Admission: Adult one day, $12; Adult two-day combo, $19; Children 12 and under, free 410-268-8828
See new and brokerage sailboats on display in the water and on land, including catamarans, monohulls, family cruisers, daysailers, and blue water sailboats. Most sailboats available immediately. The show also includes the latest in navigational equipment, high-tech electronics, inflatables, boating accessories, clothing, gear and related services. For an additional fee, the April 23-26 Cruisers University is the most comprehensive cruising educational program available.
18th Annual Annapolis Book Festival Saturday, April 25 10:00 a.m. to 5:00 p.m. Key School, 534 Hillsmere Drive, Annapolis, MD 21403 Admission: Free 443-321-7813
Every year, more than 3,000 people attend the community festival that celebrates the beauty, power, passion and excitement of the written word. The Annapolis Book Festival brings nationally renowned authors to the Key School to discuss their books and the craft of writing. The Festival also features children's activities, live music, refreshments and used book sales.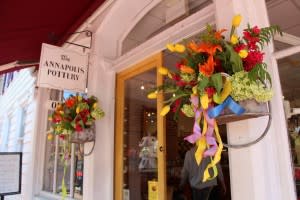 Annapolis Pottery Shop on May Day
65th Annual May Day Basket Competition Friday, May 1, rain or shine Downtown Annapolis cpgd@verizon.net
Considered to be one of the most beautiful days in historic downtown Annapolis, May Day greets visitors and area residents with door after door of baskets filled with beautiful fresh cut spring flowers. Homeowners and businesses in Historic Annapolis and parts of Murray Hill are invited to continue the tradition again this year. Children are also encouraged to make baskets and are judged in a special category. All displays must be out by 10:00 a.m. That's when some 20 volunteers from the sponsoring organization, the Garden Club of Old Annapolis Towne, will judge the entries and invite adult blue-ribbon winners to join them at an annual Garden Club Tea on Monday, May 5.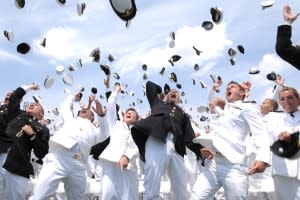 USNA Commissioning Week
U.S. Naval Academy Commissioning Week 2020 Tentatively scheduled for May 15-22 U.S. Naval Academy, Annapolis 410-293-2292
Each year, approximately 1,000 midshipmen graduate from the U.S. Naval Academy and receive their commissions as officers in the U.S. Navy or Marine Corps. On Monday, cheer on members of the class of 2021 as they attempt to climb the Herndon Monument. Traditionally, the Blue Angels' flight rehearsal is on Tuesday and the Blue Angels' flight demonstration is on Wednesday. On Thursday, catch the Color Parade at Worden field. Friday is commissioning day.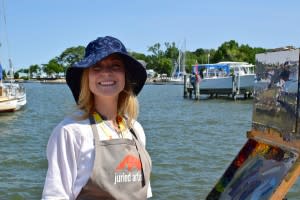 Annapolis Arts Week
4th Annual Annapolis Arts Week Sunday-Sunday, June 7-14 Various locations in and around Annapolis Admission: Some free, some paid events
The eight-day event provides a snapshot of the depth and breadth of Annapolis' thriving arts and entertainment scene. The celebration is anchored in part by the plein air painting event, Paint Annapolis. Block parties, live music, performing arts, gallery exhibits and open studio tours will add to the festivities.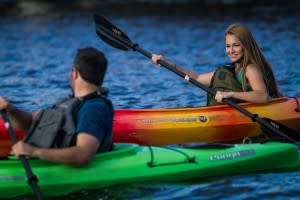 Bay Bridge Paddle Saturday, June 6 Time: TBA Sandy Point State Park East Beach, 1100 East College Parkway, Annapolis, MD Admission: Visit Website 443-699-3158
Water enthusiasts of all ages and expertise are invited to participate in the Bay Bridge Paddle. Event is open to stand up paddleboards, kayaks and other paddle craft.