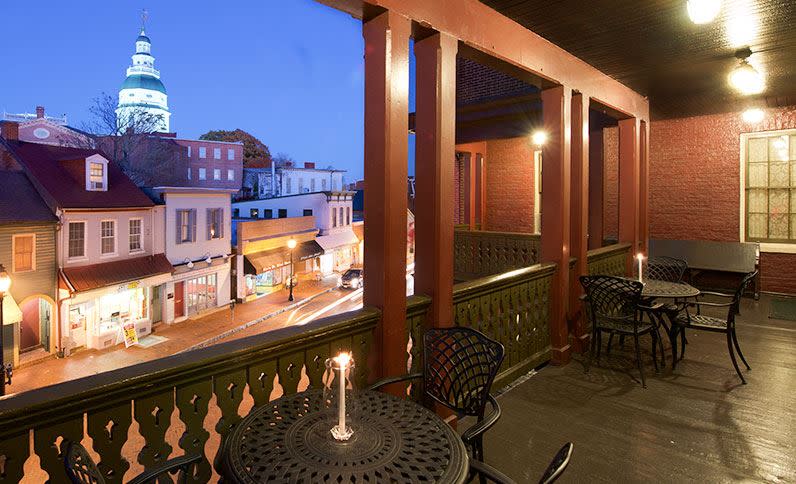 The ups and downs of 2020 won't soon be forgotten. Image courtesy of Visit Annapolis.
It's been said before and it will be said again: 2020 was a doozy of a year! But Marylanders tend to be a rough-and-tumble lot. So as we enter the new year, let's celebrate 2020 for the creative, selfless, tough, and caring ways that Annapolis, Maryland kept on keepin' on this year.
Travis Pastrana: Ultimate Hometown Shreds: Let's start with one of the wackiest stunts Downtown Annapolis has ever seen. Travis Pastrana, competitive stunt performer and Maryland native, jumped over Ego Alley in a tricked-out Subaru rally car. If you haven't already, watch the footage!
New Foodie Spots: Opening a restaurant is hard enough, but imagine doing so in the middle of a pandemic. Despite the uncertainty, some wonderful businesses came to Annapolis this year and opened their doors to foodie delights, such as In Grano Bakery and Tacos Friday Food Truck.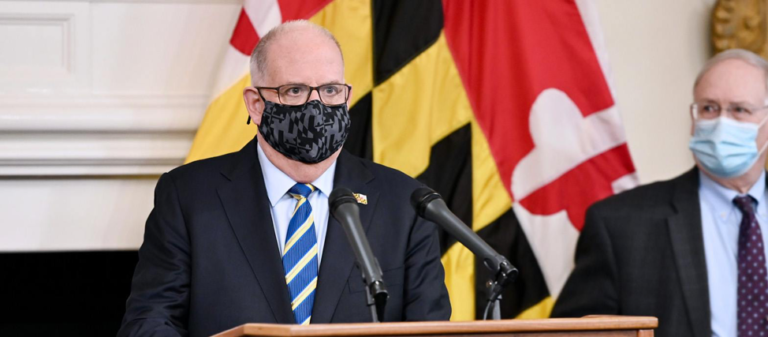 Governor Hogan wears a facemask at a 2020 press conference regarding the COVID-19 pandemic response. Image courtesy of Governor Hogan's facebook page.
Maryland Masks: You know Marylanders love to slap our quirky little flag on everything, and this year, that included face masks. A quick walk through downtown reveals plenty of shops to stop in and grab a mask. You may even stumble across the classy matte black flag design, modeled by Governor Hogan on several press conferences.
Anne Arundel County Public Library: Librarians hold a special place in my heart, but they were absolute champions this year, especially for parents. They began virtual library storytimes as soon as the pandemic started (the "Go Bananas!" song from Mr. Steve is a favorite in this house!), they put together free craft kits and summer reading program materials for outdoor pick-up, they developed Virtual Holiday Cooking Classes for all ages, and they even wander around the library creating "book bundles" for families based on the ages and interests of the kids. Cheers to the library's creativity to help us keep reading during this time!
Dunn Municipal Pool at Truxtun Park opens: This wonderful upgraded facility opened this summer with lots of new amenities. While only open a few weeks this past summer, kids young and old are excited for this new municipal pool!
Weddings: Micro-weddings, at-home weddings, and even Zoom weddings became the name of the game this year, and with so many picturesque sites for small weddings, Annapolis was host to many weddings again this year.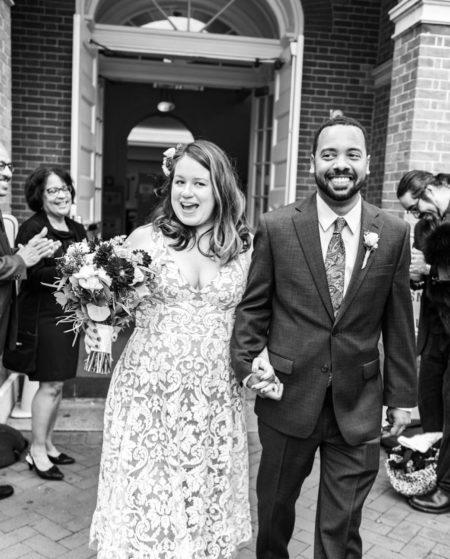 A happy couple elopes at the Annapolis Courthouse. Image courtesy of Jessica Nazarova Photography Instagram page.
Feed Anne Arundel: When Monica Alvarado, owner of Bread and Butter Kitchen in Eastport, saw the increased need from the community due to the pandemic, she ramped up her work of connecting restaurants with people in need of meals. The organization raises money for food donations and then purchases those meals from local restaurants, allowing them to stay open and pay their bills. It was recently announced that Feed Anne Arundel received a special holiday surprise: $1 million from Anne Arundel County, to help the organization continue and expand their work.
Voter turnout: Remember that time in 2020 when we had a presidential election? Voter turnout was strong in Maryland, as well as in the rest of the country. Early voting made history on October 26, with voter turnout of more than 161,000—the highest single-day early voting turnout in the state's history.
Maryland HBCU's receive donations: MacKenzie Scott, former wife of Amazon founder Jeff Bezos, went into philanthropic hyperdrive this year, donating over $4 billion of her fortune to programs in all 50 states. Morgan State University, Bowie State University, and University of Maryland Eastern Shore received $40 million, $25 million, and $20 million, respectively.
West Annapolis Pop-Up Pantry: Diana Love and Amy Marshall began the Pop Up pantry when they saw families in their area were in need. They serve hundreds of families a week with food and essentials.
Naval Academy Dome Renovation: The Naval Academy's iconic Chapel Dome will look quite different when next you see her after her 2020 makeover. The dome is now a shiny copper! Don't worry, it will eventually turn back to the green we are used to, but probably not for 20 years.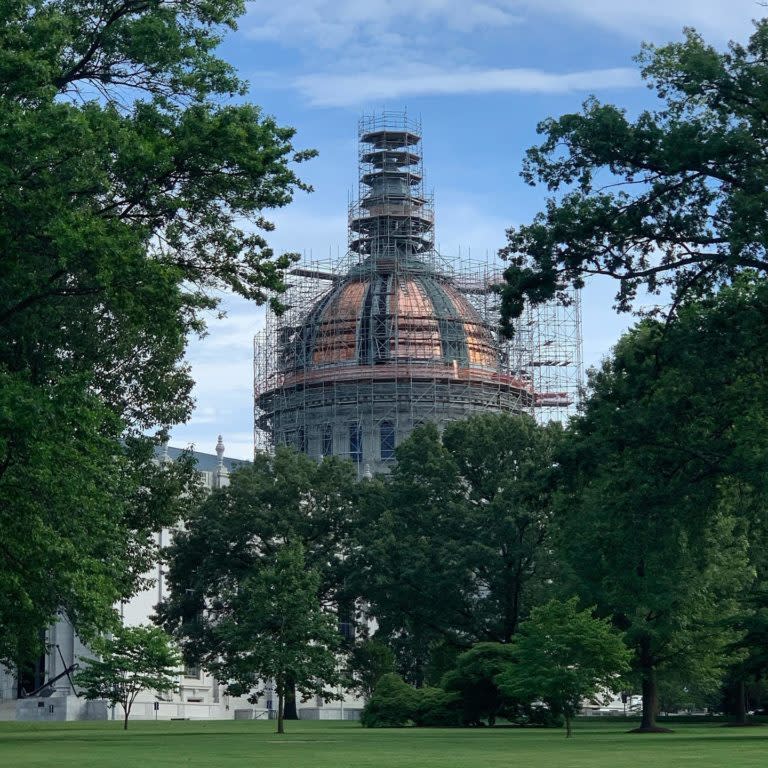 The USNA Chapel Dome received a makeover in 2020! Image courtesy of the USNA History Department's Instagram page.
The Shack is Back: Donut lovers of Anne Arundel County rejoice! On February 29, 2020, Donut Shack, the beloved local donut shop on Ritchie Highway reopened, better than ever. They now offer Ceremony Coffee, donut delivery, curbside service, and even teamed up with Oliver Brewing Company to create their own Chop Suey beer. You can also find their delicious donuts at Park Deli!
AACPS Board of Education Fully Elected: For the first time, the Board of Education fully consists of elected candidates, as opposed to board members previously being, in part, appointed positions. As we've seen this year, it is so important for parents to have a voice in school decisions and representation for their area.
Community supports Hospice of the Chesapeake: Hospice of the Chesapeake received $4 million in generous donations from the community, which allowed them to serve over 3500 patients with compassionate care this year.
William Brown House Renovation: Historic London Town and Gardens celebrated the completion of Phase 1 of the William Brown House this year, with Phase 2 to begin in 2021. London Town reopens to visitors on January 15, 2021 and is a great spot for outdoor educational fun!
Virtual Pride 2020: Many residents and visitors enjoyed participating in the first Pride Parade in 2019- over 6,000 people, in fact! Annapolis Pride took the party online this year with livestreams, panel discussions, storytelling, and musical events. Better yet, they've already begun planning for the Pride events to return in 2021.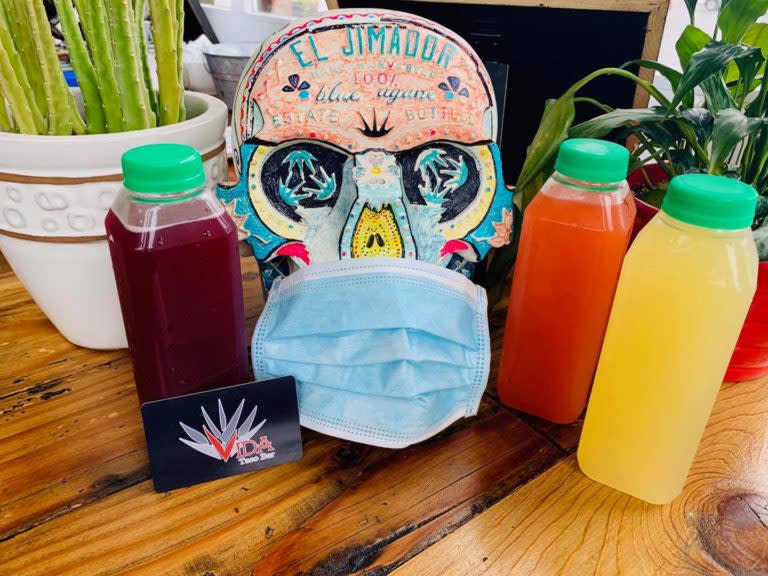 Vida Taco Bar offers local delivery of their famous margaritas and Purple Drank this year. Image courtesy of Vida.
Alcohol Take-Out and Delivery: Governor Hogan authorized alcohol sales for take-out and delivery in March to help bolster restaurant sales. Margaritas delivered to the front door may just be the ultimate silver lining of the pandemic.
Annapolis Takeout Facebook Page: Jeanne Campbell Poole started this Facebook group as a way to show support, gratitude, and positive experiences for Annapolis area restaurants. The group has gained over 16,000 followers since its inception earlier this year.
Outdoor Art: We definitely spent more time outdoors this year, and it was made all the more beautiful by the outdoor murals and art installations that popped up throughout the area this year.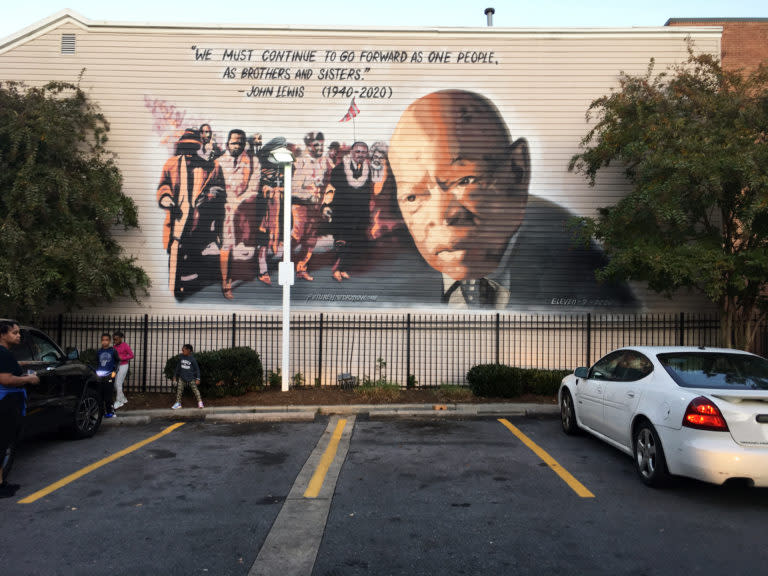 This mural of John Lewis now offers an inspirational view at 95 West Street. Image courtesy of Jeff Huntington.
Papa Hogan: We all got to know Governor Hogan a little better this year through his press conferences. His stern but caring demeanor earned him the nickname Papa Hogan in this house. Sometimes he was happy with our behavior, sometimes he was disappointed in our choices, once in a while he gently swore at us in frustration ("Wear the damn mask"), but we knew he always cared about us and wanted to keep us happy, healthy, and safe.
Now that we've celebrated all that we can of 2020, let's kiss it goodbye, and look towards 2021 with hope for new beginnings!