Specialty four course meals, dinner and a play, live music on a nightly basis, and even Thanksgiving feasts; it's all in Annapolis this November. Here are four ways to savor Annapolis all month long.
Chef's Table Wine Dinner at Blackwall Hitch
Join Blackwall Hitch's Chef Jonathan Seningen and Sommelier Chris Bassett Tuesday, November 15th at 7 p.m. for this month's Chef's Table Wine Dinner. Original gourmet creations, the perfect wines and lively conversation make for an evening to remember. Guests will enjoy four courses of original cuisine prepared by Chef Seningen, each paired with a wine from the Blackwall cellars. Chef and Bassett will discuss the food and wine as each course is presented. Delicious! Here's what you have to look forward to on the 15th: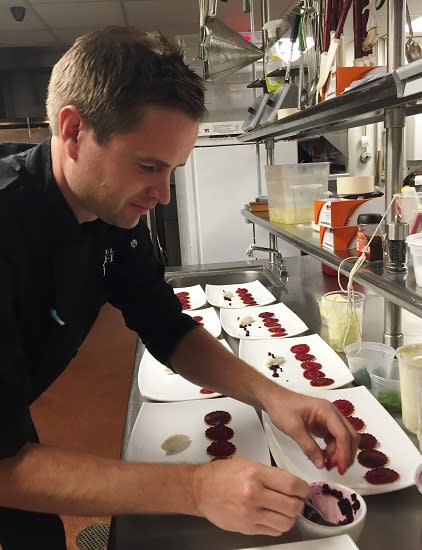 First Course: Grilled Jerusalem Artichoke Salad Salad of watercress and endive surrounded by grilled Jerusalem artichokes, crispy bacon lardon, and a soft boiled egg topped with shaved parmesan cheese and chimichurri vinaigrette. Wine: New Harbor Sauvignon Blanc, New Zealand
Second Course: Blackwall Smoked Salmon House cured and hickory cold smoked salmon topped with micro cilantro, a sweet curry crème fraiche, trout caviar and shallot oil. Wine: Cambria Clone 4 Pinot Noir, California
Third Course: Braised Lamb Shank Slow braised lamb shank over herbed polenta cake and ratatouille finished with a Kalamata olive jus. Wine: Chateau Greysac Bordeaux, France
Fourth Course: Rosemary Panna Cotta Silky rosemary panna cotta served with blood orange segments and a pomegranate vanilla reduction. Wine: Segura Viudas Brut Rose Cava, Spain
The dinner is $75 per person, tax and gratuity not included. Reservations are required and can be made by calling the restaurant at 410.263.3454 or stopping by 400 Sixth Street, Annapolis.
Poe Dinner at Reynolds Tavern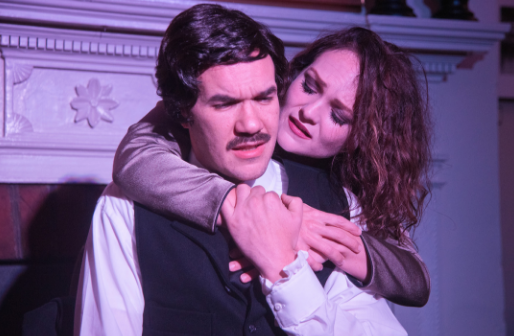 Enjoy a three course prix fixe dinner, and witness POE's last moments in the Reynolds Tavern.
Annapolis Shakespeare Company (ASC) presents their third annual production based on the last days of Edgar Allan Poe in the historic downstairs pub at Reynolds Tavern. ASC's annual production of Poe boasts an all new script for 2016! The production will include a number of Edgar Allan Poe's most famous works including the Raven and Annabel Lee. Broadway actor Brian Keith MacDonald returns as the mysterious Edgar Allan Poe, father of modern detective fiction, pioneer of the science fiction tale, a misunderstood genius, a visionary and a man of contradiction and vice. For the third season, ASC will present an all-new production in the same intimate venue at Reynolds with an intricate script and a superb cast. Oh, and a great meal!
Live Music
Looking for some live music this November? Stop by one of these great venues, each offering live music most every nights:
Rams Head on Stage – Well-known throughout the mid-Atlantic, Rams Head on Stage offers a great lineup of artists every night of the year. Called the country's best music venue with under 500 seats, Rams Head features all types of genres and groups from little-known local artists to nationally-acclaimed acts. Check out the slated shows set for November by clicking HERE.
Metropolitan Kitchen and Lounge – Situated in the heart of the Annapolis Arts District, Metropolitan is known for its delicious plates and tasty, expertly-crafted cocktails. However, they also host live performances on a near nightly basis. Head up to the second floor and catch a local act and get yourself a little food while you're at it. Check out their November calendar by clicking HERE.
49 West Coffeehouse – Aside from being one of the yummiest of all Annapolis coffee spots, 49 West also plays host to great musicians. Featuring mostly local artists in their small, intimate space makes a show at 49 West a super cool, wholly Annapolitan experience! See who's playing this November by clicking HERE.
Thanksgiving Dinners
Rather go out with the family for Thanksgiving? Luckily for you, there are a number of restaurants that are staying open Thanksgiving Day. Serving a buffet-styled Thanksgiving, these are great choices if you're not in the mood to spend half the day cooking!
BAROAK Cookhouse & Taproom 11 a.m. – 6 p.m. $35 per adult, $18 per child
Blackwall Hitch 11 a.m. – 6 p.m. $38 per adult, $19 per child 12 and under
Sam's on the Waterfront (Four-Course Feast) $55 per adult, $16 per child under 12
Brian Boru 12 p.m. – 5 p.m. $25 per adult, $12.50 per child 5-10 yrs. old
Killarney House 11 a.m. – 5 p.m. $25 per adult, $12.50 per child 5-10 yrs. old
Pirates Cove 12 p.m. – 7 p.m. $30 per adult, $15 per child 5-10 yrs. old