Affectionately known as "Annapolis Living Room", 49 West Coffeehouse, Wine Bar, and Gallery provides an artsy safe-haven to locals and visitors alike. As soon as you walk through the door, the homy energy of the establishment is undeniable. A monthly art show lines the walls on one side of the dining room while the other has a bookcase centerpiece with books and CDs, which guests are welcome to borrow, haphazardly placed on the shelves and two non-functioning fireplaces with board-games and local business cards and pamphlets strewn about. If you continue to the back of the building, you'll find yourself in a separate smaller dining area with a house piano in the front. This section of the restaurant hosts live music nearly every night of the week where you can sit down, enjoy a meal and drinks while indulging in an intimate performance from a wide variety of artists.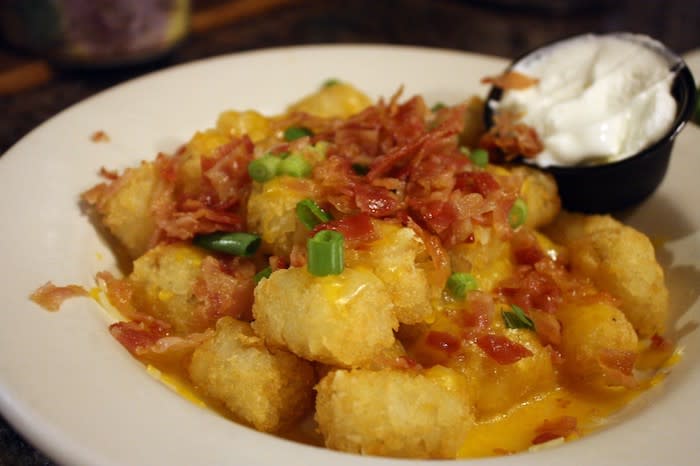 Image courtesy of author
I have been going to 49 West since I was in high school. The atmosphere is such that you can go in to sit for a meal, engage in conversation over locally roasted Rise Up coffee, or come in to sit and do work. The European cafe vibe is polished with an entire case of in house made desserts which rotate based on the musings of the baker, Shira, and whatever ingredients may be lying around. The staff is made up of friendly and engaging individuals that help create this "anything goes" kind of feel (though full disclosure, after nearly a decade of being a patron, I began working at the shop and am fonder than ever, so I may be a little biased).
In addition to the live music nearly every night, 49 also participates in Dinner Under the Stars during the summer months. This is a weekly event, starting at the end of May in which the city closes down a block of West Street to allow the restaurants to set up dining areas in the street. This is an opportunity to indulge in some of Annapolis' cuisine while taking in the summer nights and all of the glorious people watching.
Image courtesy of author
49 West also has a wonderful happy hour that takes place Monday thru Friday from 4 to 7. During this time visitors get twenty-five percent off of all starters, beer, wine, and liquor. With indoor and outdoor seating options, one can enjoy these deals wherever the mood strikes and weather allows. Some favorite starters include the newly inducted loaded tater tots, the smoked salmon appetizer, and the simple bruschetta with parmesan. Not to mention there are many specialty house cocktails, an updated wine selection, and a wide variety of beers. Some of my summer favorites are the Rosé Lemonade cocktail and the Rosé Cava--what can I say? You know what they say about ros(é) colored glasses!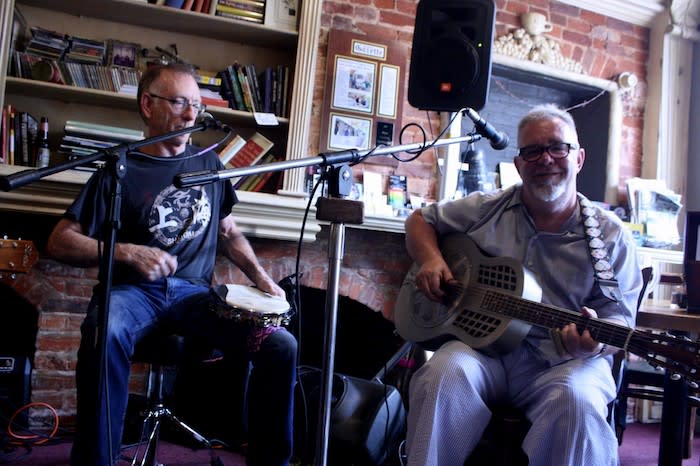 Image courtesy of author
On Wednesdays during happy hour, you will be lucky enough to catch some wonderful local talent. The second Wednesday of every month you can catch Pam Godfrey Classical Duo for a nice relaxing afternoon. Every other Wednesday, you'll walk into Annapolis' Living Room to find the Hippie Dance Party led by Dean Rosenthal and Friends. An Annapolitan through and through, Dean has been gigging in this area since 1975. His roots interpretations of favorite blues jams, folk hits, jam band tunes, or rock n' roll songs draw in a large crowd of regular characters for the inevitable dance party. These gigs he is most often accompanied by fellow local musicians Gary Wright and Tom Fridrich while a handful of others will rotate in and out. If you have never been able to see Dean before, or simply want to partake in a fun loving afternoon, this is the place to do it!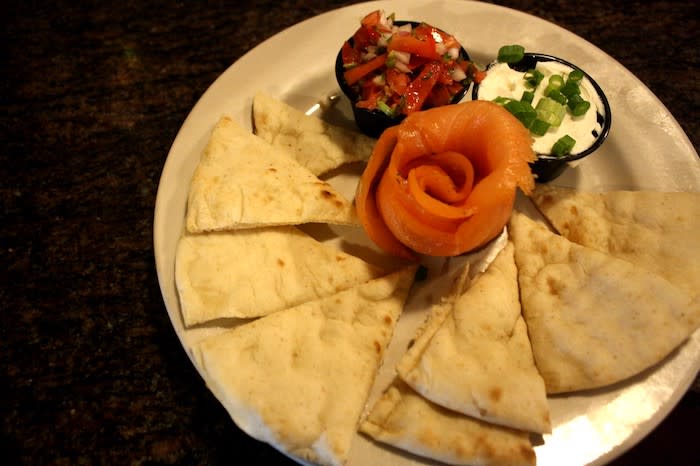 Image courtesy of author
Whether it's for the music, the coffee, the food, the happy hour specials, or the stress-free environment found in Annapolis' Living Room, your visit to 49 West will not disappoint. See you soon!