Holidays typically bring families and friends together, but self-distancing has caused us to rethink our Easter celebrations. Luckily, several restaurants in the Annapolis area are open and willing to give their customers a special meal this holiday weekend.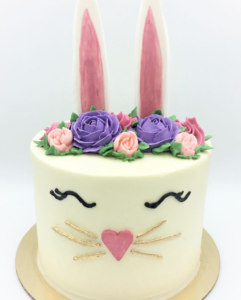 Bunny cake from Sweet Hearts Patisserie. Photo courtesy of the author.
Harry Browne's Restaurant is creating an Easter-inspired menu with Sunday favorites such as rack of lamb, baked ham, sauteed asparagus and scalloped potatoes. Although the restaurant won't be open on Easter Sunday, you can pick up your Easter meal on Friday or Saturday. To see their featured family-style menu and place your order, visit their website.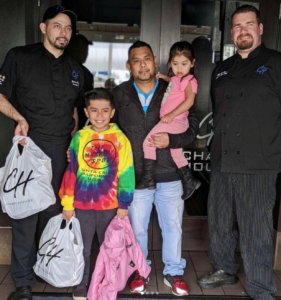 Elvis and family at Chart House. Photo courtesy of Chart House Facebook page.
The Chart House is turning their attention to their staff during this tough time. Each day, the restaurant is helping back-of-house staff members like Juan and Elvis by providing their families complimentary carry-out lunch that's prepared by their Executive Chef Jhon Orjuela and Executive Sous Scott Harrison. All gratuities from carryout, delivery and gift card sales will go to their families. For Easter weekend, their family dinner menu features roasted citrus herb salmon or slow roasted prime rib packages. Both serve 4-6 family members and are complete with salad, sides, and dessert. Orders must be placed before Wednesday, 4/8 at 3pm and can be picked up on Saturday or Sunday.

Photo courtesy Osteria 177 website.
If you're debating between seafood and meat/vegetarian options, Osteria 177 is offering the choice of two different prefixed 2-course menus for your Easter meal. Each family dinner package serves four people and both include bread, olive oil dipping and Parmigiano Reggiano cheese served with it. Call 410-267-7700 to place your order.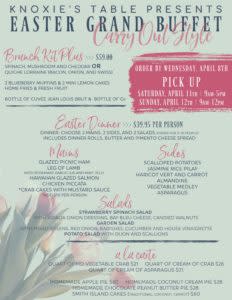 Menu at Knoxie's Table at Chesapeake Bay Beach Club. Photo courtesy of VAAAC.
Chesapeake Bay Beach Club is packing up a traditional Easter buffet brunch for you this year. Explore their special carryout menu that pairs well with your Sunday best. The choices include Easter classics such as leg of lamb, glazed picnic ham and strawberry spinach salad. Place your order by April 8th for weekend pickup.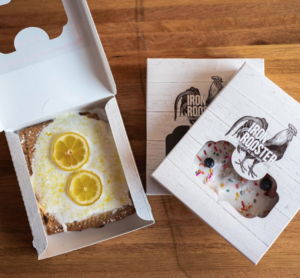 RoosTart at Iron Rooster. Photo courtesy of the author.
Enjoy breakfast all day this weekend with carryout from Iron Rooster. Their daily carryout and delivery menu items are also available over Easter weekend. Favorites include chicken & french toast and house made RoosTart.

Scones at Reynold's Tavern. Photo courtesy of the author.
Our token tearoom is still open for business! Reynolds Tavern provides curbside pick ups of delicious scones with cream and jam, some desserts and a selection of teas. They've made it easy and convenient with a paid-ahead system and an accessible pickup area. On Easter weekend, the tearoom will be open on Friday and Saturday, but they're closed on Easter Sunday. In addition to sweets and teas, they're selling teapots, notecards and tea-themed gifts that are easy to mail to your tea-loving friends.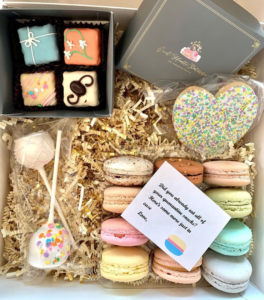 Sweet Pack from Sweet Hearts Patisserie. Photo courtesy of the author.
Finish off your Easter brunch or dinner with a sweet bite from Sweet Hearts Patisserie. Browse their menu and place your order online for pickup or shipping. In addition to Easter inspired desserts, your family can enjoy seasonal flavors such as assorted spring macarons and Caribbean coconut cake.
Easter weekend is fast approaching so be sure to get your orders in soon! These local favorites are excited for your business and want to embrace their customers with fresh, delicious meals.