Whether you're an art enthusiast, looking to take care of some early holiday shopping, or simply looking for a great event for the whole family, you'll find something to pique your interest this November in Annapolis and Anne Arundel County. Experience the world's longest tug of war across water, a holiday light show at Sandy Point State Park, The Veterans Classic held at the U.S. Naval Academy, and shopping galore across the whole county. Here are 8 ways to explore Annapolis this November:
Dia De Los Muertos
When: Friday, November 2nd from 5 pm to 12 am Where: City of Annapolis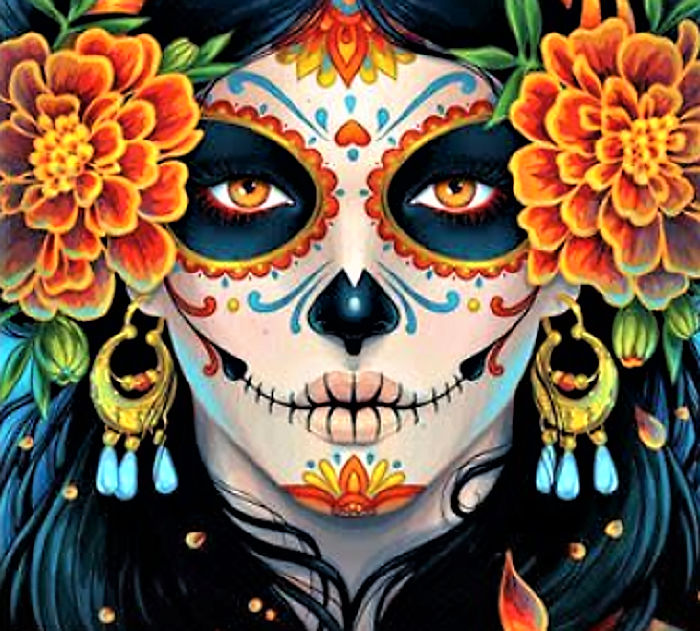 The Day of the Dead celebration in Mexico was developed from ancient traditions among its pre-Columbian cultures. It had been observed by these civilizations perhaps for as long as 2,500–3,000 years. The Day of the Dead honors the dead with festivals and lively celebrations, a typically Latin American custom that combines indigenous Aztec ritual with Catholicism
On The Day of the Dead, the dead are also a part of the community, awakened from their eternal sleep to share celebrations with their loved ones. The souls of all deceased come down from heaven and reunite with their families on November 2. It celebrates the lives of the deceased with food, drink, parties, and activities the dead enjoyed in life. Recognizes death as a natural part of the human experience, a continuum with birth, childhood, and growing up to become a contributing member of the community. Click here for more information.
Annapolis by Candlelight
When: Friday & Saturday, November 2nd & 3rd from 5 pm to 9 pm Where: Various Downtown Annapolis Homes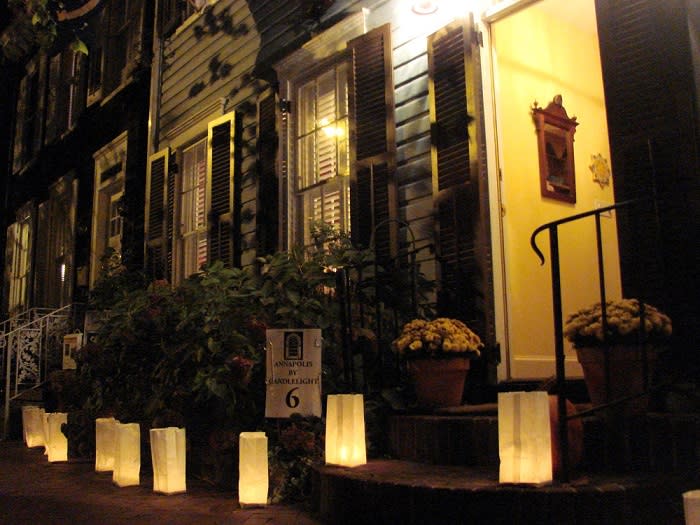 A crisp autumn evening is the perfect time to walk through one of the historic neighborhoods of Annapolis. The experience is even better when the doors to some of the homes are open and you are invited inside. Each year in early November, Historic Annapolis showcases privately-owned historic houses on its popular Annapolis by Candlelight tour. Visitors see how 21st-century Annapolitans care for and live in buildings built in the 20th, 19th, or 18th century. Each house is a reminder of the rich architectural and cultural heritage of Maryland's capital city and aesthetic benefits of effective historic preservation. Click here for more information.
Maritime Republic of Eastport's Tug o' War X
When: Saturday, November 3rd from Noon to 6 pm Where: Eastport & Annapolis City Dock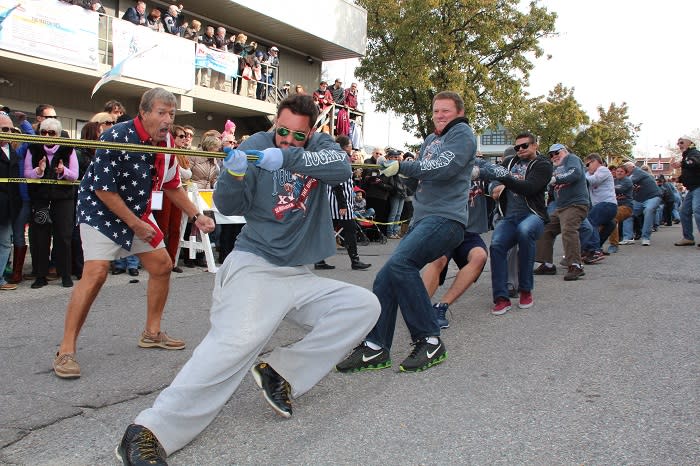 Drawing on a decades-old rivalry, the annual charitable event features the longest tug-of-war over a body of water in the world, pitting downtown Annapolitans against the rebels of the mock-breakaway Maritime Republic of Eastport. Dubbed the Slaughter across the Water, it features a 1700-foot rope, 450 tuggers and 1000 spectators. A festival-like atmosphere overtakes downtown Eastport and Annapolis beginning at 11:00 a.m. Tugging begins promptly (more or less) at the crack o' noon. Click here for more information.
First Sunday Arts Festival
When: Sunday, November 4th from 11 am to 5 pm Where: The first block of West Street (between Calvert Street and Church Circle)
The First Sunday Arts Festival has themed the November 5th festival as the "Holiday Edition" as this is one of the best days to start your holiday shopping. The festival has 130 artisan vendors packing the streets with original and unique gifts. Thousands of shoppers visit Annapolis for this fun street festival. Shop from handmade jewelry, wheel thrown pottery, hand knitted hats and scarves, alpaca clothing, photography, paintings, books, metal arts, fused glass, ornaments, home décor, handmade candles, soaps and more.
This is your opportunity to have fun while shopping made In Maryland. No mall stores hassles with untrained seasonal staff and no boring nights shopping home alone off the internet. Here you can meet the people that make the gifts you select and truly get to appreciate the American craftsman. Click here for more information.
Veterans Classic
When: Friday, November 9th; Games from 6 pm to 10 pm Where: United States Naval Academy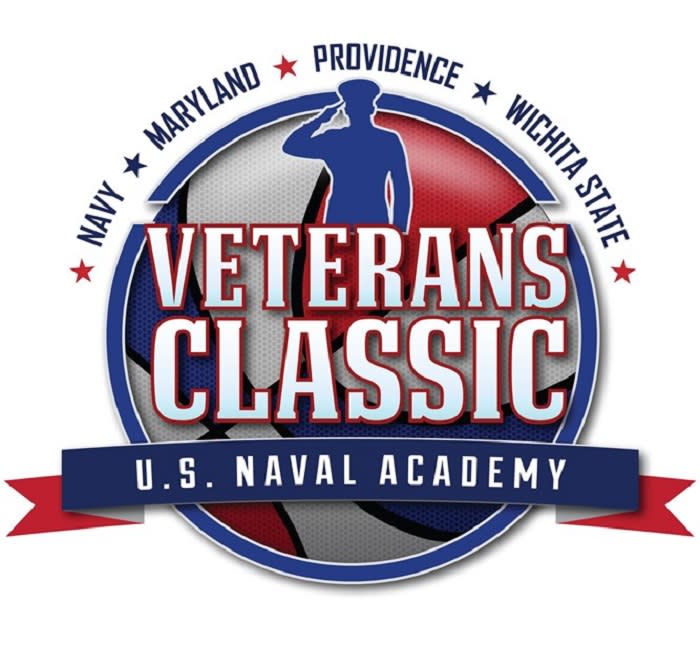 Kick off the new season with great collage basketball action at 2018 Veterans Classic featuring Navy vs. Maryland and Providence vs. Wichita State.
Wichita State and Providence made the 2018 NCAA Tournament and despite finishing 19-13 last season and missing the Big Dance, Maryland is ranked No. 23 in the CBS Sports preseason Top 25 and returns three of its top five scorers. The Terrapins will be a strong challenger as they take on Navy in the second game of the night, following Wichita State vs. Providence. Click here for more information.
Naval Academy Museum Fall Lecture Series
When: November 13th through November 29th Where: U.S. Naval Academy Museum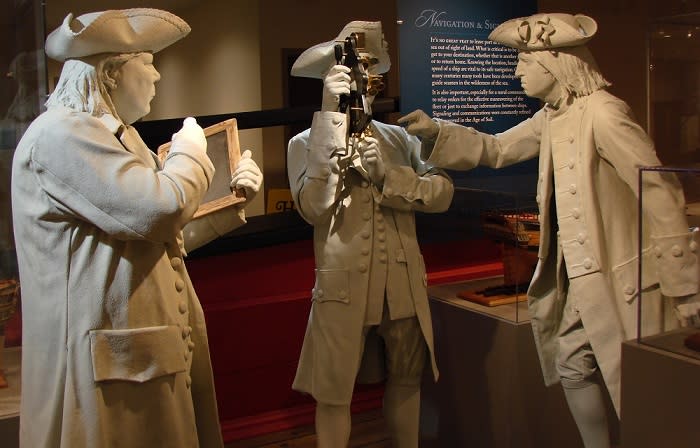 The U.S. Naval Academy Museum will present fall semester's Shifley Lecture Series in the museum auditorium on the second deck of Preble Hall. Each lecture is held from 12:30 p.m. – 1:15 p.m. and is free of charge. Midshipmen, faculty, staff and members of the public are invited to attend the following lectures: Friday, Oct. 12, Dr. Scott Mobley Topic: His recent book, "Progressives in Navy Blue: Forging the Modern U.S. Naval Profession, 1873-1898 Tuesday, Nov. 13, Dr. Virginia Smith Topic: The 1918 Influenza Epidemic and its impact on the U.S. Naval Academy. Thursday, Nov. 29, Mr. Michael Schneider Topic: Merchant Ships in WWII, the Maritime Commission's Emergency Shipbuilding Program.
Lights on the Bay
When: November, 18th to January 1st; 5 pm to 10 pm nightly, weather permitting Where: Sandy Point State Park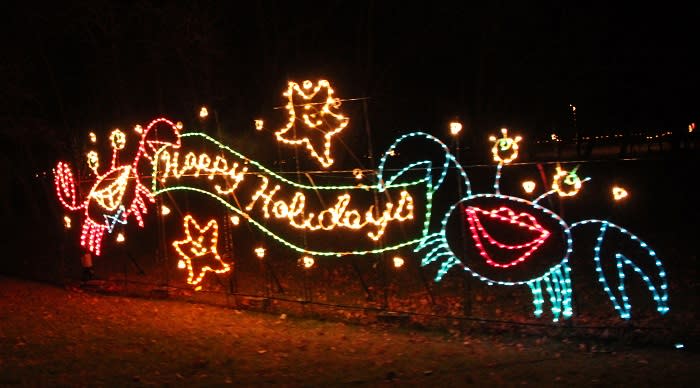 Don't miss this spectacular drive-through holiday lights show beside the Chesapeake Bay. The event features more than 60 animated and stationary displays, including traditional Maryland-themed favorites, holiday and children's displays. Proceeds benefit the Annapolis-based SPCA. Visit "Lights on the Bay" for more information.
Grand Illumination – City Tree Lighting
When: Sunday, November 25th from 5:30 pm to 9 pm Where: Market Space at the Market House (25 Market Street, Annapolis)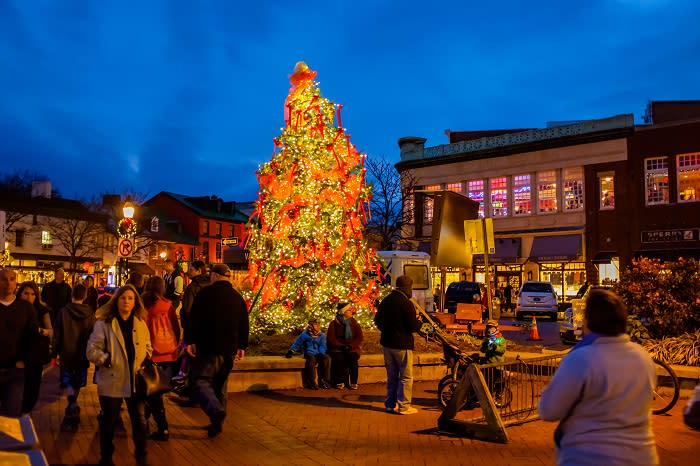 The Downtown Annapolis Partnership joins the Annapolis Jaycees as they ring in the holiday season in downtown Annapolis.  The Grand Illumination and annual tree lighting takes place at the Market House starting at 5:30 pm with dancing and carols by local school groups.  Santa arrives to help light the tree around 6:30 pm and help get everyone in the holiday spirit. The Jaycees serve hot chocolate and candy canes and  have ornaments for children to decorate. The Jaycees also accept donations of unwrapped toys and non-perishable food items for their annual Angel Tree program, which helps local families in need during the holiday season. Click here for ore information.