Music has been my definer as long as I can remember. At age 7, my portable radio was my prized possession, blaring Casey Kasem's Top 40 on WPGC as I played on the swing set in Oxen Hill, MD. A Navy family, we lived overseas in Norway when I was in grade school, and we all took pride in ABBA as "our" band, even though they came from neighboring Sweden.
WHFS Radio DJ's after their move to Annapolis. Photo credit: Steven King / Baltimore Sun
But it's when we moved to Annapolis in 1982 that it went to another level. My high-school discontent found an ideal companion in WHFS, the freeform radio station that was a legend of the era. I heard Patti Smith for the first time on that station, late one night when I was playing solitaire in my bedroom and nursing a broken heart. I have no memory of who the boy was, but the freedom embodied in her hoarse yowl imprinted in my soul. The four drum beats that kick off REM's "Radio Free Europe" always make me think of Annapolis, as does Roxy Music's "More Than This"—both seminal songs that I heard first on WHFS and purchased at the much-missed Sounds on Main Street.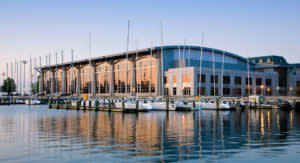 USNA Wesley Brown Field House. Photo credit: HKS Architects
And the concerts! Huey Lewis at the Field House at USNA, hardcore shows at Anne Arundel Community College, and just up Route 50 were The Ramones at University of Maryland, Alex Chilton at the original 9:30 Club, The Cramps and The Cure at the Warner Theater, Iggy Pop and Jane's Addiction blowing away the metalheads at Hammerjacks. Those venues are long gone, but they created my abiding love for live shows.
Music even led to my career. After leaving Annapolis and moving to NYC, I interned at a music magazine, leading to my first byline and eventual career as a travel writer.
In 2018, life turned full circle for me, and I relocated back to my hometown, grateful to find that it's still a music town at heart.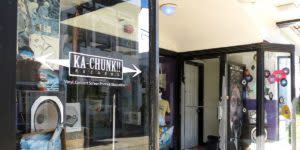 Ka Chunk! Records storefront on Maryland Avenue. Photo courtesy of VAAAC
I love that Maryland Avenue has a vinyl record shop in KaChunk! Records. I no longer have a record player, but I don't want to live in a town that doesn't have a record store.
I love that I can still hear familiar WHFS voices like Bob Waugh on WRNR and Weasel on Towson's WTMD, still turning me onto great music decades later.
I love that WRNR supports indie bands with airplay and concerts, and that Michael Buckley intersperses music with interviews with area residents in his weekly series Voices of the Bay. (Disclosure: He interviewed me last fall about my book 100 Things to Do in Annapolis and the Eastern Shore Before You Die.)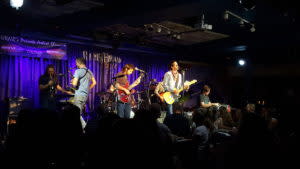 Rams Head On Stage in Annapolis. Photo courtesy of VAAAC
I love that Rams Head has grown into one of the preeminent concert venues in the country, and I've been able to see everyone from Steve Earle to Troublefunk to Matthew Sweet there.
I love that Annapolis has live music every night of the week, be it acoustic at spots like 49 West and Galway Bay or bands at venues like Annapolis Smokehouse & Tavern, and Blair's Londontown Bar & Grill in Edgewater.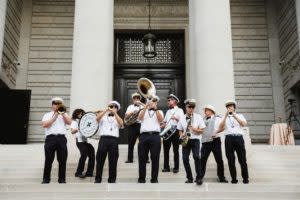 Naptown Brass Band. Photo courtesy of VAAAC
I love that our New Orleans-style band Naptown Brass appears at events from parades to hotel openings, and always gets people dancing.
I love that nonprofit AMFM (Annapolis Musician Fund for Musicians) provides emergency financial relief to professional musicians who can't work due to sickness or other circumstance, supported via proceeds from their quarterly In the Vane of concert series.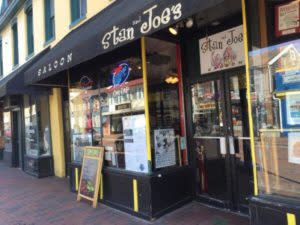 Stan & Joe's Saloon. Photo courtesy of VAAAC
I love that Stan and Joe's lets my friends and I play ukulele in their back room on sporadic Tuesday nights, just for fun.
I love that DC and Baltimore are less than an hour's drive away, opening up even more live show opportunities.
I love that I grew up in a music-loving town, and I love that the things that formed me as a teenager are still here for me to enjoy as an adult.