For those looking to visit Annapolis – or maybe you're a local looking to book a staycation – there's no better place to turn than the Annapolis Bed and Breakfasts in downtown. There are plenty of hotels and lodging options to choose from, but if you want the charm and comfort of a bed and breakfast, you're in luck. Here are some picks to check out:
Flag House Inn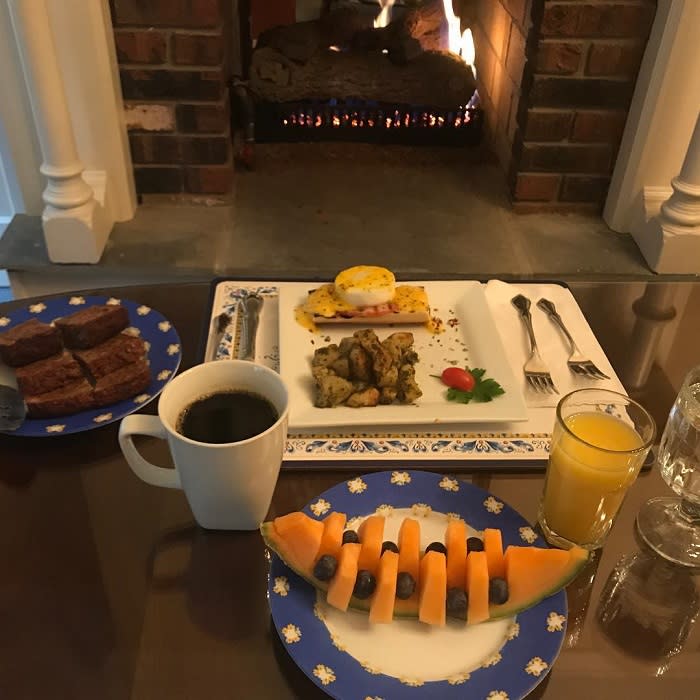 Courtesy of Flag House Inn
Notorious for flying the home state or country flag of its patrons, the Flag House Inn (22 Randall Street) is a favorite for out-of-towners and locals. Originally built in 1879, two townhouses comprise the establishment and have been passed down over the generations. In 1992 it was converted to an Annapolis B&B and continues to tradition of treating guests like family. Their breakfasts emphasize fresh, local foods with a menu set a few days in advance and displayed in the dining room. Some menu highlights include Apple-pecan French toast, corned beef hash with poached eggs, and buttermilk biscuits. Their Randall Street location is ideal for those looking to take advantage of the Flag House Inn free parking and enjoy Historic Annapolis by foot.
Academy Bed and Breakfast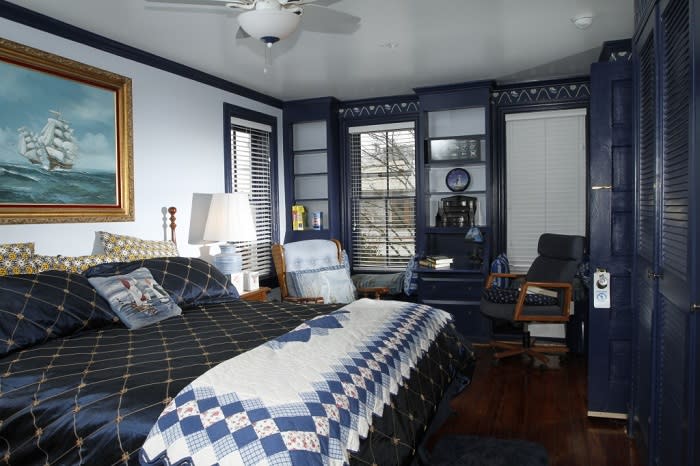 Courtesy of Academy Bed and Breakfast
This top-rated bed and breakfast is known for its primary-colored exterior which catches the eye of anyone walking past it on the corner of Prince George Street. This location has been completely renovated and now boasts modern technology, spacious master suites, and luxurious furnishings. Centrally located downtown, this B&B is a short walk to City Dock, The United States Naval Academy, and a host of shops and restaurants. For those looking to book one of their specials, Academy Bed and Breakfast (134 Prince George Street) offers a "Mental Health" Day or "Wine Getaway" for guests. The "Mental Health" Day is a great option for locals looking to have a budget-friendly mid-week staycation. Their "Wine Getaway" offer includes a bottle of wine hand selected by the host.
Chez Amis Bed and Breakfast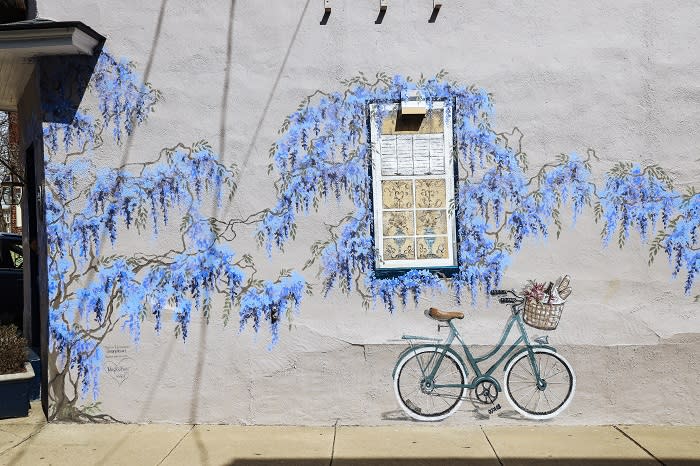 Chez Amis Bed and Breakfast
Tucked away on East Street is a piece of French Country charm: Chez Amis Bed and Breakfast (85 East Street). Originally set aside in 1696 as property for a garden, vineyard, and summer house for Governor Nicholson, the property never became that summer house and instead had been a local grocery store, Sam's Brother's Groceries from the early1900ss through the 1970s. Now as a local inn, the name 'Chez Amis' a French expression meaning 'house of friends' is ready to welcome new friends from all over. The three-course breakfast is served every day and offers sweet or savory options as well as owner Elly's signature Amish Friendship bread or sunrise muffins served with lemon curd. For out-of-towners looking to get around Annapolis, Chez Amis offers concierge service and free shuttle to local restaurants.
The Georgian House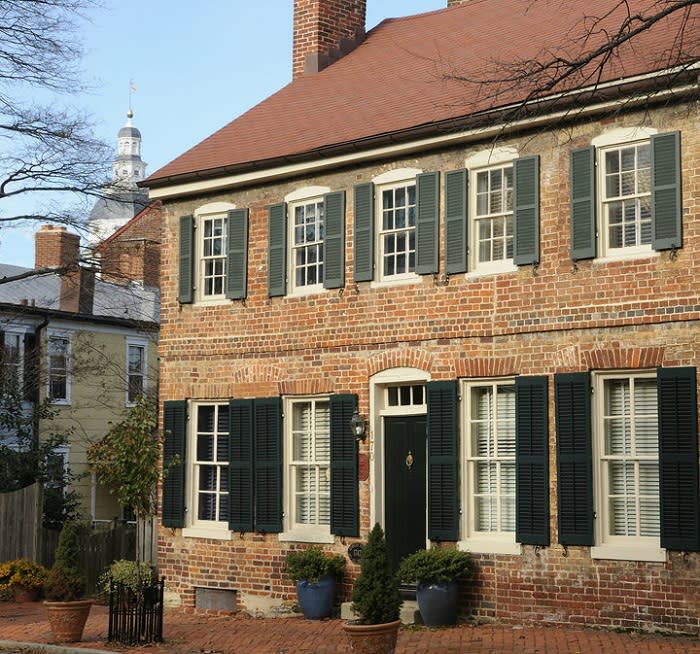 Courtesy of the Georgian House Bed and Breakfast
Travel back in time with a stay at 1747 Georgian House Bed and Breakfast (170 Duke of Gloucester Street), one of the oldest residences in Annapolis. This 260-year-old home was once used by three of Maryland's signers of the Declaration of Independence. The antique charm of original red pine flooring and working fireplaces is balanced out by updated amenities for the modern guest. The property has been expanded over time since its creation in 1747 and now offers four suite options for guests. Each suite aptly named paying homage to great Marylanders, such as The Samuel Chase Room or William Paca Room. You can enjoy your daily breakfast either in the parlor or out on the brick patio during warmer months. Breakfast options include Dutch apple pancakes and home-cured Canadian bacon, topped off with locally roasted Colombian coffee.
The Annapolis Inn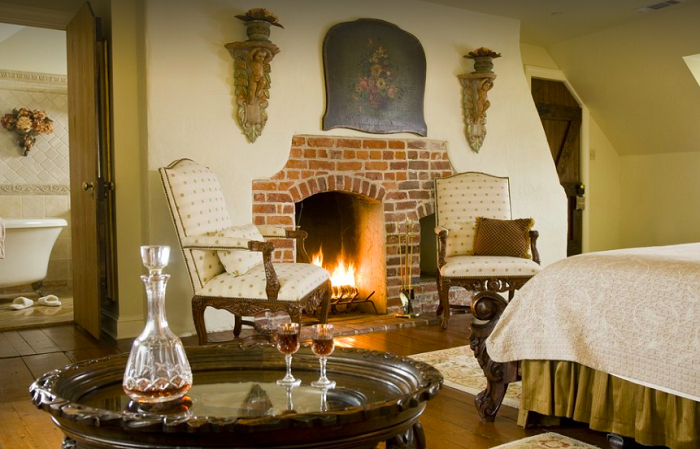 Courtesy of the Annapolis Inn
For those looking to spend their time in Annapolis lodging in near regal standards, turn to The Annapolis Inn (144 Prince George Street). This Georgian Townhouse style inn dates back to the 1770s and has its own unique history of playing home to many historical figures. After being built, this townhouse was sold to Dr. James Murray, who became the preeminent physician in Annapolis for the Revolutionary Army. Dr. Murray later became the personal physician to President Thomas Jefferson. Today, this property boasts three elegant suites ready for guests looking to treat themselves to a stay with a bit of history. Guests can enjoy a three-course breakfast seated in their ornate dining room. A stay at the Annapolis Inn will allow you to be centrally located to all of the attractions of downtown Annapolis while enjoying the history and luxury of the inn.
Next time you're planning an overnight stay in town, be sure to take full advantage of the quaint, luxurious charm that's offered at these great Annapolis bed and breakfasts!
Images courtesy of VisitAnnapolis.org, Flag House Inn, Academy Bed and Breakfast, Chez Amis Bed and Breakfast, 1747 Georgian House Bed and Breakfast, and the Annapolis Inn