African American history in Annapolis is a story about much more than staggering numbers, chilling tales, or attention-grabbing facts. It is a story about human tragedy, individual fear and greed, and conditions of extreme suffering. It is also a story of hope, industry and perseverance. Like it or not, much of the early narrative of African Americans took place here in Annapolis—a fact that was made clear during a recent African American Heritage tour of the historic district. Today we walk the same streets and visit the same places frequented centuries ago by enslaved Africans, freed blacks, and early slave holders as they went about their daily lives.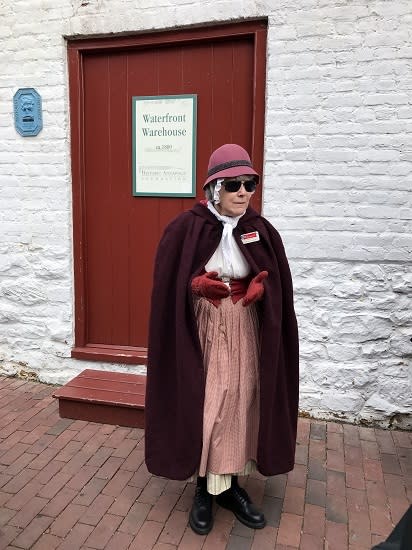 Mistress Lynn Connor by Ann Powell
Tour guide Mistress Lynn Connor led us on a whirlwind tour of historic Annapolis, an activity she has enjoyed for fifteen years. The two-hour African American Heritage tour is offered by Watermark Tours by appointment throughout the year. A scheduled tour in celebration of African American History Month is set for Saturday, February 18, 2017, departing at 1:00pm from the Annapolis City Dock Information Booth.
The month of February is annually designated as African American History Month, sometimes called Black History Month. It's a time for recognizing the role of African Americans in the United States' history and celebrating their many great achievements.
We followed Mistress Lynn in her colonial cloak and apron through 250 years of history – from the 1767 arrival of enslaved African Kunta Kinte (from Alex Haley's Roots) to the modern day site of peaceful protests at Lawyers Mall in front of the Maryland State House. The Lawyers Mall plaza features a bronze memorial to Thurgood Marshall, the first African-American Supreme Court justice and a renowned figure in civil rights history.
Our tour began at the waterfront Kunta Kinte-Alex Haley Memorial at the Annapolis City Dock, the only place in the United States that commemorates the actual name and place of arrival of an enslaved African. His tale begins in 1767 with Kunta Kinte, one of 98 survivors of 140 Africans who were captured and sent against their will on a miserable three-month transatlantic voyage on the ship, Lord Ligonier. In those days, Annapolis was a destination for the sale of enslaved human cargo from Africa. The City Dock Memorial is a life-size sculpture group depicting Haley reading the Roots story to three children of diverse ethnic backgrounds. Along with a nearby story wall, compass rose, and information kiosk, the Memorial marks a symbolic "Ellis Island" for the many enslaved Africans who arrived here.
Our history tour continued past the quaint Waterfront Warehouse on Pinkney Street, a Historic Annapolis building demonstrating colonial tobacco industry practices and housing part of "Freedom Bound: Runaways of the Chesapeake," an exhibit about slaves that took the greatest risk to pursue a life of their own. (The exhibit continues in the Historic Annapolis Museum on Main Street.) Pinkney Street was once home to many freed and enslaved black families and was nicknamed Soapsuds Alley in a time when laundresses poured sudsy wash water here.
We headed up Prince George Street past the elegant brick colonial homes of William Paca and James Brice, both white colonial slave holders. Just up East Street, we stopped at another elegant colonial structure built and owned by freed blacks as the first Annapolis school for African American children.
Walking the cobblestone streets of Annapolis, it's hard not to feel submersed in history. In the 1700s and 1800s, privileged whites freely shared these same streets with free blacks, enslaved blacks, indentured servants, and, well, immigrants of all races. The local economy thrived on the skills and contributions of the many non-white residents. Their hard work and talents made Annapolis a town of some comfort for most, and eventually created the place we know today with its solid brick buildings, busy streets, and venerable institutions.
We learned on the tour that some of the signers of our Declaration of Independence and Constitution were slave owners. William Paca, signer and past Maryland Governor, kept eleven slaves at his town residence and more at his place on Maryland's Eastern Shore. We also learned that Middleton Tavern near City Dock was sometimes used in the 1700s as a place for slave trading.
However, we also learned that freed African Americans John and Lucy Smith had prosperous businesses and owned a substantial brick home on Prince George Street. Lucy Smith catered her delicious baked goods for events that included occasions at the Maryland State House, and John Smith had a blacksmith and carriage transportation business. Many other successful African American professionals, including several black physicians, served Annapolis in the City's earlier centuries.
The tour continued to the St John's College campus and finally to the Maryland State House. Along the way, Mistress Lynn offered us a treasure trove of facts about the achievements of the African American community. This black history tour ends at the Banneker-Douglass Museum with the opportunity to tour exhibits about the achievements of Maryland's African Americans.
Other 2017 local African American heritage events include:
Photos courtesy of Ann Powell and VisitAnnapolis