When we last journeyed together along Chesapeake Crossroads new virtual trail, "African-American Voices, Memories and Places," we walked a block through Eastport's history. Today, we're headed down to another waterfront village and one of my favorite places, Galesville in South County. Hop aboard to continue the exploration of this virtual trail made up of African American stories, voices, video interviews, historical photos, and documentation in Anne Arundel County.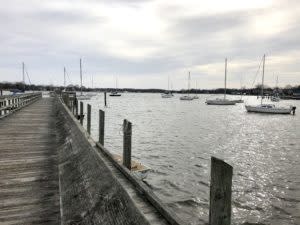 Galesville Wharf. Photo courtesy of the author.
The Village of Galesville was founded more than 140 years ago. Post-emancipation, the West Benning Road area of Galesville became a central space for the growing African-American community. Several of the earliest sites can be found near the Ebenezer Church and homes on Main Street and Church Lane. Families that still call Galesville home today are descendants of early property owners who had established their homes here at the turn of the 20th century.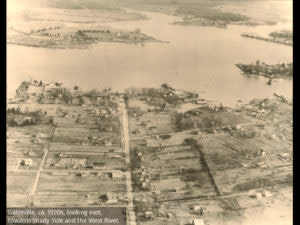 Galesville in the 1920s. Photo courtesy of the Anne Arundel County Cultural Resources Division.
Located on the West River, the reliance upon the seafood industry and the growth of the Woodfield Fish and Oyster Company (still in operation today!) as a source of steady employment for African-Americans brought new residents to the area post World War I. The village quickly grew into a thriving community. The water not only provided a source of income and nourishment, but also a source of pleasure. As early as 1886, Galesville Beach was advertised as an interracial summer amusement park. The resort, according to a 1925 article in Baltimore's Afro-American weekly newspaper, was a "leading pleasure park" for both blacks and whites in the 1880s.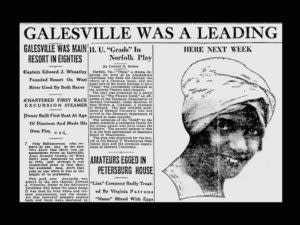 Galesville Beach in AfroAmerican Newspaper. Photo courtesy of the author.
The park was owned by Captain Edward J. Wheatley and used by excursionists and pleasure seekers, many traveling to and from by steamship. Passengers of passing vessels would be seen waving hands and handkerchiefs to one another in greeting. The park was a popular getaway destination for residents of Baltimore. Equipped with "flying horses"—better known to us today as a carousel—swings, a superb dining room, boarding houses and all of the other makings of an excellent park, it was considered the first resort of its time in the region. Wheatley himself was a craftsman who built his own schooners, the pier at the Beach and much of its furniture and equipment. Guests were entertained by live music played by the popular Monumental Band.
Unsurprisingly, the water access continues to draw residents and visitors alike to Galesville today. Although the Galesville Beach resort is no longer in existence, a quaint public park now greets waterfront excursionists. Take your virtual exploring offline to Galesville Wharf where you'll discover a public boat launch great for launching a kayak, picnic tables, a crabbing and fishing pier, and scenic walking area. A flower garden boasts a cheerful metal sculpture made from boat propellers.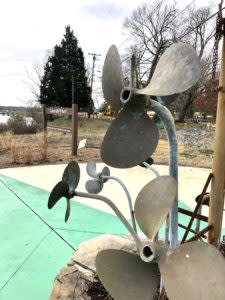 Galesville Wharf Sculpture. Photo courtesy of the author.
While in Galesville, don't miss out on the village's charming antique shops filled with vintage and antique finds (my personal favorite is Re-Find). Cap off your excursion with a drink and a bite at one of two waterfront restaurants, Pirates Cove and Stan and Joe's Riverside and bask in a community where everyone is treated as a local.
Want to keep exploring this rich trail? Explore the Trail at your own pace here and also check out Jamie's visit to Galesville here. A tip for navigating the trail: the stories of Galesville's African-American community can be found in the Rhode & West Rivers Region.