Being from Europe and a new resident to Annapolis, I am fascinated by the history and character of the many old buildings that grace the wonderful streets of historical downtown Annapolis. I've also wondered what lies behind the doors to these beautiful homes. So of course I jumped at the chance to finally get to venture inside some of these amazing properties during the 25th Annual Annapolis by Candlelight Tour.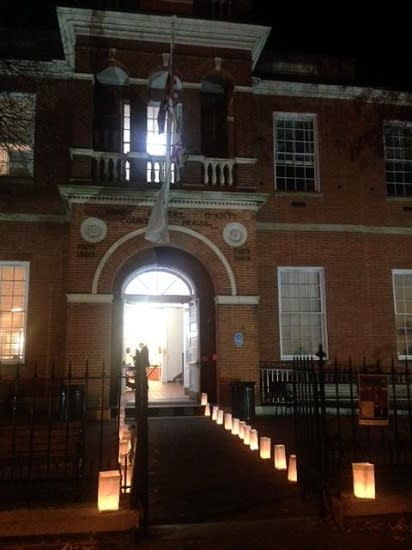 Circuit Court for Anne Arundel County
The tour was primarily self-guided. Spread out over about four hours, it allowed you the time to get a good look at all the impressive buildings on the list—public and private homes built in the 18th, 19th and 20th centuries.
Gathering on an early November evening, I and other tour participants collected our guidebooks, candlelight pins and torch pens which, I may add, were handy for walking along the dark brick streets of Annapolis. We then wandered toward the first stop on our historic candlelight tour.
The first building we toured was the Anne Arundel County Court House on Church Circle. This building was fascinating. Built during the 1820's, it has been maintained to a high standard. There's a museum on the ground level. On the second floor, we glimpsed an original holding cell for criminals (tour participants got to take some great photos standing behind its bars). Next to it was the old courtroom containing a judge's bench, a jury box—the works. Lining the walls were photographs of all the retired judges, which was really neat to see.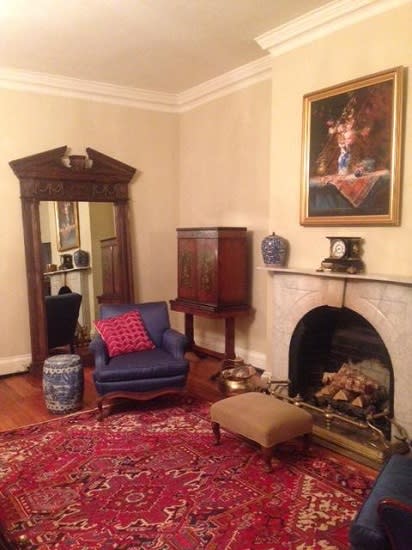 Living room 112 Duke of Gloucester Street
The second stop on our tour was Saint Anne's Church, located right in the middle of Church Circle. Several small candles lit the walkway up to the entrance of the church, where we were met by a lady dressed in costume from bygone times who told us a story about her (character's) life with her husband during the 18th century. This was a really excellent touch, adding to the ambiance and taking us back hundreds of years. After her speech, we got a good tour of the church with some history on its exceptional architecture and magnificent interior design.
We then went on to discover some of the private homes, which I was really looking forward to.
There was 203 Duke of Gloucester Street – Treadway House, a fine example of one of Annapolis's 19th century Vernacular homes, full of character and style with lots of antique furniture and decorative artworks in each room.
[gallery columns="2" size="large" ids="3652,3650"]
The next stop on our tour was 162 Conduit Street, also known as Mann's Tavern or Annapolis Masonic Lodge No. 89. This property was seized by British Loyalists during the Revolutionary war and bought by George Mann, who turned it into Mann's Tavern—known to host none other than George Washington on many an occasion. We even saw where he likely would have stayed, in a room with a window facing the State House Building and views of the Naval Academy.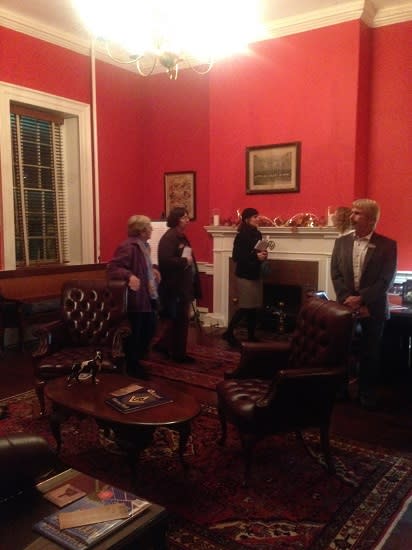 Red Room at Mann's Tavern
The next private home we had the pleasure to see was the Slayton House at 112 Duke of Gloucester Street. A Georgian-style row home, this property is part of the oldest surviving group of urban row houses in the Chesapeake region. I really enjoyed exploring this house with its grand entrance, wonderful décor, and squeaky floorboards.
We then made our way to see buildings at 86 and 96 Market Street, which were adjacent to one another. No. 86 was built in the early 1900's in a style known as Annapolis Vernacular.
No. 96 was also built in the early 1900's, at the same time as its neighbor No. 94. Built to be exact replicas of one another, these Victorian buildings were very charming and had great personality. I really liked No. 96, just seconds away from Spa Creek. Witnessing a beautiful sunset that evening from this historic property, I imagined myself living right there in one of these special houses.
[gallery columns="2" size="large" ids="3655,3654"]
The final location on the tour was 1 Shipwright Harbor, open only to members of Historic Annapolis. The rest of us got to look outside the property, which is nestled on the edge of Spa Creek. This property, a 20th century French country style home, was designed by Thomas Gillmer, a graduate of the Naval Academy.
I really enjoyed this unique tour, as it is not every day you have the chance to get a close-up glimpse of well-kept historical properties such as these. If you're a history buff or you appreciate historical architecture, make a note of this special annual Annapolis event and check VisitAnnapolis.com closer to next fall for the dates of the 2017 Annual Annapolis by Candlelight Tour.
Photos courtesy by Sinead Harold and Kenneth Tom