Nothing serves up Maryland-style comfort like a bowl of cream of crab soup.
If you're looking for the best cream of crab soup in Annapolis, look no further than Ports of Call (at the DoubleTree by Hilton) where Executive Chef Charles McKnew has honed this Maryland classic to perfection.
Incredibly, McKnew has stayed at this location for 44 years  so you can imagine he's had some time to perfect his recipe - and his many accolades speak for themselves. McKnew has won first place at the Maryland Seafood Festival eight times in the last ten years!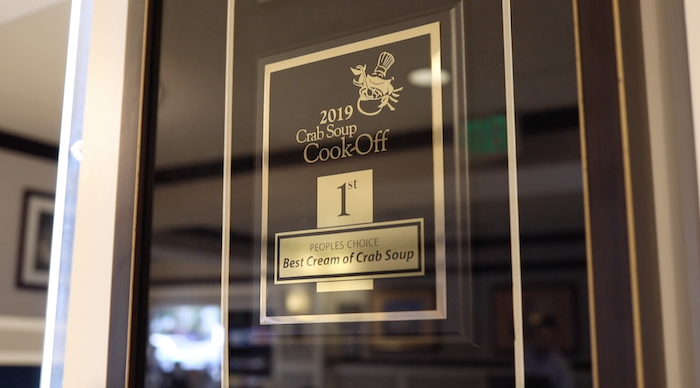 Most fortuitously we happened to arrive right after Chef had pulled his signature DoubleTree chocolate chip cookies out of the oven. DoubleTree has become quite famous for these chocolaty treats as they're made fresh every day for each guest that stays at the hotel.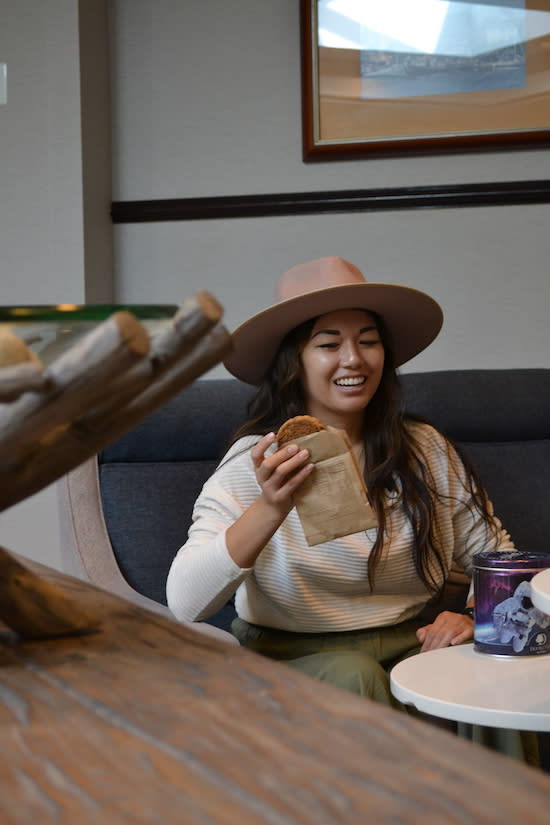 After a quick gobbling of a few cookies, Chef showed us the very machine he used to make the heavenly soup I would soon get to try. It was a 100-gallon steel vat that looked large enough to make soup for an entire month! In truth, Chef admitted he really only uses it at half capacity each time. The sheer amount of cream he goes through in a week, however, made me feel anxious for my arteries.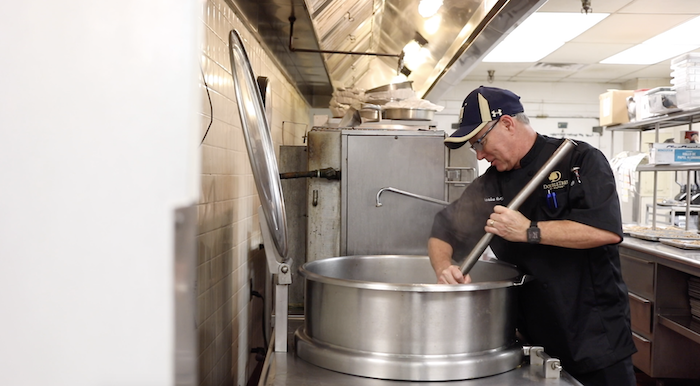 Finally, it was time to move on to the restaurant and my date with a certain creamy indulgence. A quick glance around Ports of Call and I noticed a penchant for the Navy, from the nautical maps that made up table surfaces to the decor that hung on the walls. As a matter of fact, the DoubleTree feeds the Navy football team and provides them with a home away from home on game weekends. 
At last the main event was at hand. Chef brought over a brimming bowl and I dug in. As expected the soup was pure creamy heaven. Moreover, there was a never-ending mound of crab meat. I had a difficult time finishing it all and not for lack of desire. This baby eats more like a meal; it's hearty but leaves you wanting more.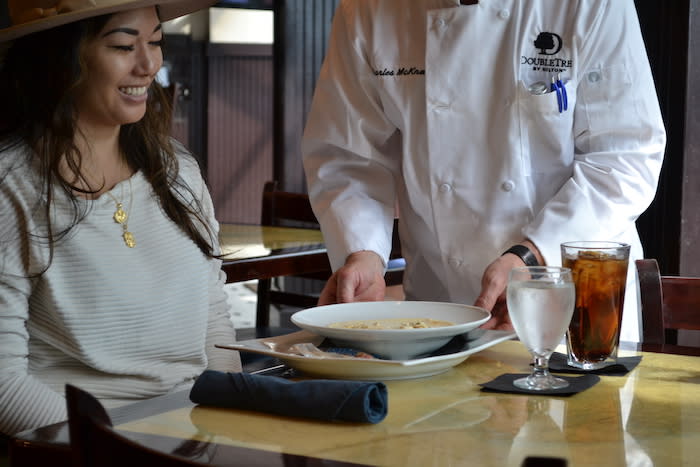 The soup itself is actually very simple as McKnew was totally transparent about. (When it comes to most classics I like to apply the K.I.S.S. approach myself.) There are about seven to eight dry ingredients that are combined with cream. Of course, it wouldn't be a true cream of crab without a generous presence of sherry, but the secret ingredient may surprise you: a dash of mace. 
McKnew's cream of crab recipe has actually been published so you can try to recreate the magic for yourself. Or, just leave it to the pros and come on down to the DoubleTree. I know I can't wait to get my hands on a bowlful again.