Annapolis has become a great location for both cocktails and food. Offering a little bit of everything, this historic town dishes up eclectic dining options, a thriving music scene, master mixologists and cozy pubs. As a native Annapolitan, avid cocktail enthusiast, and local foodie, I couldn't help but put together these Annapolis Cocktail Trails  highlighting some of my favorite spots to help you get the most out of a weekend stint or night off.
The best part? You'll find most of your options within easy walking distance of one another. So, here we go…Pick your favorite spirit and hit one of my trails! And feel free to send me your own trail!
Here's a map to keep you on track: Cocktail Map.
WHISKEY
I'm a girl who loves her whiskey, so let's start there. Tsunami is one of my favorite restaurants and hang out spots in downtown Annapolis, offering fresh sushi, delicious entrees, and really great cocktails. Park at Gott's Court Garage (25 Northwest Street), located behind the Annapolis Visitor Center, and hop across the street. Ask for the Lion's Heart – a tasty bourbon treat – and pair it with a Metropolitan or Kamikaze roll. Yum-Yum-Yummy!
After that, head down West Street to Main Street in search of Dry 85. This prohibition-style bourbon bar offers every kind of scotch, bourbon, and whiskey you can think of. Try the Kentucky Fields of Lavender before digging into a plate of their fried green tomatoes. Drink some water, too, because we have one more stop!
Next is another of my favorite spots in town, The Fox's Den. It's easy to miss, so take a right out of Dry 85 and keep your eyes open. The speakeasy-style bourbon bar is marked with a fox's head in a little nook between buildings (about half way down Main Street). Hidden underground is a whiskey-lover's dream. Grab a table or sit at the bar, but be sure to order a For Fox's Sake paired with their pig wings or duck fat fries! Can't beat it!
After you've completed the trail, stop in one of the many live music venues hosting great shows well into the night.
Quick List:
Tsunami – Lion's Heart cocktail w/ Metropolitan or Kamikaze roll Fox's Den – For Fox's Sake w/ Pig Wings or Duck Fat Fries (or both!) Dry 85 – Kentucky Fields of Lavender w/ Fried Green Tomatoes.
RUM
Head downtown and park at the Knighton Garage (at Corner of Colonial Avenue and West Street). Cross West Street and bee line to Sailor Oyster Bar. This funky, maritime-themed spot has no kitchen, only a blow torch and a toaster, and it is delicious! Try their SOB Daiquiri paired with one of their toast plates, or, of course, the oysters. (Note: Ask for their butter! You'll thank me). Hail yourself a peddle bike or strap on your walking shoes because we're heading to Eastport.
Located just over Weems Creek Bridge on the other side of the Annapolis Harbor is Boatyard Bar & Grill. Known as one of the world's best sailing bars, it's a great choice for a rum drink. Ask for their Hemingway Cocktail and a dish of their grilled shrimp (citrus or coconut – you can't go wrong).
After you get your fill, head over to Blackwall Hitch for some live music to close out the night.
Quick List:
GIN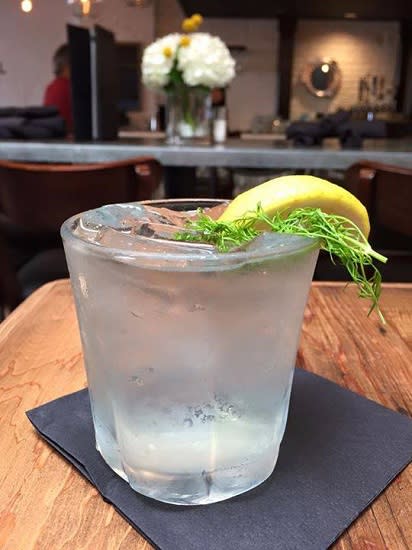 Blackwall Hitch - Dill Lemon Spritzer.
Let's pick up where we left off in Eastport during our rum trail! Blackwall Hitch has an awesome rooftop overlooking the Harbor, so be sure to sit there if the weather is nice. Ask for their Dill Lemon Spritzer (Note: they change their menu regularly, so if the spritzer isn't on the menu, ask to have any gin special. You won't be disappointed). Hungry? Order the Red Bartlett Pear Salad or the mussels with your cocktail.
From Eastport, take a water taxi or walk over to downtown. Head up scenic Francis Street (a great view of the Maryland State House) and take a right to Harry Browne's. Known as the bar where dignitaries and lobbyists from the State House go to relax and eat, Harry Browne's offers a true, classic gin martini to patrons. Relax with one of these and don't miss out on their charcuterie board!
Ready for the next stop? Make a switchback around State Circle, then around Church Circle, up West Street, and run to BAROAK. Part of Loews Annapolis Hotel, BAROAK is a great place to end our gin trail. Get their Army/Navy cocktail along with their oyster ceviche or potato skins.
Since you're in the Arts District, why not go window shopping? There are a ton of great art galleries lining West Street.
Quick List:
Blackwall Hitch – Dill Lemon Spritzer w/ the Red Bartlett Pear Salad or Mussels Harry Browne's – Classic Gin Martini w/ the Charcuterie Board BAROAK – Army/Navy Cocktail w/ the Oyster Ceviche or Potato Skins.
VODKA
Now for the vodka lovers. Park at the Knighton Garage (at Corner of Colonial Avenue and West Street) and head to Metropolitan for their popular Cucumber Moon. If the weather is nice, be sure to head upstairs to their rooftop bar and lounge for comfy seats, a great atmosphere, and some music. Get one of their handful of tasty burgers or their Capresé Flatbreads but split it with a friend because we have two more stops to go.
After Metropolitan, head up West Street towards Church Circle, then down Main Street to Osteria 177. Known for their delicious Italian dishes and cocktails, you really can't go wrong here. Get their Osteria 177 (it has fresh blueberries!) along with their Prosciutto e Melone.
From here, head down towards City Dock and stop in Harvest Wood Grill & Tap. With a relaxing feel, views of the Annapolis Harbor, a cocktail called the Pear Haymaker (vodka, pear, and ginger), and great food like grilled oysters, it's a great choice to end the day or night.
Don't forget to grab some ice cream after Harvest. There are a number of ice cream parlors located on Main Street and at City Dock.
Quick List:
Metropolitan Kitchen & Lounge – Cucumber Moon w/ a burger or Capresé Flatbreads Osteria 177 – Osteria 177 w/ Prosciutto e Melone Harvest Wood Grill & Tap – Pear Haymaker w/ Grilled Oysters
TEQUILA
Vida Taco Bar -- Custom Margarita
It's all about the margaritas! A summer favorite of mine (though I dabble throughout the year), tequila spots in Annapolis are a great way to enjoy a night out. Start this trail at Sin Fronteras Cafe, a small Mexican/Latin restaurant with a flare of Miami thrown in located just across from the Annapolis Towne Centre at 2129 Forest Drive. Enjoy one of their tasty margaritas along with the Yucca con Chicharron. If you're looking for a sweet taste of the Andes, try their pisco – a Peruvian grape-based wine spirit. Vamos!
From Sin Fronteras, take a cab downtown or park at the Hillman Garage (150 Gorman Street) before heading to Vida Taco Bar on Main Street. Honestly, no tequila cocktail here will let you down. I suggest choosing a custom margarita or the Purple Drank. Pair this with their Chipotle Marinated Octopus or Tinga Chicken tacos to put a smile on your face.
Once finished with Vida, walk down to the Annapolis Harbor and take a water taxi directly to Chart House. Take a seat against the huge windows overlooking downtown and order their Chart House Monarch Margarita along with their "wicked tuna". Not only is this a tasty choice, but the views are excellent!
End the night by hopping on the water taxi back across the Harbor and checking out on of the live music venues in downtown (or head to Dock Street for a little dancing).
Quick List:
Sin Fronteras – Margarita w/ Yucca con Chicharron Vida – Custom Margarita or the Purple Drank w/ Chipotle Marinated Octopus or Tinga Chicken tacos Chart House – House Monarch Margarita w/ the Wicked Tuna.
CRAFT BEER
I know this is supposed to be a cocktail trail, but I can't leave out the great craft beer spots around town. As a little bonus for those brew lovers, your "ale trail" starts by parking at City Dock and walking over to the Federal House. Located in an original mid-1800s building, Federal House offers a wide variety of national and local craft brews on tap. Try their beer sample along with some Old Bay wings – classic Maryland bar treats! If you're looking for a bigger taste of Maryland, head to Middleton Tavern for some oyster shooters.
After Federal House, walk up Main Street then down West Street towards Chesapeake Brewing of Annapolis. BEER COCKTAIL! Mixing local brewery Jailbreak's Feed the Monkey Orange Wheat with (another local brewery) DuClaw's Blueberry Wheat, I give you the Funky Monkey! Order some crab nachos (and maybe a slice of Maryland's Smith Island Cake), sit back, and enjoy.
Closing out the trail, you'll want to head back down West Street to the famous Rams Head Tavern. With over 100 beers on tap, the best thing to do is ask your bartender for their recommendation. Rams Head has monthly releases, so there is always something new to sample. After you've chosen your brew, order the fish tacos or black bean soup, but a must are the fried pickles.
Don't want to call it a night? See what live performance is happening next door at Rams Head on Stage, known as one of the U.S.'s best music venue with under 500 seats.
Quick List:
Federal House – Beer Sampler w/ Old Bay Wings Chesapeake Brewing of Annapolis – Beer Cocktail w/ Crab Nachos Rams Head – Pick from over 100 beers w/ Fish Tacos, Blackbean Soup, or Fried Pickles
There it is! My favorite routes to sample everything I love about Annapolis' cocktails. Drink responsibly and enjoy the trail. I'd love to hear your trail ideas, so leave a comment and maybe we'll add it to our Cocktail Trail Map!
Photos courtesy of Darin Gilliam, Sabrina Shupe, Rams Head Group