"Everything old is new again" – it's an ol' song that I find myself humming when I walk into a consignment shop. From my recent dive into local pre-owned shopping, there seems to be a big, dare I say renewed, interest in resale items. There are a number of places that sell high quality items at low prices, and people in the Maryland, Virginia, and DC areas appear to have Annapolis consignment shops in their sights as one of the hubs. If you take the time to look, you can find some well-priced surprises.
I spoke to a few customers and sales people at consignment shops over the last few days and found that the appeal of paying less and being green is a big draw. I have to admit, I didn't think of shopping at a consignment shop as being green, but when you realize you're reusing, maybe repurposing something, it's a fit.
My first stop was Return to Oz (2011 West Street), a block off the corner of West Street and Old Solomons Island Rd. They have a little bit of everything here: Children and adults clothing, household items, jewelry. They've been in Annapolis since 1991 and have loyal consigners who move away and still ship things here. One can save a lot of money by taking the time to go through their many rooms. I was pleasantly surprised to see sporting equipment in good condition – skates, helmets. I made a mental note for the future. For now, I couldn't resist a Melissa and Doug mailbox that sells for about $25 new, for only $3 and Return to Oz – a nice surprise to bring home to my little one.
Not far from the Navy-Marine Corps Memorial Stadium is Petticoat Lane in West Annapolis, which is celebrating its 7th anniversary. The owner, who has an arts background, describes her collection as artsy, eclectic, and high-end. She's admittedly very selective and buys on a piece by piece basis. She features ladies' clothes, accessories, and furniture. The name of the shop comes from a street in London known for its array of flea markets.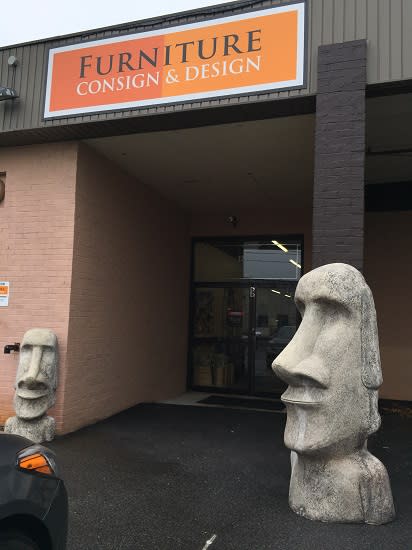 Furniture Design and Consign
Echoes & Accents is a place I heard about the first day I moved to this area. There's a family atmosphere in this place of "gently used" items. There are lots to choose from for any room in the house. The salesperson said they look at the condition, marketability, and season of items. 20% of their floor is new from furniture shows and gift shows.
A relatively new place on the scene, is Furniture Design and Consign. Their wall of paintings lets you easily compare artwork side by side. They also have a kiosk to help you organize your thoughts and help trim down choices. You'll also find new items here – they consign with online companies on lost sales.
The next time you're in search of quality goods at good prices, go be surprised at what Annapolis' consignment shops can offer.
Photos courtesy of Alexandra Cannaday