When I first stepped into Jo Fleming Contemporary Art (37 Maryland Avenue), I knew I was experiencing something fresh and unique in Annapolis.  The difference between my expectation and the reality was subtle, but definitely tangible.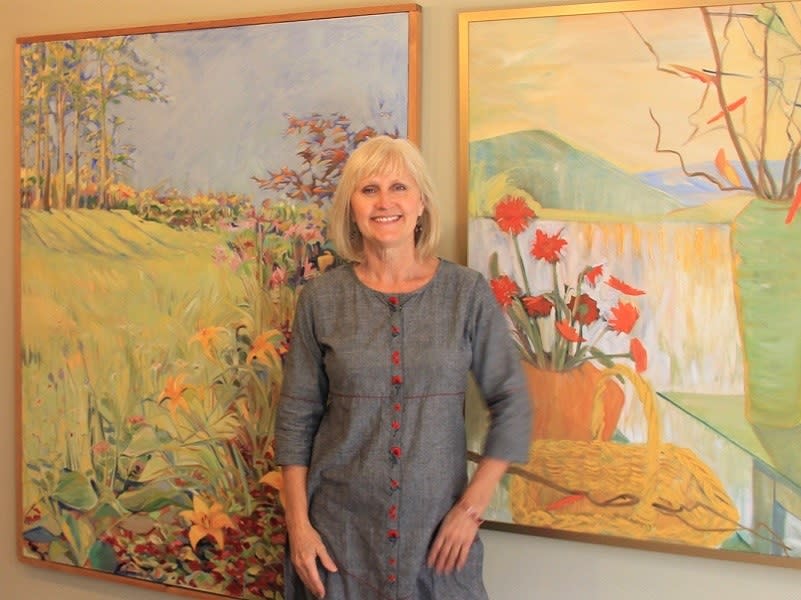 Jo Fleming
The exhibit was perfectly curated; I was drawn to see it as a whole first, taking it all in and feeling the concept before viewing individual works, each of which was exceptional in its own right, my experience aided by the context provided from the overarching theme.
The gallery itself is not huge, yet it feels like a breath of fresh air with its casual sophistication and warmth. It's evident that an accomplished individual was behind the thoughtful design and presentation of the space that is simultaneously minimal and inviting, with a tiny nook for interest.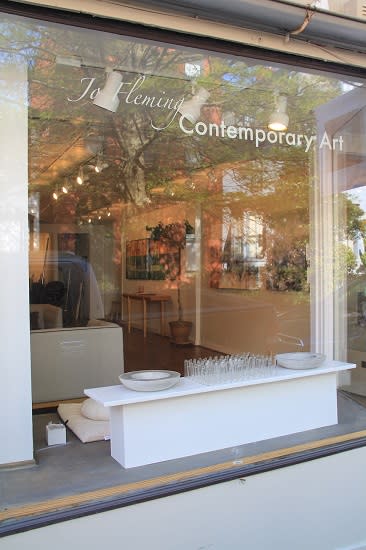 Jo Fleming Contemporary Art Gallery Front
And then I met Jo, and I realized the gallery is a manifestation of who she is. Jo Fleming is both a dreamer and a realist.  Straightforward, with interesting layers.
One day, visiting from Northern Virginia, she was out on the water with a close friend that lives in Arnold, and she discovered Annapolis. Ready for a change while still wanting to maintain her connections to Virginia and DC, she saw the potential that Annapolis has to offer – something magical.
Then she saw the space at 37 Maryland Avenue.  It spoke to her, and wanting to seize the opportunity to pursue her dreams, she jumped in with both feet.  It was quick and spontaneous; while she is an accomplished contemporary artist who has sold a lot of her work, she had no gallery experience at all.  She never owned a gallery – never even showed in one.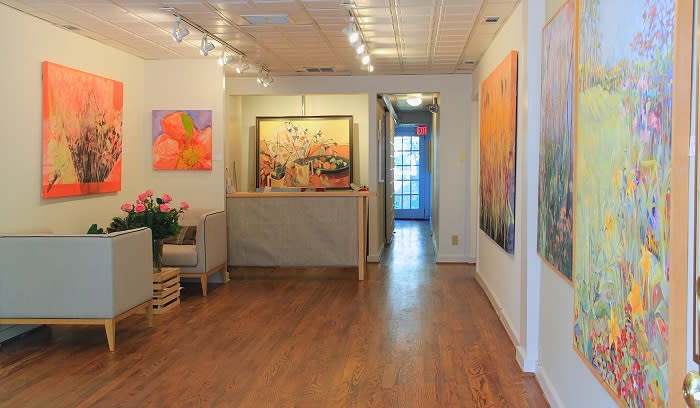 Abundance of the Fields Exhibit at Jo Fleming Contemporary Art
Wasting no time, she opened Jo Fleming Contemporary Art and moved to downtown Annapolis.
It sounds like a risky move, and it might have been for many of us, but Jo had a proficiency gained from rewarding careers in both fine art and design under her belt. With a Fine Art degree from MICA, she worked in design with major organizations like SOM, which is a premier global architecture firm, was a senior designer at National Geographic Headquarters, and worked in the newsroom at the Washington Post.
Then, while raising her children, Jo spent a great deal more time painting and showing her work on a regular basis, while doing freelance design.  She'd had shows in a multitude of non-traditional venues such as hotels, restaurants and law firms, and had been contracted to create large corporate installations and public art. Her work is in a number of embassies and she has traveled internationally to install and visit her creations.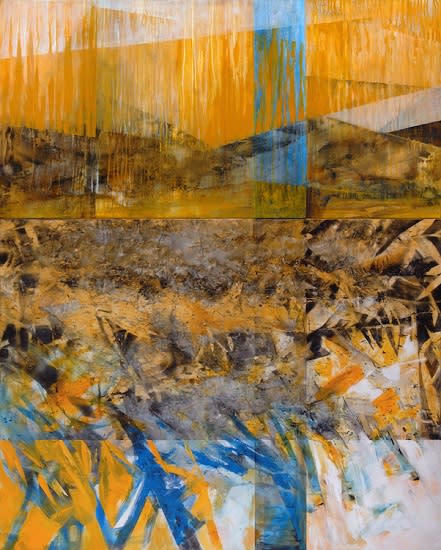 "Mountaintop", Acrylic, Eggshell and Shellac by Jo Fleming
So she was perfectly poised to take this step.  With her own design firm and a gallery, she has created a rhythm between the two businesses.  "I used to believe that my two careers were separate without any overlap," she told me. "But in reality, the components in architecture and design are really the same ingredients you work with in painting.  The creative arrangement of elements is building composition in both fields."
Jo Fleming Contemporary Art has just hit its one-year mark.  It's really fun to listen to Jo talk about her experience living and working here this past year:
"I've not had one dull day since I've been here!" says Jo.  "I've loved getting to know the people in this wonderfully creative town. The gallerists are all friendly and helpful, and I'm in awe of the great shopkeepers on Maryland Avenue and downtown who are gutsy, and have a lot of energy."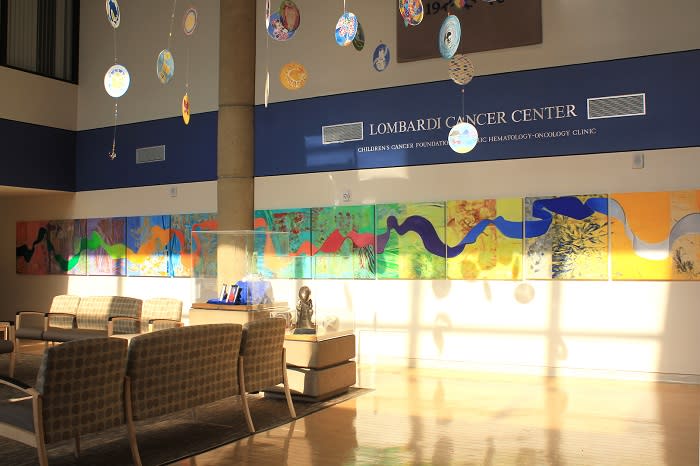 Jo Fleming's "Ribbon of Joy" at Georgetown Lombardi Cancer Center, 13 panels 3x3
The gallery is building momentum.  The growth has been largely organic through word of mouth.  That is not a random phenomenon.  While she admits to not having a business plan per se when opening the gallery, she did – and does – have a plan on how it would unfold and how it will grow, and so far she has been hitting it out of the park:
"I want to create gangbusters shows that get people excited and talking about art by bringing in work that people may not have seen; really great art curated in a way that makes it interesting," Jo explained to me.  "I'm being thoughtful about each show having a different direction.
"I'm always exploring, and I've discovered that in Annapolis there are so many areas of interest around which various groups have tremendous passion, like serious gardening, or sailing, as well as an environment rich with iconic institutions and history, from old, revered and different types of trees, to Paint Annapolis, to the Naval Academy Commissioning week.  There is no shortage of ideas to feed into exhibits that will be meaningful to people in the area and the region.
"It's important to feature local, talented artists, and there is no shortage of that population in Annapolis.  Of course I want to display my own work, and I do, and eventually I will be painting in this space as well. The feedback has been so strong and people have been very excited. I feel really good about the exhibits I have coming up and all of those wonderful ideas I have yet to discover!"
Jo has embraced Annapolis, and Annapolis has embraced her right back.  Her gallery is situated on one of the most beautiful historic streets of commerce in Annapolis between two beloved local bookstores.  She, herself fits in beautifully, with her positive demeanor and approach to life and art.  We are delighted to discover Jo and her gallery, and can't wait to see what's next!
Be sure to visit JoFlemingContemporaryArt.com for more information, or drop in at 37 Maryland Avenue in Annapolis. (Hours:  Wed – Sun, 12 -5 p.m.; Thurs til 7 p.m.)
Images courtesy of Patrice Drago