I never paid much attention to kid-friendly anything before I had a baby in 2018. But, as the saying goes, "having a baby changes everything." My kid-friendly radar is constantly up, seeking out the best places to visit with our son, finding activities to do when my nieces visit or recommendations for out-of-towners coming to Annapolis with little ones.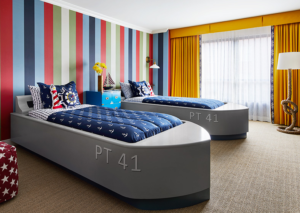 Boat Beds at The Graduate Hotel
Recently, 'Visit Annapolis' launched a campaign called #KidsLoveAnnapolis to highlight kid and family friendly activities in the Naptown area. Part of the campaign is a contest through January 12, 2020 encouraging people to post their adventures with kids in Annapolis on Facebook and Instagram using the hashtag #KidsLoveAnnapolis. Do it and you might just win a kids-themed Annapolis gift bag. To learn more about what you can win visit here.
Need some suggestions on what to do? Here are a handful.
1) ArtFarm – ArtFarm is the perfect place to explore arts education, engage with creative groups, or host an event. Among many other offerings, ArtFarm holds Children's art classes and weekday summer art camps.
2) YMCA Camp Letts – It's never too early to start thinking about summer especially with Camp Letts' countdown clock on its website! Is your child interested in sailing or horses? Looking for an overnight experience or a day camp? Maybe your whole family wants to camp? Camp Letts may just be the answer.
3) Pongos Learning Lab – My husband is an application developer and spends his evenings coding his heart out. He is THRILLED about getting our little one into Pongos Learning Lab where they can share in STEAM centered activities together.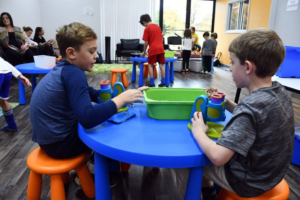 Photo courtesy of Pongos Learning Lab Facebook
4) Afternoon Tea at Reynolds Tavern – Pinky fingers up! I have always loved afternoon tea and what a great activity to do with the whole family. Reynolds Tavern has something on the menu for even the tiniest diners.
5) Pirate Adventures – While closed in the winter, come April get the family ready to set sail on a real-life pirate adventure right in the Harbor! Interested in searching for sunken treasures and firing a water cannon? Here's your chance.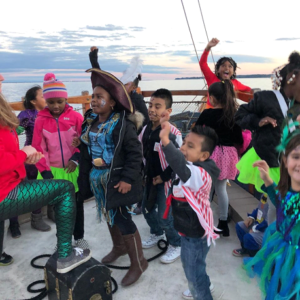 Photo courtesy of Pirate Adventures Facebook Page
6) Stay at the Graduate Hotel – Know a family coming into town? The new Graduate Hotel makes bedtime fun with their boat shaped and themed beds.
7) Attend a Navy sporting event – In case you've been asleep all season, the Navy football team has had a bang-up year. But there are so many sporting events aside from football that make for great family outings.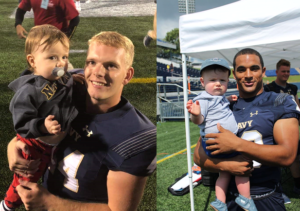 My son Huckleberry with USNA starting quarterback and longsnapper.
8) Ice Skate at the Brigade Sports Complex – Speaking of Navy, the Brigade Sports Complex offers many skating opportunities open to the public to get on the ice.
9) Just go downtown and explore! Grab some ice cream. Check out the boats in Ego Alley. Wander up Main Street and down Maryland Avenue. Marvel at the beauty of the Governor's Mansion.
For more on what things to do in Annapolis and how to enter in the #KidsLoveAnnapolis contest, visit www.VisitAnnapolis.org