A gift from the heart is good—but a gift from the heart of the sea is even better. If your loved ones have nautical inclinations, then head to Annapolis Maritime Antiques in Eastport to find the perfect marine-themed gift for the holidays.
Nautical Antiques and Treasures
Nestled in quirky Eastport, Annapolis Maritime Antiques delivers an array of "Unique Things from the Seven Seas." Browsing the crowded space almost feels like shopping in a museum.
The charming little corner store at 128 Severn Avenue is filled with a collage of colorful items: marine antiques, lanterns, portholes, oars, bells, anchors, ship models, shells, charts, signs, jewelry, and artifacts from around the world. The shop features all kinds of mermaids, with whom seafarers historically have a love-fear relationship. You can also pick up the flag of the fun loving Maritime Republic of Eastport, motto: We like it this way.
Hatch Covers Make Fine Furniture
In addition to retail sales, the core of the business is the creation of beautiful one-of-a-kind nautical furniture crafted from old Liberty ship hatch covers. Liberty ships were American cargo ships built in large numbers during World War II. The rows of wooden hatch covers on Liberty ship decks protected the cargo holds, and the metal half sphere indentations at the cover corners were "pick points" for hooks used to move the heavy covers.
Tony Kime has been making nautical furniture for about six years, ever since he chanced upon a treasure trove of hatch covers offered to him by a retiring Annapolis furniture maker. He knew a good thing when he saw it—these hatch covers were crafted in the 1940s from old growth pine and were salvaged from scuttled ships retired in shipyards and junkyards all over the country. Tony has the world's largest collection of authentic Liberty ship hatch covers in original condition, which his woodworking shop turns into custom tables, bars, cabinets, mantels, and doors.
New Use for a Historic Site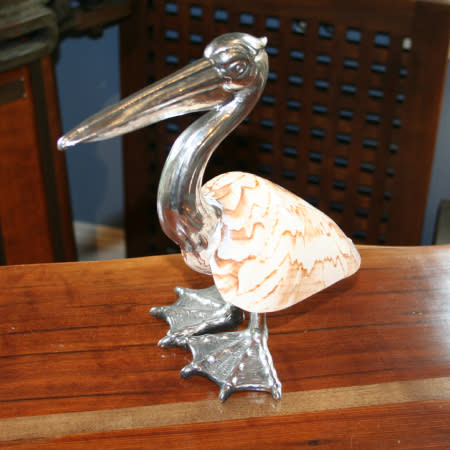 Pelican shell sculpture.
Initially Tony worked out of a converted waterman's shed in the countryside, until one day he was contacted by folks looking to decorate the new Eastport office of Dome Chartering & Trading Corporation. It turned out that Dome Chartering had purchased a corner lot in Eastport that was once home to an old glass factory. Included in the site was a tiny store with more than a hundred years of history as a corner grocery and a wood carver's studio.
Folks in Eastport didn't want to see this historic building torn down, and so Dome Chartering lined up a lease with their newfound maritime antiques dealer Tony Kime, who renovated the old structure and opened Annapolis Maritime Antiques in June 2014. A Navy veteran, former Coast Guard Reserve Commander, shipyard superintendant, and Booz Allen Hamilton retiree, Tony is the right fit for the business.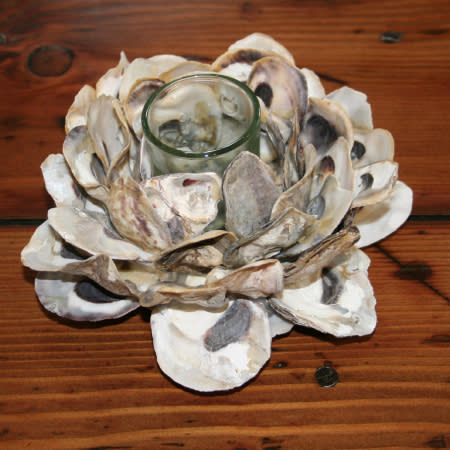 Oyster votive shell.
Meanwhile, Dome Chartering got busy building a first-class Maritime Office Building designed with a nautical flare by local Hammond Wilson Architects. The new building cleverly wraps around the tiny antique shop on the corner. Dome Chartering occupies the top floor, chartering and brokering cargo ship movement all around the world. The building's first floor is leased to the Living Oceans Foundation, a nonprofit ocean research organization.
And, tucked under the wing of the new Maritime Office Building is this little treasure of a store, this nautical museum offering a stunning collection of "Unique Things from the Seven Seas." Be sure to make Annapolis Maritime Antiques a port-of-call on your holiday shopping excursions. And while you're out shopping—here's a little challenge for you and your friends—can you name the Seven Seas?
Annapolis Maritime Antiques 128 Severn Avenue, Annapolis MD 410-268-7490 annapolismaritimeantiques.com
Photos courtesy on Ann Powell and Annapolis Maritime Antiques