Monday, May 1st was Annapolis May Day! It's known as the most beautiful day in Annapolis, and it's one of my most favorite days of the year in town. Each year on the first day of May, the homes and businesses in downtown Annapolis create and display gorgeous floral baskets adorned with long, flowing ribbons. Judges from the Annapolis Garden Club select winning baskets. Adult winners receive invitations to the Garden Club's coveted annual tea party while children under twelve receive ribbons and lollipops. (Each entrant must have their name and contact information visible on the basket; children must list their names and ages.) It is such a charming tradition, dating back to 1956 when the Garden Club of Old Towne Annapolis began this custom as a beautification project, inspired by the spring festival during which children dance with ribbons around a May pole.
I was particularly excited to share this, my favorite small-town tradition, with my young children. I admit, I did sound a little silly when I was describing our activity for the day. "We're going to walk around and look at flowers! You can take pictures with your favorite basket!" I think their initial lack of enthusiasm shows on their faces in the picture above, but overall the day was a huge success! We started off on the corner of Prince George Street and Maryland Avenue where I fell in love with the arrangement at Old Fox Books. It had a literal fox peeking through the flowers with a long plume for a fox tail! (As a personal aside, does Old Fox Books remind anyone of Fox Books in 'You've Got Mail?' Does anyone else find that uber charming??) We made a large loop similar to the path we followed just days earlier at the Spring Boat Show and saw baskets along King George, Randall, Market and up Cornhill to State Circle. I really wish we had trekked over to Duke of Gloucester and throughout Murray Hill but we were delighted with the baskets we found in the residential area there near City Dock. My kiddos wished they could have competed, especially when I told them lollipops would have been their prize!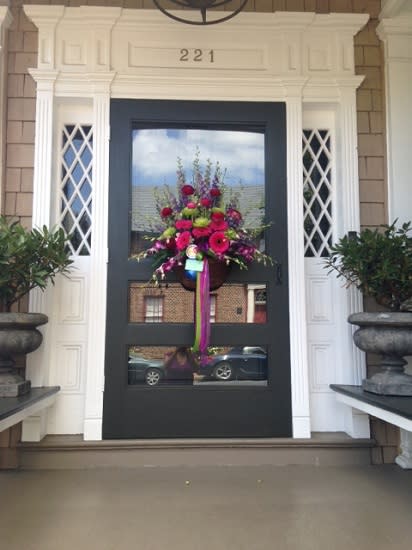 The winning basket
We stopped into City Dock Coffee on Maryland Avenue before we concluded our search. A lovely woman was very friendly and polite to my children and the barrister handed me a hot cup of water to clean my baby's pacifier; I just cannot get enough of the small-town atmosphere in Historic Annapolis! Right across from City Dock Coffee, we found a super fun May Day entry with an Alice in Wonderland theme at The Annapolis Bookstore. Their creative display featured a Mad Hatter tea party with gorgeous flowers in each tea cup…how neat is that?? My kiddos enjoyed playing pretend as we meandered back to the car.
I did pull my daughter out of kindergarten for this experience; May Day fell on a Monday this year. I'll cherish the memories made while we traversed my "old stomping grounds." After all, sometimes learning through living is the best education!
Photos courtesy of Becca Beasley