It's that time of year again here in Annapolis when foodies get the chance to indulge in a great annual food event known as Annapolis Restaurant Week. Beginning this week from Monday, February 20th through Sunday, 26th, over 40 Restaurants participate in the event, offering fixed price menus across the city. The deals on offer include a two-course Breakfast for $12.95 (at restaurants that normally serve breakfast), a two-course Lunch for $15.95, and a three-course dinner for $34.95. It is a fantastic way to sample some amazing food from places you may have never tried and to indulge in your local favorites.
A couple of my favorite restaurants are involved this year, so I am hoping to venture downtown and take full advantage of the great value menus on offer. As this is a full week event, you have plenty of time to spread it out a little and try a different menu and a different venue each time.
Breakfast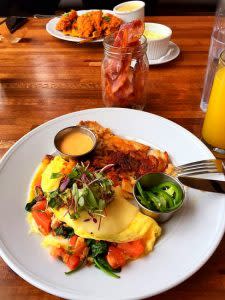 Omelet at Iron Rooster
One day for breakfast I'll definitely go to Miss Shirley's Café, which is very famous in town for it's breakfast and lunch. It's located at the end of West Street just before the Westin Hotel. It's really popular with locals and visitors alike for its comfort food style home cooking. For Restaurant Week, it has a variety of options to choose from, including Benne Seed Chicken 'n' Waffles and a healthy 'Hot Mess' Scramble which you can wash down with a tasty milkshake. Other great breakfast options participating this year include Iron Rooster, Chick & Ruth's Delly, and Café Normandie.
Lunch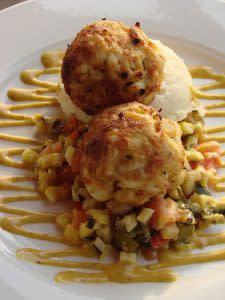 Crab Cakes
For lunch, I would recommend a visit to Harry Browne's on the State Circle – a stylish, high-end, established eatery in a really historic location. It's also known as a legislator hangout. They are offering a wonderful Lobster Bisque and Roasted mushroom melt as part of their menu which I am dying to try. Due to its location, you get a great view of the Maryland State House, and if the weather continues the way it has, I would highly recommend dining outside al fresco. If that's case, there are also the rooftop lounges at Metropolitan and Blackwall Hitch, patio dining at Rams Head Tavern, and street dining at Federal House, O'Brien's Ostyer Bar, Tsunami, Fado's Irish Pub, Luna Blu, Lemongrass, and Carpaccio Tuscan Kitchen (to name just a few).
Dinner
I will definitely be making a visit to Carrol's Creek Café for dinner one evening this week. Located just over the Weems Creek Bridge in Eastport, Carrol's Creek offers a beautiful, waterfront setting with a fantastic Restaurant Week menu. Try the crab stuffed Jumbo shrimp for starters, maybe followed by the Surf 'n' Turf or the fresh Rainbow Trout. Finish it all off with a fresh berry tart and coffee. I'll be sure to arrive hungry. Aside from Carrol's Creek, Eastport boasts a number of restaurants participating in the week-long event like Ruth's Chris Steakhouse, Chart House, Blackwall Hitch, and Lewnes' Steakhouse.
There are plenty of parking garages in downtown Annapolis located just within a few minutes walking distance to the restaurants. Some of the restaurants may only have the lunch and dinner menus on offer, so click here to view a full list of restaurants and their offerings. Reservations are also highly recommended as it is a very popular event.
This event is one of the highlights on the Annapolis event calendar as it's a nice start to the new year, a break from the winter blues, and a great excuse to get out and try local food at a fraction of the cost. Enjoy and bon appetite!
Photos courtesy of Visit Annapolis (Please note that aside from Miss Shirley's, the images do not reflect the restaurants' menus during Restaurant Week).