It's not every day you are invited to cook at the iconic James Beard House at 167 W. 12th Street in New York City. But that's where Josh Brown, executive chef at Fox's Den, a happening new American gastropub in Annapolis, will be on March 22, joined by the pub's mixologist/bartender Tommy Burns as they present a five-course meal with matching wines.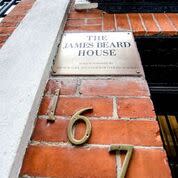 Among the invited guests are brothers Chris and Andrew Fox, co-owners of the gastropub as well as two other Annapolis hot spots Levels Small Plates and Vida Taco Bar. The brothers have a high profile among locals – they owned another underground hideaway at the Reynolds Tavern before leaving that space to open their current venture, assuming ownership of Levels Small Plates on the corner of Calvert and West streets and opening the Viva Taco Bar on Main Street.  Little known fact: Chris ran for mayor of our town in 2009. Izabela Wojcik, a director of the James Beard Foundation, remembers when Josh Brown first cooked at the Beard House in 2014, earning an invitation based on his cooking at acclaimed restaurants in Charleston, Asheville and Washington D.C. as well as Level in Annapolis.
"His menu for that visit represented a wonderful Chesapeake Spring bounty…hence the name of his 2014 Beard House dinner, Chesapeake Bounty. We felt it was only fitting to have Josh return later this month with his latest Annapolis hot spot Fox's Den, to showcase his approach to elevated comfort food…paired with local beer and wine. His well-conceived dishes read so beautifully we can't wait to savor every morsel." wrote Wojcik in a recent email. "Part of the mission of the Beard House is to explore local and regional flavors and cuisines – and it's a rare treat to host a chef from Annapolis."
Chef Brown will prepare an ambitious menu that includes a trio of hors d'oeuvre's (among them foraged mushrooms with sage and lemon crème fraiche), an elaborate dinner (that includes rabbit, venison, smoked onion soup and marinated squab) and an original dessert of honey cake with carrot mascarpone and cheesecake ice cream. Burns, a cousin of the Fox brothers and co-owner of Fox's Den, has chosen special artisanal brews and boutique wines to compliment the food.
Josh Brown is looking forward to the challenge. "As the chef, I'm ecstatic to see all the hard work of our culinary team get recognized on a national stage," he says. "Cooking at the Beard House is also a great way to bring needed recognition to Annapolis – and draw the national spotlight to our growing culinary scene."
Note: The James Beard "American Gastropub" is open to the public, with tickets priced at $170 or $130 if you identify yourself as "a friend of the restaurant." Call 212-627-2308 for reservations. A "preview" of the New York dinner takes place at Fox's Den in Annapolis on Tuesday, March 8, 2016. Tickets are $75 per person, and space is limited to 50 people.
Photo credits: James Beard House, courtesy of Ken Goodman; Fox's Den beer selections and pizza dish, courtesy of Fox's Den website.