Just when I thought my knowledge of spices and teas was a notch or two above "good enough", I visited the Annapolis Spice and Tea Exchange on Main Street and found out otherwise.  Owner Joy Quinn-Whalen, who also owns identical franchises in Alexandria and Rehoboth, was in her Annapolis location and happy to share her considerable knowledge of teas and spices from all parts of the world.  "I like to say we have everything you never knew you always wanted," she said as we made our way along shelves stocked with a hearty selection of seasoning products, exotic teas, and unique culinary-themed accessories.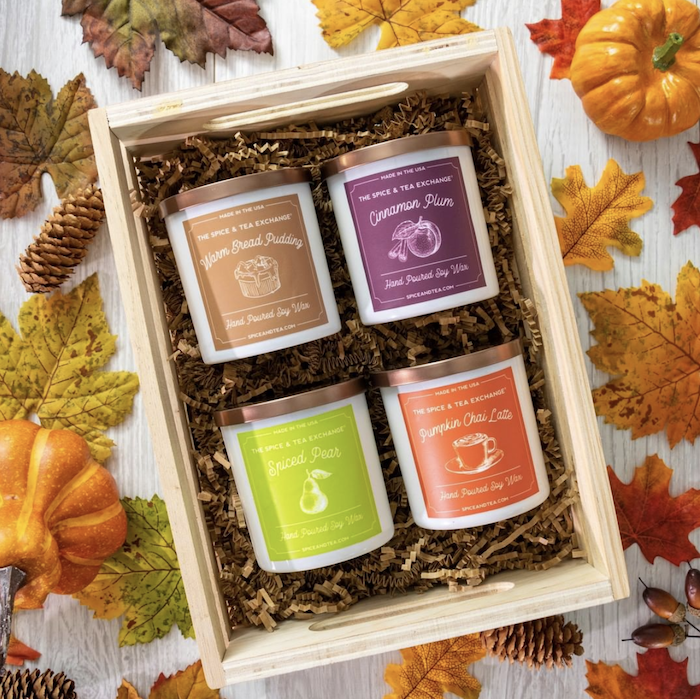 Image courtesy of The Spice and Tea Exchange of Annapolis
As a culinary management consultant, Joy was attending a conference in Florida when she serendipitously stumbled upon the original Spice and Tea Exchange.  She describes this first encounter as "seductive," and left the store "smitten" after spending $85 on a variety of products that she subsequently found so superior that she decided to combine her business background with her fascination with food.  "It was a perfect marriage," she says of her decision to open her first franchise several blocks from her home in Alexandria.  After experiencing a high level of success at that location, she followed her entrepreneurial instincts by opening shops in Annapolis, Rehoboth, and Ocean City.  With the exception of Ocean City (who likes to cook on vacation?), the three other franchises continue to thrive. 
"We have a great team – and we all share a passion for what we do," she says.
All of the shops' inventory and displays rotate with the seasons, thus guaranteeing product freshness and customer appeal.  Pumpkins were front and center on my visit, featured in recipes ranging from pumpkin chai lattes and smoothies to pumpkin soup and pumpkin pecan bread pudding. ( Note: pumpkin seasoning here is a blend of cinnamon, nutmeg, clovers, ginger and allspice).  But there are plenty of other options from those who feel "over-pumpkinized" at this time of year.  Personally, I was drawn to packets containing the ingredients for either red or white sangrias, mulled wine,  multi-colored Mediterranean angel hair pasta made with tomato, spinach and garlic; olive and bacon finishing salts, a special Chesapeake seasoning blend with a gentler flavor than the traditional Old Bay, a versatile Tuscany spice blend, southwest orzo seasoning, black truffle mix (the shops bestseller) and a bold garlic blend recommended for chicken, burgers, pizza, eggs, soups or shrimp scampi; and a 12-ounce turkey brine that should make guests at your Thanksgiving table ask for the recipe.  Several products have been created for vegans and vegetarians, among them a vegan-bacon salt and a vegetarian curry.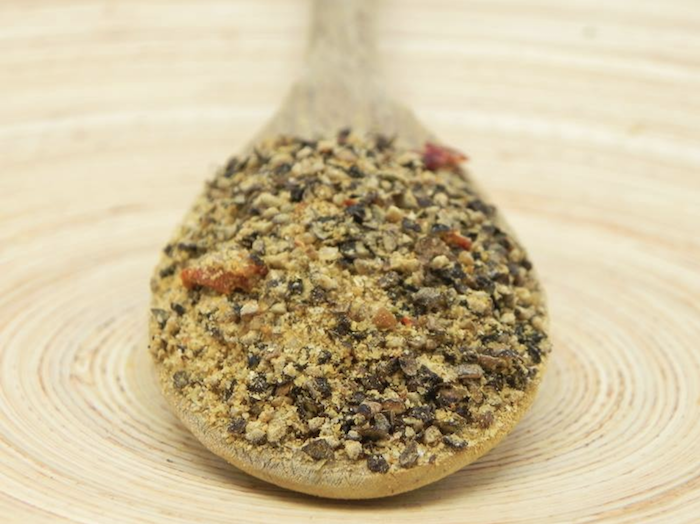 Image courtesy of The Spice and Tea Exchange
Flavorings that can boost a home cook's reputation from mediocre to amazing are available in one-ounce packets, standard bottles, and larger amounts that are priced by the ounce.  Recipes are available at The Chef's Table and include a list of ingredients the cook needs to buy at the market.   Like many home cooks, I have kept my spices beyond their flavor lifetime.  "Buy them and use them" - is Joy's advice when it comes to spice mixes and finishing salts.  As she was dispensing this advice, a young couple named Danielle and John from Severna Park came into the shop looking for coriander and lemon pepper, hoping to duplicate a steak dinner they had enjoyed at Sailor's the night before. Lori Stone, a nutritionist and store employee was happy to help them.  Lori is especially well-versed in the shop's wellness products distributed by the parent company to promote calmness, mindful energy, boost the immune system and help with cold and flu systems.
Teas of all colors and kinds are front and center at the shop, where a Tea Bar has just been installed.  Clients may sample this tried and true "cure" while learning more about steeping and serving different variations of a brew that the Brits have popularized with their RX for "a cuppa" to soothe the nerves in times of stress.  A book titled "Cancer Hates Tea" is worth your attention.  The Annapolis version of the Spice and Tea Exchange is a calming place where browsers are welcome and cooks can collect special secrets that will make them a hero at home. PS, products are pricier than one would find in the supermarkets.  But wait until you experience the aroma and taste the difference.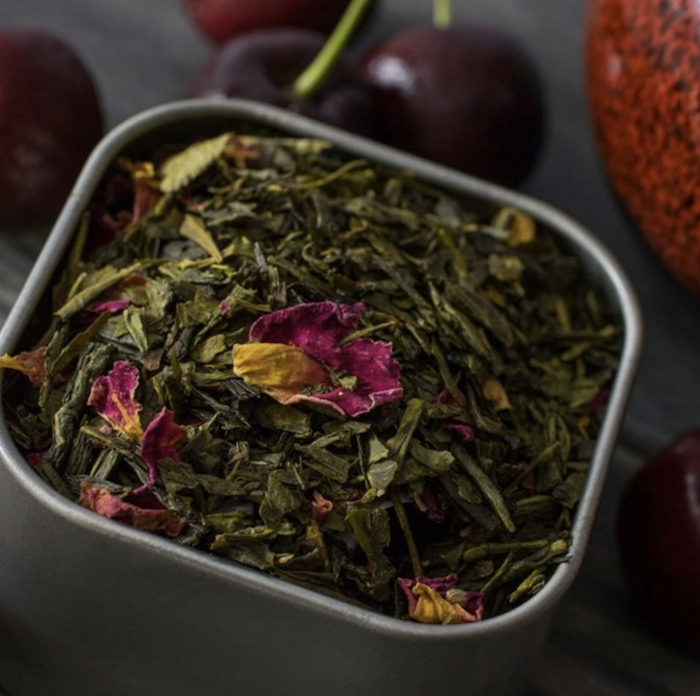 Image courtesy of The Spice and Tea Exchange of Annapolis
Chef's Table is one of the special features at the Annapolis Spice and Tea Exchange.  From the hundreds of culinary ideas, here are two seasonal treats to try:
Pumpkin Chai Latte for Two
From the shop: ½ teaspoon cinnamon – Korintje ground 4 tablespoons pumpkin chai latte tea 1 teaspoon Madagascar vanilla extract
From your grocer: 4 tablespoons pumpkin puree 2 cups milk 2 tablespoons brown sugar ¼ teaspoon nutmeg and whipped cream – optional garnish
Ruby Red Cider for Two
From the shop: 2 tablespoons spiced ruby cider herbal tea Cinnamon stick- Korintje (one per glass)
From your grocer: 12 oz apple juice ¼ cup good quality bourbon 1 orange - peeled for zest, then thinly sliced for garnish
Annapolis Spice and Tea Exchange, 155 Main St., Annapolis MD 21403.
410-280-2088. annapolis@spiceandtea.com.; Facebook spiceandteaannapolis. 
Open Mon-Wed 10 am-8 pm, Thurs-Sat 10 am-9 pm, Sun 10 am-6 pm.