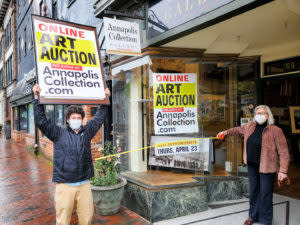 Katherine Burke and Jay Fleming at the Annapolis Collection Gallery. Photo courtesy of Annapolis Collection Gallery.
We are all in varying stages of transition on the path to whatever will be our new normal, and for many it's starting to take shape, however slowly. The Annapolis area galleries are doing what they do best in finding creative ways to shape their world today, as well tomorrow when it comes to the business of art.  
Many galleries are back to their original hours; some are open with limited hours, and of course all require masks and social distancing as required by the County and State. Some are open by appointment only, which means you can still go in and see what you want in person. But, all of them are offering art to view and buy, in one form or another. Several of the galleries have figured out creative ways to stay connected with their art audiences.
Online Auctions
Katherine Burke of the Annapolis Collection Gallery on Inner West Street didn't want to miss a beat. When the State closed down for all but essential personnel on March 13, she decided to completely pivot from her normal method of operation to hosting online art auctions. Within a week, she launched her first auction, and it has been picking up steam ever since. 
The first week featured select works by her six masters, Roxie Munro, Greg Harlan, Anne Munro Wood, Mo Hansen, Yoo Mi Yoon, and her most recent addition, Rick Casali. She features photographs by Jay Fleming and the black and white prints of photographers such as Charles E. Emery in the online auction as well.
Her first auction was a 72-hour flash auction, but she realized people were missing the window of bidding opportunity, so she now runs them from 7 p.m. Thursday to the following Thursday at 9 p.m. every other week.  
"Our online auction is so user-friendly!  You only have to give an email address to start bidding. And you don't even need to do that just to see what is being offered during the auction," Katherine says. "Just go to our website and click the View Auction Here button, and you are there!"  Click here to view and buy the art!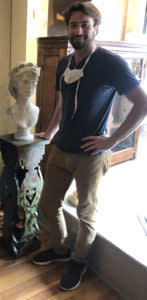 Rick Casali with his 'Lady Chesapeake' sculpture. Photo courtesy of Annapolis Collection Gallery.
Since she is only open by appointment, the auction has helped Katherine convert planned events to an online experience. She had scheduled an event in May to welcome renowned sculptor Rick Casali to be her sixth master. So she used the May auction to welcome Rick and announce that he was coming on board.
Sarah Oliver handles the social media for the auction, and has sent the message out through Facebook, Instagram, LinkedIn and even mailed postcards. "It's very exciting!" she says. "People are on the phone and online getting excited within the last 24 hours and even the last hour – it's just bid, bid, bid!" 
Once you place a bid and someone outbids you, you get an email letting you know about the higher bid. If you're waiting and someone makes a higher bid at 8:59 p.m., it automatically goes into a seven-minute extension, giving serious bidders an opportunity to counter. That extension will continue until settled. One auction went on until 9:20!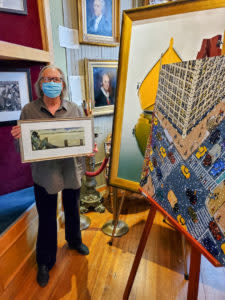 Katherine Burke showcasing works of art for their online auction. Photo courtesy of Annapolis Collection Gallery.
The artwork offered in this auction includes photographs, reproductions and original artwork, and the prices range from $20 to $3500 with the majority of starting bids priced under $300. Works by more artists are now being featured. 
"The auction also allows people to think about pieces with high-dollar figures, like Rick Casali's and Roxie Munro's. They can make an appointment to come in and see the work. I've sold several works this way," says Katherine. 
"We have viewers and bidders of our auctions from all over the world. It's great for first time collectors, and for those who already know the work. This auction has kept our artists connected with patrons, and has helped us stay in business so we can continue to support talented artists. This is building community within the arts community." 
Given the success, and the uncertainty of the behavior of the pandemic over the next few months, the Annapolis Collection online auctions will be running through the end of the year.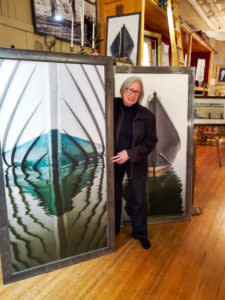 Katherine Burke holding a work by photographer, Jay Fleming. Photo courtesy of Annapolis Collection Gallery.
Art Lotteries
Maryland Federation of Art has also been hard at work converting their scheduled in-person events to something that will be meaningful and valuable to artists and art lovers alike. With drastically limited capacity, they've managed to pull together amazing offerings of video studio tours, live artist interviews and a Friday Forum for open discussions about all things art. This is invaluable in creating and expanding the art community. Some really good ideas have come out of this forum. 
Their top-rated fund-raiser, "Collector's Choice" is held during October every year. If you've attended, you know it is a dynamic art lottery with food and excitement. It is the event of the year… and it is packed. So, anticipating that Marylanders will all need to continue with social distancing, MFA has had to roll up their sleeves and get creative.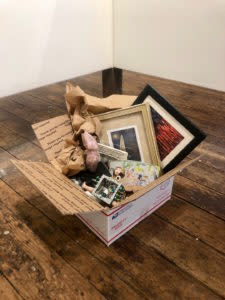 'In the Box' Art, ready to ship! Photo courtesy of MFA.
Joanne Vaughan, MFA's Executive Director says, "Collector's Choice is an important fundraiser for us. As a non-profit, it keeps us in the business of creating meaningful connections in the community through art. Artists and art lovers alike benefit from this amazing event, so we have been working to identify ways to continue to fulfill our mission."
Joann, the Board of Directors and some incredibly dedicated volunteers have come up with a plan to offer two separate online events to replace Collector's Choice.
In the Box 
The fundraiser event in October is a new online event called "In the Box". A participant in one of the Friday Forums came up with this idea. They've run it by a number of artists and non-artists alike with very positive feedback. "It's a great idea because the works will be small – everyone has room for something small!" said one art lover.  
The ticket price is $50, and the variety of work will be similar to what is offered at the live event. Here's how it will work: 
MFA member artists will donate a work of art that will fit into a

prepaid

Priority Mail shipping box

. 

 

All the artwork that is donated will be featured online, so everyone has a chance to see the work whether you are buying a ticket or not

. 

 

Each artwork will be assigned a number.

 

When you buy a ticket, your name will be put on a spreadsheet. 

 

Very much like the live Collector's Choice, it's a lottery

.

When all the tickets are sold, the numbers are randomly assigned to the names on the spreadsheet

. 

 

Artists are then given the name of the buyer, and their work is shipped off to that buyer

. 

 

This event also gives buyers the opportunity to

view samples of work by a variety of artists that might not otherwise be shown in a single exhibition

.

Win-win!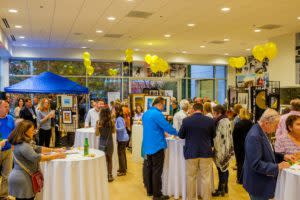 Collector's Choice from 2019. Photo courtesy of MFA.
Virtual Collector's Choice
To spread things out, MFA will be holding a more robust Virtual Collector's Choice event in March 2021. While it will be online it will be broadcast live on Facebook and will have all the same elements as the live version. It will have the same feel and excitement! 
Be sure to check out the online galleries of your favorite local galleries as they continue to offer what Annapolis does best: exceptional art.