Nothing diverts restless children like the prospect of an ice cream cone.  And few things soothe an anxious adult like the mindless ritual of licking this tasty treat until it's gone.  Hail to this frozen delicacy, available in many forms and multiple flavors at four ice cream specialty shops in downtown Annapolis.  Lick away!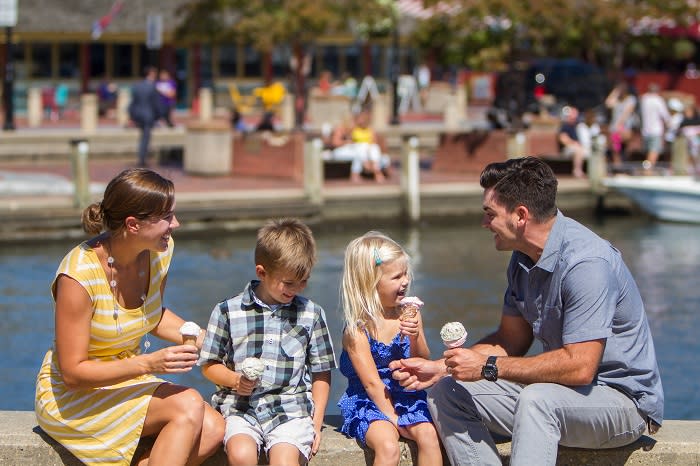 ANNAPOLIS ICE CREAM COMPANY (196 Main St., and 1016 Westfield Annapolis Mall) brings in the business with 36 rotating flavors and a clever marketing mascot – a cute toy penguin that has its own T-shirt for sale on site.  Owners Walter and Nancy Giera are proud to say their product is made daily with all-natural ingredients right at their shop and welcome suggestions for anyone's favorite flavor not found on their regular menu.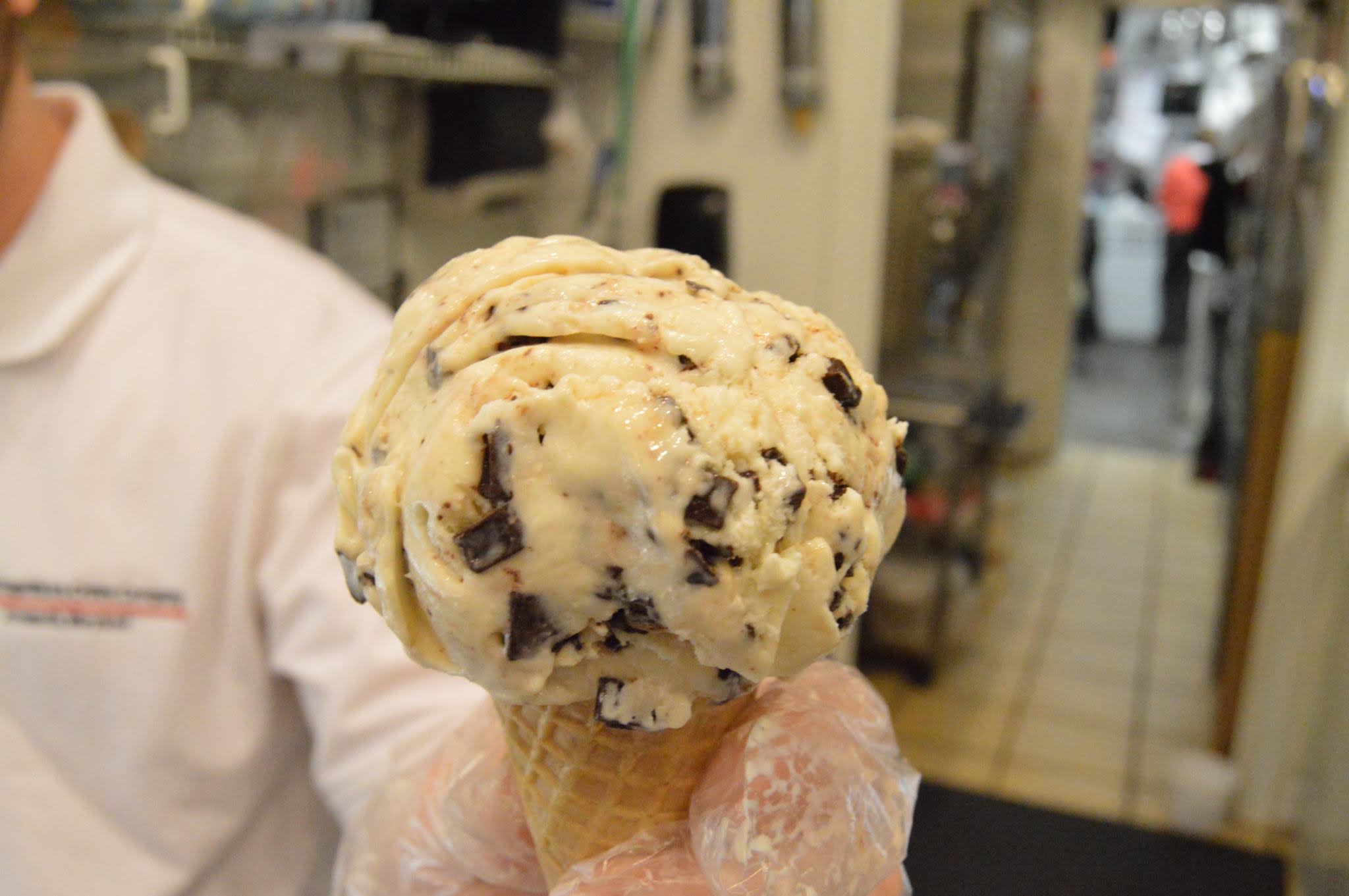 KILWINS (128 Main St.), first famous for fudge publicly prepared in its downtown Annapolis shop window, has became equally well-known for its rich ice creams.  The chain, with multiple locations nationwide, has received recent attention in the media for its clever new flavoring: they add your choice of two from among 50 "mixings" to their trademark vanilla and chocolate ice creams and serve your customized flavor in cone or cup.  Full confession: my daughter was a fudge maker there while on vacation from UVA and kept our family stocked with sweet samples.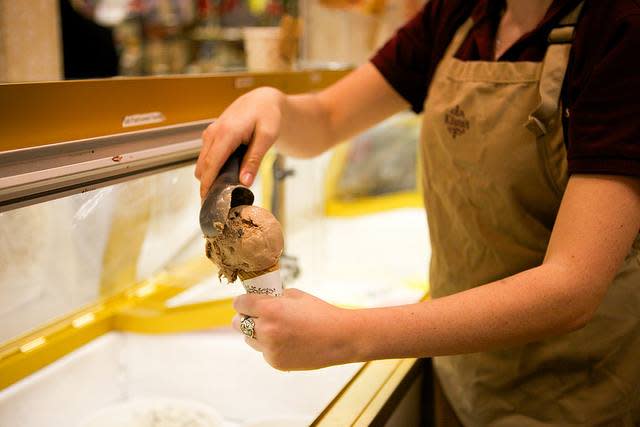 Courtesy of Kilwin's
THE RED BEAN (220 Main St.) is a dog-friendly establishment that specializes in artisan coffees and teas as well as ice cream treats.  Handmade syrups and sauces are part of this boldly decorated little shops uniqueness. Its large street-facing windows are ideal for people/dog-watching and the breakfast pastries and bagels are locally made. Annapolis-based Ceremony Coffee provides the fuel. Fill your sails with the energizing Salty Sailor, piled high in a crispy waffle cone.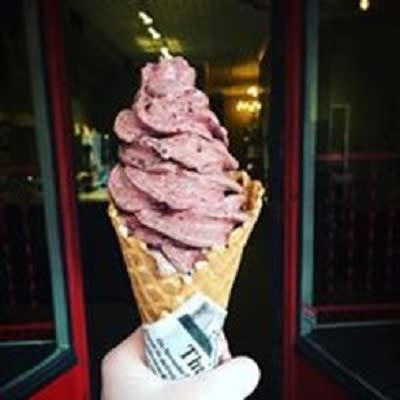 Courtesy of The Red Bean
STORM BROTHERS ICE CREAM FACTORY (130 Dock St.) has been satisfying sweet teeth for 43 years, when brothers Tom and Sveinn Storm were deemed too young (at ages 19 and 20) to open a business.  They lucked out when a prominent Annapolis citizen agreed to rent them a small but well-situated space at the City Dock – and the brothers are still doing fine, thank you.  Locals like their product as well as what the owners call "neighborhood prices" for their cones, sundaes, shakes, malts, floats, sorbets, frozen yogurt and sodas.  Small cones and sundaes, for instance, are $3.10 and $4.25 (respectively) – and the quality of the products is first rate. 130 Dock St., Annapolis MD. 410-263-3376.
Be sure to also check out Firenzes Gelateria & Cafe, a delicious gelato stall that just reopened in Annapolis Market House.
---
Good Food News!
SEAFOOD FESTIVAL ALERT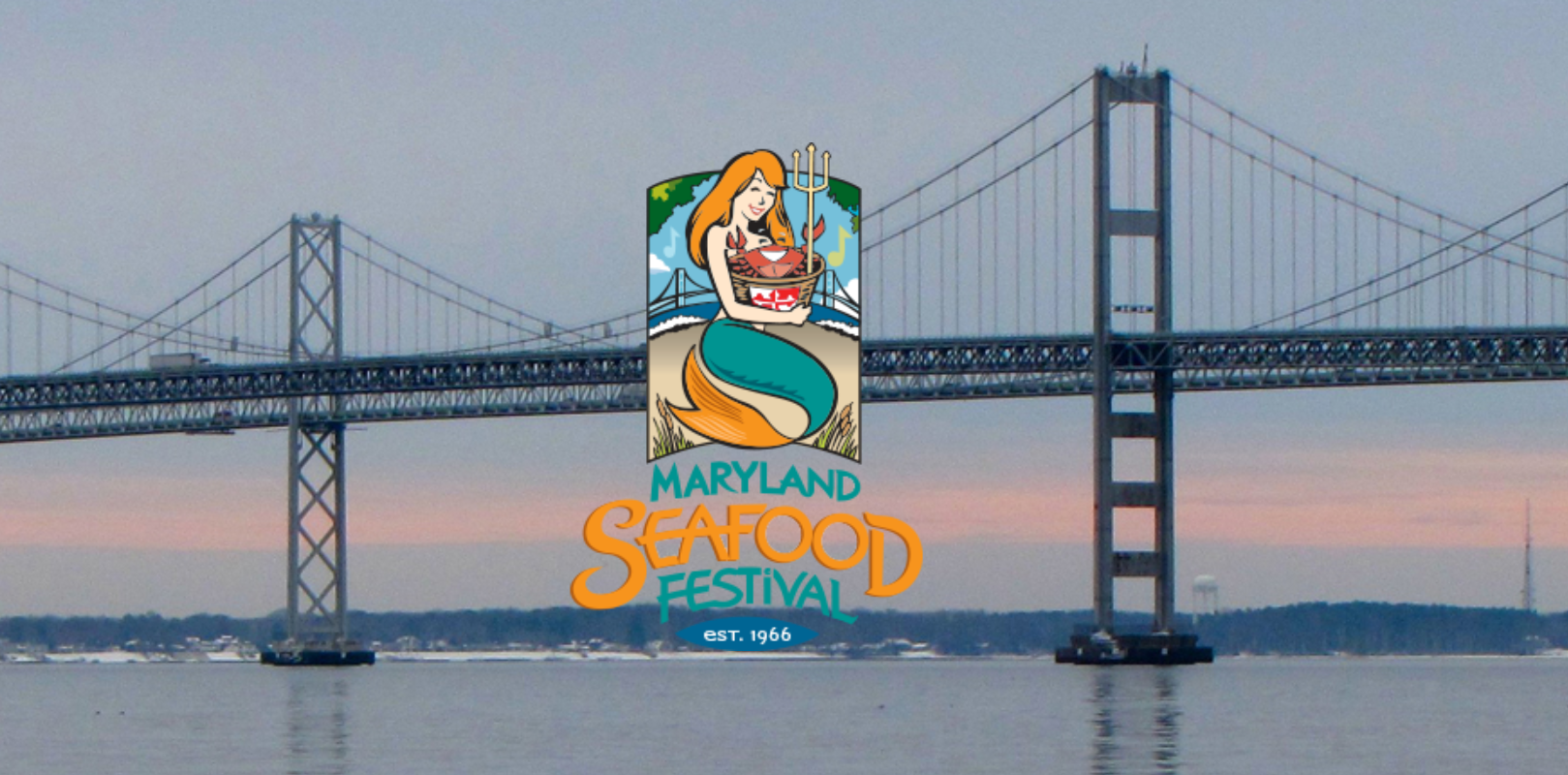 Courtesy of ABC Events
Mark your calendars for September 8 and 9, when the 51st Maryland Seafood Festival will be held on the shores of the Chesapeake Bay at Sandy Point State Park.  It's one of those events that pleases all ages with lots of food options, chef demos, beer and oyster tastings, a crab soup contest where the public picks the winner, sand soccer and lots of games for kids.  For patrons who prefer their own company, there are private cabanas for rent.  General admission tickets are $15, $10 for seniors or military.  Shuttles will transport attendees to the park from Anne Arundel Community College for a $5 fee.  For details, check online at abceventsinc.com.
MASON'S RANKED AMONG BEST LOBSTER ROLLS ON THE EAST COAST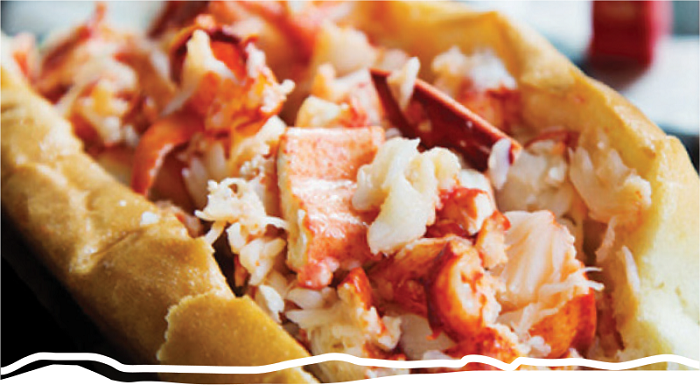 Courtesy of Mason's Famous Lobster Rolls
Mason's Famous Lobster Rolls (188 Main St.) was a surprise contender in the competition for The Eight Best Lobster Rolls on the East Coast – and an even greater surprise when it made the list at #8.  This particular rating of this fairy food came from Tasting Table, a gourmet newsletter, and (let's be serious) is one of many such rankings.  A good lobster roll, Maine style, is a blue ribbon prize for a lot of us – my top contender would be Mabel's in Kennebunkport, ME, a simple place that also makes a memorable raspberry pie.  But I, like many local lobster lovers, am grateful to live in the same town with Mason's. The shop's first non-Maine location was opened here, with subsequent franchises in Baltimore, National Harbor, and Rehoboth, Delaware.
Images courtesy of VisitAnnapolis.org, Kilwin's, The Red Bean, Annapolis Ice Cream Company, Mason's Famous Lobster Rolls, ABC Events,