The third Thursday of November marks the release of the 2015 Nouveau Beaujolais. Reserve November 19th on your calendar to celebrate in style with French-trained Chef Carro Oldham at Grapes Wine Bar of Annapolis.
From noon-9 pm at Grapes Wine Bar of Annapolis (1410 Forest Dr, Annapolis, MD 21403), the new wine will flow freely and food a la francaise will be available from a special menu orchestrated by a chef whose creds include graduation from Le Cordon Bleu in Paris and stints in several of that magical city's Michelin-starred restaurants.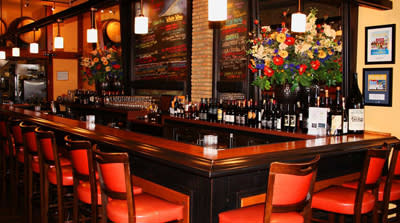 Grapes Wine Bar
Chef Oldham shows her style with a French-accented menu created especially for the restaurant's fourth annual celebration of the first harvest of the year from the vineyards in the Beaujolais region of France. The region is famous for its food, where both celebrity chefs Georges Blanc and Paul Bocuse had plenty of Beaujolais wines on their restaurants' wine lists. Top Shelf Cru Beaujolais – along with the nouveau – will be available by the glass.
Francophiles will likely want one of each from Chef Oldham's selection of soups, appetizers and small plates that include her own version of country pate with mushrooms, Madeira and pistachios and a creamy chicken liver mousse, both served with toasted baguettes. Other attractions are a cream of parsnip soup with apple cider cream fraiche, a traditional lamb stew, salad Nicoise featuring grilled ahi tuna, and dorade in puff pastry.
These culinary treats are best enjoyed with wines by the glass from leading producers of Beaujolais Cru wines, as well as Beaujolais Nouveau. Known for its colorful labels, the young wine is best when chilled and enjoyed before the month of May following the year of its release. Its reputation as a "cheap and cheerful" red wine is well-deserved, though some years are better than others. Its official release for sale at a minute after midnight on the third Thursday of November is cause for celebration and an excuse to sip before 5 pm. Patrick Bouculat , owner of the popular Wine Cellars of Annapolis next door to Grapes, is the father of the Beaujolais Nouveau Party at Grapes Wine Bar – and you're invited.
Let Julien Jacques, the establishment's charming sommelier, tell you more. Tucked into a food-centric strip mall at 1400 Forest Drive, Clock Tower, Annapolis, this place is off the "tourism trail" but is a gem worth finding. Ample parking. Nov.19th hours noon-9 pm; regular hours: weekdays 5-9 pm, Fri-Sat 'till 10 pm, closed Sun. First come, first served. 410-571-5378. For more information, email the staff at staff@grapeswinebarannapolis.com.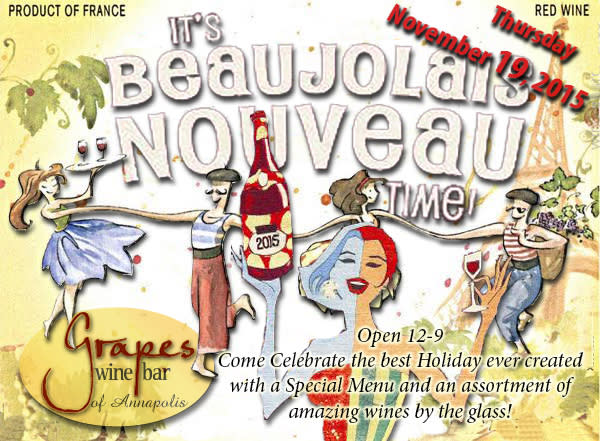 Grapes Beaujolais
Images courtesy of the Grapes Wine Bar of Annapolis website.