Sadona Salon + Spa on West Street in Annapolis, across from the Visitor's Center, has an intriguing store front, a warm welcome, beautiful spaces, skilled technicians, and appropriately affordable salon and spa services.  Their business plan does not stop there.  It includes and "sensitively demonstrates altruism." That is why I am writing this post!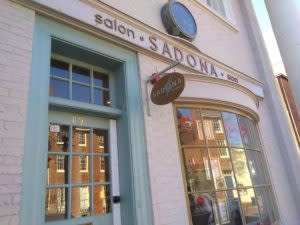 Photo courtesy of author.
Donna Brown, the proprietor, suffered some adverse skin problems in her younger years that led her to this vocation. Early on, she began to read all that she could regarding skin care.  She learned how to read labels, research ingredients and weigh the pros and cons of ingredients and efficacy.  In 2009, Donna became a Maryland licensed esthetician and began to work with a great many people with various skin conditions.  She could easily connect with her guests' needs and enjoyed helping come up with solutions for healthy skin.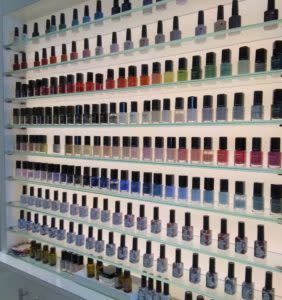 Photo courtesy of the author.
Her hand-selected team also share the same drive to search for superior skin care products that are "clean lines," that work.  They prefer to use USA brand products and have been fortunate to meet and dig deep with questions, training and guidance from the owners and formulators, directly.  In addition, the line must be animal and cruelty free.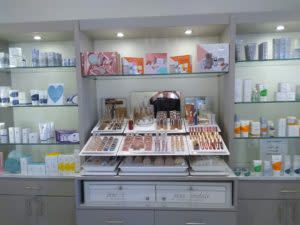 Photo courtesy of the author.
Giving Back to the Community –
Generosity has been around since the dawn of humanity and has become a part of our everyday life.  Philanthropy actively supports efforts such as scientific research and volunteering your time to help those in need in your community.  Giving back just makes us feel good. Moreover, giving back with something has always been incredibly important to Donna.  In setting up this business, she wanted to include a way to engage her employees to do the same with their gifts. "I cannot express how fortunate we are to have such a strong and caring group of women working in an industry they love with all of their heart giving back and making people happy every single day," says Donna. The group will close its' shop for a day every so often and spend it at ChildHelp Village in Virginia.  ChildHelp is a US non-profit organization dedicated to the prevention and treatment of child abuse.  Sadona and their signature hairline, Eufora, cut hair, give manicures, and just connect with the children and help them to feel a little more confident.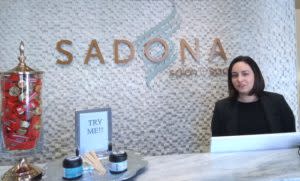 Photo courtesy of the author.
Being Green –giving back to our beautiful planet
One other thing to note about SADONA is that during the renovation they made their building into a very green one. The lighting is LED. Installed extra insulation and water saving appliances.  Their HVAC system is a very high Seasonal Energy Efficiency Ratio or SEER rated.  And, they recycle.
In closing, Sadona Salon + Spa's philosophy is "Beauty, Balance and Vitality…  Beauty to us is something that comes from within every single person. We help people to fine-tune beauty in their own way, their own vision."
5 out of 5 STARS