It's a dreary, rainy Saturday in Annapolis, but inside The Colonial Players of Annapolis (108 East St., Annapolis, MD), lights shine brightly as actors rehearse Vanya and Sonia and Masha and Spike. Playwright Christopher Durang's Chekhov-infused comedy is the final full-length play in Colonial's 68th season. Crew members hang cherry blossoms and test sound clips. On stage, actors laugh, sob, and call "line!" The atmosphere is cozy and spirited.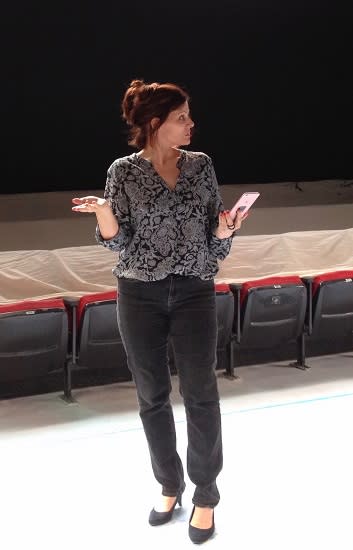 Rebecca Kyler Downs (Masha)
Vanya and Sonia and Masha and Spike – shortened by the cast and crew to 'VSMS' – is the story of an unsatisfied family from Bucks County, Pennsylvania. Middle-aged brother and sister, Vanya and Sonia, spend most of their days staring out the window and wondering what their lives could have been. When their sister, Masha, a successful and conceited actor, comes home with a much younger boyfriend, Spike, old tensions and jealousies reignite. Amid hilarious and truthful squabbles between siblings, fortunes told by Cassandra, the psychic housekeeper, and a visit from a young neighbor, Nina, the family struggles to come to terms with a changing world.
"I've been a little suspicious of Durang," says Director Steve Tobin. "But this, it was like they tempered each other. Chekhov brought a sense of reality to Durang, and Durang brought a sense of the absurdity of life to Chekhov." Audience members who've never read Chekhov need not fear. Though there are Chekhov references, VSMS is essentially a modern comedy anyone can enjoy.
Ashley Spooner (Cassandra)
Before moving to the theatre, the cast rehearsed for several months at an offsite studio. They started with blocking (the actor's placement on the stage), pace, and script analysis. Rebecca Kyler Downs, who plays Masha, describes her favorite parts of rehearsal. "Once you get the lines memorized accurately, then the fun really begins, because each time we do the show there are new dynamics, new levels to explore." Working in the round (where the audience surrounds the stage), presents challenges not found in many proscenium theatres. "This is also a particularly intimate kind of venue," says Downs, "the actor is sometimes inches from an audience member."
Darice Clewell, who plays Sonia, explains the excitement of working in the round. "It keeps my mind racing constantly," she says, "and is an exhilarating exercise in being alert and aware for two and a quarter hours!" That excitement extends to backstage. "It's all pretty silly and fun," says Clewell, "being careful not to run into each other or trip over your own feet, skittering to a halt in front of the stage door to make a stately and composed entrance in the nick of time!"
Most of the actors in VSMS are familiar with the Colonial Players rehearsal process. After all, many members of the cast and crew have been a part of Colonial for decades. Jim Reiter, who plays Vanya, has volunteered at the theatre for 22 years, and Clewell for 31. Director Steve Tobin, who directed his first production with Colonial 25 years ago, has watched people grow up here. He talked about Assistant Director, Sarah Wade, a part of Colonial from a very young age. "Her father was my play consultant on the show I did 25 years ago," says Tobin. "So she was being carried around." Wade played Honey this season in Who's Afraid of Virginia Woolf and was Sound Designer for Calendar Girls.
I ask cast members what keeps them coming back to Colonial. "It's good people," says Jim Reiter, "a great space…a supportive and knowledgeable audience, and Colonial is willing to do popular shows as well as more challenging ones." Rebecca Kyler Downs, who recently moved to Annapolis, is already performing in her second Colonial show. "I have met and worked with so many formidably talented actors here in the short time I have been associated with the theater," she says. In his 50 years with Colonial, Edd Miller has volunteered in many capacities, including as an actor, Set Designer, and Director. For him, there's no question as to what keeps him coming back. "This is home," he says.
Vanya and Sonia and Masha and Spike opened Friday, May 19th. It runs through Saturday, June 10th. For tickets and information, go to tickets.thecolonialplayers.org.
Photos courtesy of Natasha Joyce