George Washington ate in Annapolis? Yes – that's true! In honor of Annapolis Restaurant Week (February 20-26), we're sharing some of our favorite places to dine for history lovers. Whether the establishment itself is historic, the building has a rich history, or there is an opportunity to combine food and a history lesson, the Annapolis area can undoubtedly offer you a meal with a backstory.
Middleton Tavern
In Annapolis, we have the oldest State House in continuous legislative use in the country. The same could be said for our taverns! Established in 1750 by owner Samuel Horatio Middleton, Middleton Tavern is one of the oldest continually operating taverns in the U.S. George Washington, Thomas Jefferson, and Benjamin Franklin are among its prominent patrons. The tavern was frequented by members of the Continental Congress in 1783 and 1784.
It's hard to picture now, but in its earliest days the gardens at Middleton Tavern stretched all the way to the water. Established as an "Inn for Seafaring Men," it also served as a stopping place for early travelers crossing the Bay by ferry. The ferry was also operated by Middleton. In its present day, Middleton's serves up seafood, steak, and classic American fare to "seafarers" and their friends.
Reynolds Tavern & 1747 Pub
Hats, hosiery...and a library! Reynolds Tavern and its sister restaurant 1747 Pub have a diverse history that consistently circled back to its roots as an "ordinary," a place serving hot and cold food and liquor to visitors. In 1747, William Reynolds leased the land from St. Anne's Parish, and by 1755 he had built his home and was conducting his hat business there. Encouraged by the potential profits of tavern-keeping, Reynolds applied for his license to keep an ordinary in 1757. He named his tavern "The Beaver and Lac'd Hat," a nod to his other line of business. A hub of activity for locals, Reynolds also sold theater tickets and lottery subscriptions.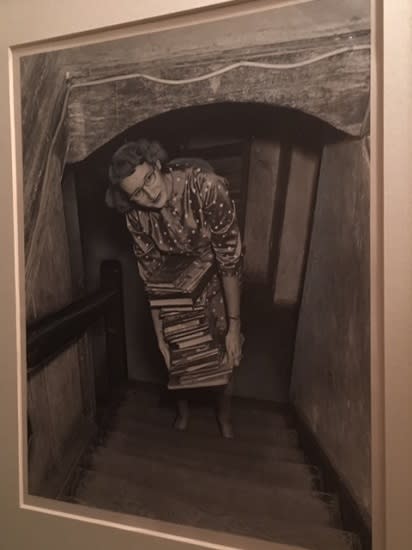 Reynolds Tavern when it was a library
After Reynolds death in 1777, the building transitioned to a boarding house until the Farmers Bank of Maryland acquired the property in 1812. Architecture and design lovers often take note of the pedimented entrance porch added by the Bank. It is the work of famed cabinet maker John Shaw. The Bank deeded the property to the Public Library Association of Anne Arundel County from 1939-1974. From Books to Beer – sounds like a book title! Today, Reynolds Tavern is, again, in use as a tavern and inn. Traditional English afternoon tea is served daily and its unique space offers several distinct dining experiences. Have a nice dinner by the fire in the dining room, drink a pint in the downstairs pub or eat lunch al fresco in the courtyard. In the summer months, catch an outdoor movie screening on Sunday evenings and even live theater put on by the Annapolis Shakespeare Company.
Rams Head Tavern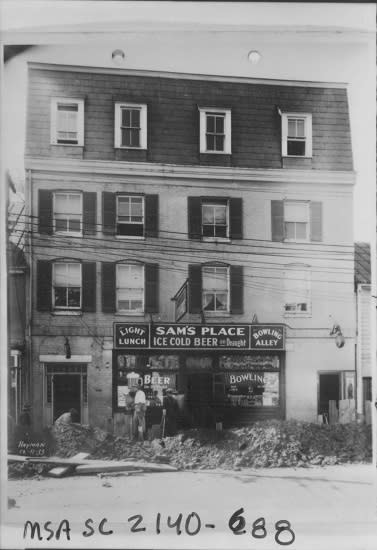 Sam's Place Bowling now O'Brien's, courtesy of Maryland State Archives
If you like your history haunted, head to the historic pub at Rams Head Tavern. The pub is haunted by a ghost named Amy who made her first appearance around the late 1790s. Amy was an 18th-century working girl who has since haunted the space. I've heard from Rams Head staff she likes to make her presence known to female employees especially. Not a believer? Ask your bartender to point out Amy's bedpost. It's been preserved in the wall!
On the tamer side of its history, the property was once the Crown and Dial Tavern. Original proprietor William Faris was also an avid botanist who traded plant materials with William Paca. Faris' detailed diary, now held by the Maryland Historical Society, is one of the best accounts of 18th-century Annapolis. Today, Rams Head Tavern is known for its upscale pub fare, seafood dishes and, of course, its beer. The wisteria covered patio has another piece of preserved history – one of the oldest artesian wells in the city.
History Dinners at Galway Bay
Learn while you eat and drink at Galway Bay. This charming Irish pub serves up History Dinners on a regular basis. Presented by historians and authors, the dinners typically have a focus on Irish history. The next History Dinner, "Irish Contributions to U.S. Navy History," intersects with local Naval Academy history and is presented by Jim Cheevers, Senior Curator of the U.S. Naval Academy Museum. It takes place on February 28th. You can find their 2017 History Dinner Schedule on their website.
These are just a few of the historic places to grab a beer or enjoy a meal in Annapolis. Next time you're dining downtown, ask your server if they know the history of their building and you just may leave with a full belly and a fun facts like...
O'Brien's Oyster Bar & Restaurant was once a Bowling Alley known as Sam's Place.
Chesapeake Brewing Company is sited in what was once one of Annapolis' many small firehouses.
The Drummer's Lot Pub inside the Maryland Inn is named for Philemon Lloyd, the town drummer who in 1694 requested the lot be set aside for his use.
...let us know what you find out!
Photos courtesy of the Maryland State Archives, Christina Csaszar, and Katie Redmiles