February is Black History Month, the perfect time to enjoy a day trip or weekend getaway to scenic Annapolis, an area rich in African American history. The weather might be cold, but that does nothing to diminish the excitement of a town full of statues, museums, historic buildings and engaging personalities that honor the rich African American cultural heritage of our city and nation.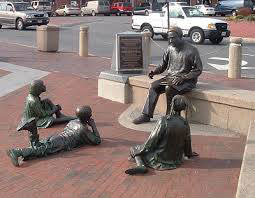 Alex Haley Memorial
In honor of Black History Month, Annapolis Tours by Watermark offers the African American Heritage Tour to the public. This special tour, typically available only to private and school groups, will lead all interested parties on Saturday, February 20, 2016 at 1:00 p.m.
A guide in period dress will show visitors around Annapolis from City Dock and the Kunta Kinte-Alex Haley Memorial (Alex Haley authored the novel, Roots, based on the story of his ancestor, brought to Maryland from Africa on a slave ship) to the Thurgood Marshall Memorial, honoring our country's first African American Supreme Court Justice, while sharing facts and stories about the area's substantial African American history and culture.
The tour will highlight anecdotes of both slaves and free blacks in the history of Annapolis, and note buildings along the way that were part of that history and are still used as restaurants, inns, homes, churches, and businesses today. As an added bonus, twenty percent of all revenue from this tour goes to the Kunta Kinte-Alex Haley Foundation, dedicated to stimulating greater interest in African-American culture, history, art, archaeology, anthropology, and genealogy.
The walking tour ends at the Banneker-Douglass Museum, Maryland's official museum of African American heritage, where guests are invited to visit the museum at their leisure. The museum provides an overview of African American history in Maryland from 1633 through the present. You will learn about the earliest African settlers, anti-slavery work, pioneers in education, art, and African American life in the area. The museum is named for Benjamin Banneker, a free-born African American from Baltimore County who was the first renowned African American man of mathematics and science, and also for Frederick Douglass, from Talbot County, MD, the first African American to gain international attention as a social crusader for anti-slavery and women's suffrage.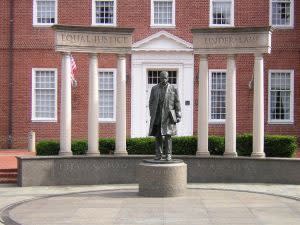 Thurgood Marshall Memorial
The Annapolis Tour by Watermark departs from the City Dock Information Booth at 1 Dock Street, Annapolis, MD at 1:00 pm on February 20th, 2016. Tickets are $18/Adults, $10/Children 3-11, Free 2 & Under. Advanced reservations are recommended for this special event. Reservations may be made online at AnnapolisTours.com, or by calling 410-268-7601 x100.
The Banneker-Douglass Museum is located in the old Mount Moriah A.M.E. Church at 84 Franklin Street in Annapolis (off Church Circle in the Annapolis historic district). Daily admission to the museum is free and the museum is open Tuesday through Saturday, 10:00 am-4:00 pm. The museum is closed on Sundays and Mondays. There is limited two-hour parking, both free and metered, near the museum. For more information about the museum and current exhibitions and events, click here.
Photos courtesy of Alex-haley.com, Visitannapolis.org