The boating season in Annapolis arrives with the spring equinox, and by April the town is absolutely bursting with pent up energy. Sailors, powerboaters, paddlers, one and all, have looked longingly out at the water all winter. At long last the sun is shining, the Bay is thawing, and the warm days are here - those days when our boats can be launched and commissioned, the provisions laid in, and winter's lines cast off. Boat Maryland Week is coming.
Image courtesy of the author
Get Inspired for Boat Maryland Week at the Annapolis Spring Sailboat Show
There is no better place to get started than the Annapolis Spring Sailboat Show April 26-28 at City Dock where beautiful new and brokered sailboats are displayed in the water.
The Annapolis Spring Sailboat Show is a highlight of Boat Maryland Week, which a ten-day series of boating events April 26th through May 5th kicking off Maryland's boating season. Boat Maryland Week is new this year, initiated by the Marine Trades Association of Maryland in partnership with Visit Annapolis & Anne Arundel County and the Annapolis Boat Shows to celebrate the local maritime scene.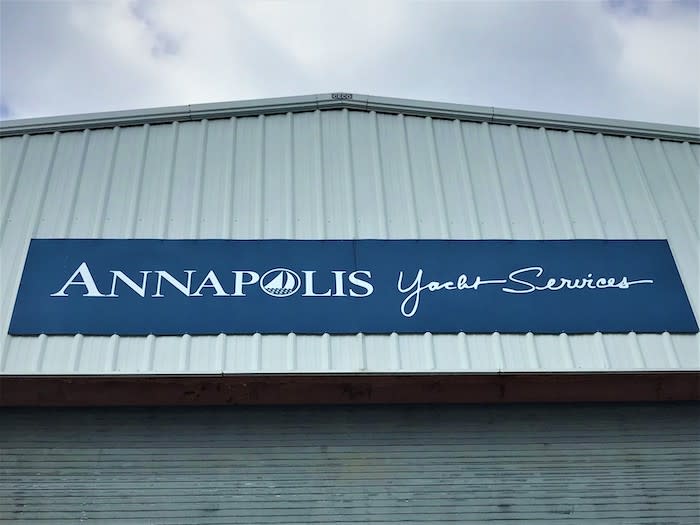 Image courtesy of the author
Boating Season Begins
As for my own family, we've been busy lately prepping for our boating season; charts laid out for trip planning and boat repairs underway. You'll find us on the water most spring and summer days, and many a night, paddling, sailing, or power boat cruising.
Looking at new boats is always a good activity. So, on a recent windy March morning, we found ourselves checking out a brand new sailboat on display at the Annapolis Yacht Sales Spring Open House in Bert Jabin Yacht Yard. Most boaters will tell you they're not really in the market for another boat, but hey, why not just take a look?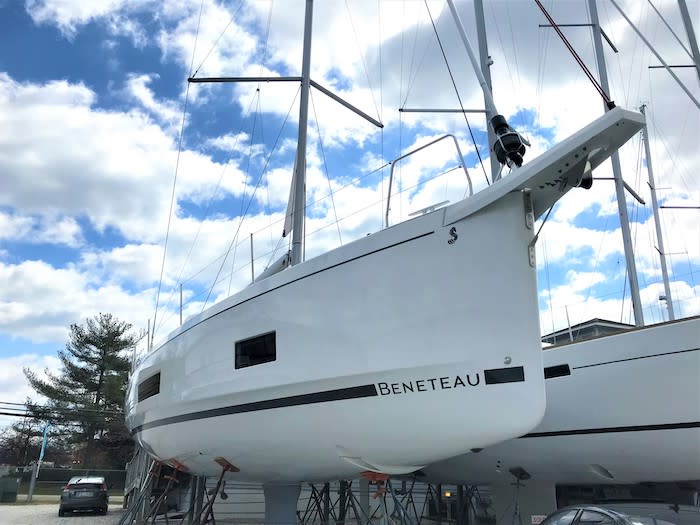 Image courtesy of the author
It was on that March morning that we first saw Beneteau's U.S. premiering Oceanis 46.1 sailboat on the yard. We were smitten - this sailboat is a real beauty, sleek and trim, with loads of deck space, a huge cabin interior, and plenty of technical performance enhancements. The Oceanis 46.1 is the perfect family cruising sailboat. The wide chined hull gives the cockpit and cabin plenty of room for relaxing, and the large swim platform makes easy access for water sports. We learned that the boat has exceptional speed and sails beautifully.
You could fall in love with a boat like this - along with lots of other new and brokered sailboats, all in the water at the Annapolis Spring Sailboat Show. Afterward, be sure to visit the exhibitor tents to see all kinds of navigational equipment, electronics, inflatables, clothing, gear, and other sailing paraphernalia. If a sailboat intrigues you, just step onboard, look around, and chat with the boat brokers. It's fun to look, even if you say you're not really in the market. You do have to take your shoes off to step on, but by now you're in your deck shoes anyway—right?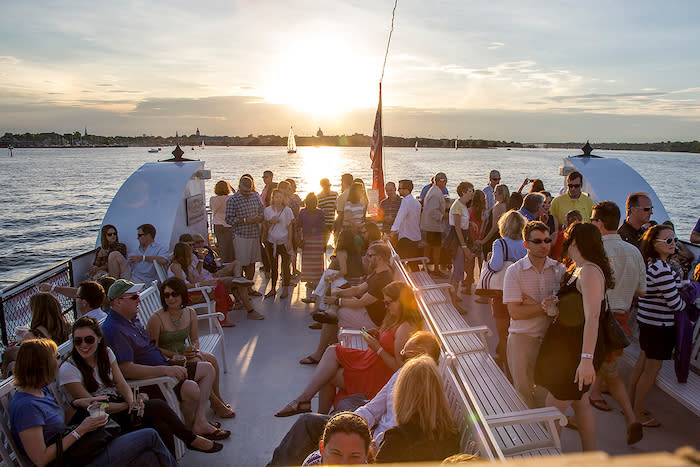 Image courtesy of Watermark Yacht Charters
Boat Maryland Week Events
The lineup of April boating events during Boat Maryland Week begins with a kick-off party at Latitude 38 Restaurant and a Crew Party at Eastport Yacht Club, organized by SpinSheet magazine. Watch some great sailing during the Annapolis Yacht Club Wednesday Night Races and the Helly Hansen NOOD Regatta. If you're lucky, you might even see a spinnaker finish.
During the week, the environmental nonprofit Annapolis Green will host Green Drinks, and the First Sunday Arts Festival in the Arts District will wrap up the week. All around Annapolis, look for maritime art, gifts, and antiques and dine on Chesapeake Bay seafood.
You don't have to buy a boat to get out on the water. Annapolis offers lots of ways to see the world from a boat, including wonderful cruising excursions with Schooner Woodwind and Watermark. Maybe you could book a fishing charter or try a sailing class or take a safe boater course to get your boater's certificate. Or you could join a charter boat club or rent a kayak, paddle board, or electric boat to cruise around Spa Creek.
Image courtesy of the author
Sail Away Today
I know, you keep thinking about that Oceanis 46.1. Just imagine yourself at the helm, sailing on a broad reach, summer wind out of the south, the sun glinting off your sails so tight and trim. Maybe you're cruising from Annapolis to St. Michaels for an overnight in a marina slip—or perhaps you're headed to a quiet cove on the West River. You'll anchor for the night, swinging on your hook as the night sky fills with stars and the water lapping on the hull lulls you to sleep. Sounds like a dream come true.
Spring is a great time to try a charter, take a tour, or get out on your own boat. Annapolis is the place to do it—there are more options here than you can shake a spinnaker pole at. All you need is a pair of deck shoes and the desire, so come on out during Boat Maryland Week. I'll look for you on the water.
To learn more, visit the website here.
All images courtesy of Ann Powell.