Boatyard Bar and Grill is one of those places in Annapolis you don't learn about until you've lived in town a few years. Then one day, you get invited out for Wednesday Night Races on the Severn and for beers afterward at Boatyard. Nearly all of us who've moved to, and fallen in love with, Annapolis has a similar first memory of Boatyard. Whether it is the Rockfish tournament after party, Bands in the Sand, or any of the other great events Boatyard sponsors in Eastport, the place just hooks you in eventually. It doesn't hurt that Boatyard serves what I consider to be the Platonic ideal of the Crab Cake. After a while, you start recognizing more and more faces on the photos covering Boatyard's wall. It starts to click. Boatyard Bar and Grill really is one of the cornerstone institutions in Eastport.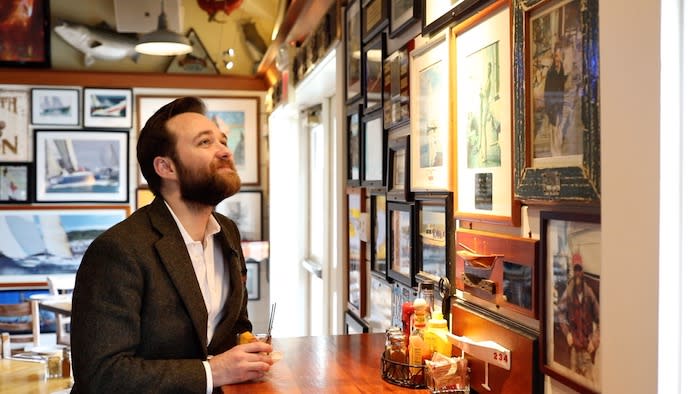 Image courtesy of Patrick McNamara
Our bartender, Steve, remarked on this phenomenon, "It's got to be the people. We have countless regulars. I've never seen a restaurant quite like it. We have people that come in a couple of times a week. I see people on a daily basis, almost. It's a good place for locals, and we take care of them."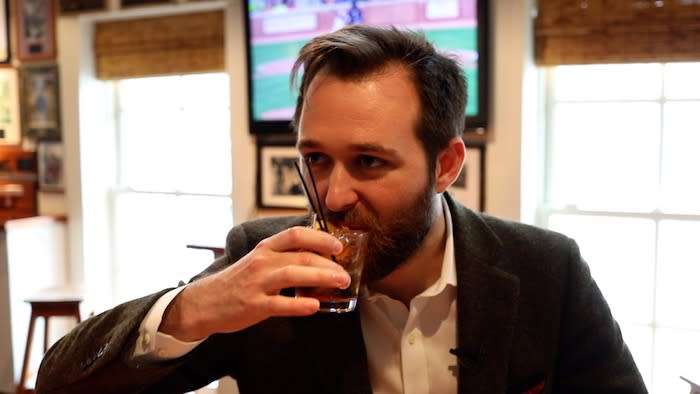 Image courtesy of Patrick McNamara
One of those locals was a former Vice Admiral who was a regular at Boatyard. He was such a staple that they decided to put his signature drink on the menu. Thus, The Admiral was made. "The only problem," owner Dick Franyo says, "is that they go down way to fast." And it's true. For fans of a classic Old Fashioned, The Admiral is, in my view, a step up. It shares many of the basics: the bourbon, bitters, and orange. However, the Domaine de Canton adds some needed depth. Then again, I've always loved ginger liquor with bourbon.
The Admiral
2 oz. bourbon
½ oz. of Domaine de Canton ginger liquor
Few dashes Peychaud's Cherry bitters
Luxardo maraschino cherries
Finish with an orange twist
Wherever you are, nameless Vice Admiral, we thank you for your contribution.
Boatyard Bar and Grill has a number of great events coming up for you to try The Admiral. On April 20th, they've got the 18th Annual Opening Day Rockfish Tournament – a catch and release tournament all day and the party ending up at The Boatyard. Wednesday, April 24th marks the start of Wednesday Night Races. Lastly, Boatyard also is a sponsor of Bands in the Sand on June 9th at the Phillip Merrill Environmental Center. Come out for a party with a purpose… on the beach!
Videography and photos courtesy of Patrick McNamara of Drawn to the Image.