I was sitting at Galway Bay after just finishing the final touches on my last article, A Brief History of Irish Pubs in Annapolis, when I was introduced to traditional Irish musician and Annapolis resident, Peter Brice.
The Wednesday night session started a few moments later, and I heard Peter Brice and his troop spill out sweet traditional Irish melodies.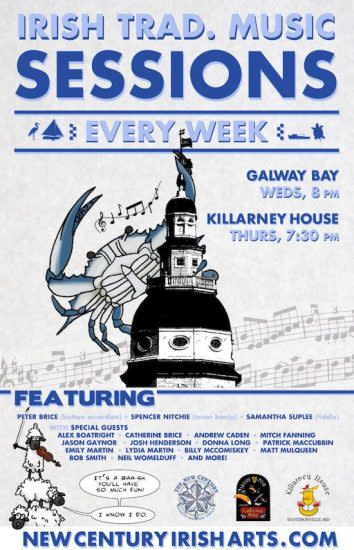 Image courtesy of Galway Bay
The atmosphere of the bar, Galway Bay, came alive. Patrons, once strangers, became old friends and conversations quickly became intimate. 
A few days later I received an email from Peter Brice. He explained in great depth why Irish immigrants moved to Maryland but held onto their heritage. He illustrated the many breaks in tradition that lead to revival, and how traditional Irish music shifted during these transitions. I allowed the thought to meander to the back of my mind when late one Friday night I received a phone call from him, "Ready to talk?" he cheerfully asked - eager to share his passion a knowledge of Irish music with anyone who would listen. Initially, we discussed the history of Irish music in general.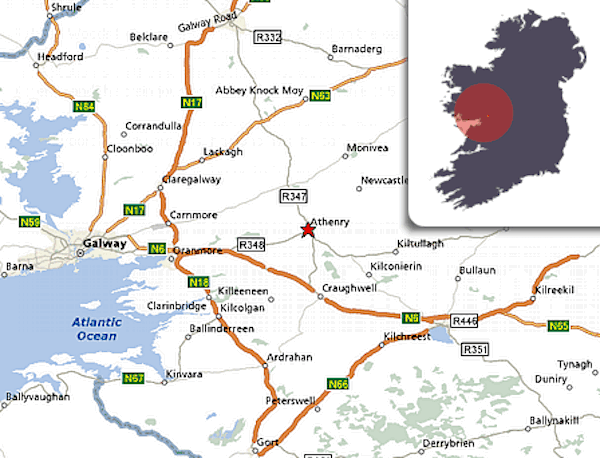 Image courtesy of Google Maps
The music that Peter Brice and his counterparts play at the Wednesday night sessions hails from East Galway and Clare. East Galway is more connected to the rest of the country than its cousin West Galway, so naturally, residents saw more innovation. Harps were the nationalist's instrument in the 16th and 17th centuries but were replaced by the pipes in the 18th century. Pipes, however, are temperamental and expensive, so in the 1850s the accordion was pioneered in the region.
There is a bittersweet feeling about nostalgia. The pang of initial sadness is quickly absorbed by the overwhelming pride of the moments that brought you to where you are now. We immortalize these feelings in any way that we can, especially through music. A tune can bring you back to an exact time and place where you can account for every single feeling and sensation of a certain memory. The beauty of this form of storytelling is how transferable it is between generations.
Brice, who holds a degree in Irish Traditional Music and Dance from the University of Limerick, contributes to the Wednesday music sessions with his button accordion. He explained that in the 19th-century music in Ireland was "very flowery and highly ornamented," but was typically associated with poverty. The genre saw a hiatus until the mid 20th century thanks to the folk revival. It's easy to relate this initial stigma associated with a genre to our own history. Slave music was the means of carrying stories and communicating. Now, because of the foundations laid in the 19th century, we see that today's hits are deeply rooted in musical heritage.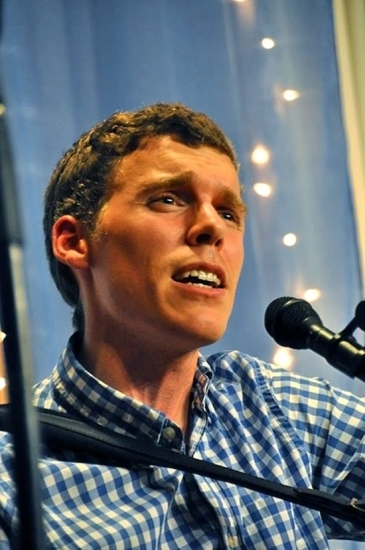 Photo by Keith Rossmiller via The New Century website
This connection that bonds people to the past is what Brice hopes to promote. As the Executive Director of the New Century American Irish-Arts Company, which aims to preserve traditional Irish arts, he believes it is an uphill battle to get Americans to appreciate the genre, but one that is worth fight. 
Appreciating, not just understanding, another culture opens an infinite realm of creative possibilities - you can't help but enjoy the atmosphere provided by Brice and his team of talented musicians. During our call, he joked that the Irish have the "gift of the gab," and explained the role conversation plays in traditional Irish music. He relates the rise and fall of a melody to a man and woman having an argument - the same one they've had over and over throughout their marriage. The familiarity of that sentiment made me smile. I thought of my grandmother bickering to her husband for leaving his shoes in the hallway time and time again.
When asked whether he and his counterparts rehearse for the Wednesday night sessions Brice replied,
"Everyone practices independently. We share a common repertoire, so if you don't know what's being played you don't play it. We've been playing together long enough to understand how each other play. There are these rare and beautiful creative moments that bring you together in musical friendship."
These rare and beautiful moments take you back to an era where you put down your phone and embrace what is in front of you. The music lends itself to conversation, whether that be with strangers or old friends, and that is exactly the musician's intention. One could argue music as the ultimate vessel for historians. It's entertaining, defined by culture, and personal. But really, think about the messages implied in today's music that our descendants will interpret 100 years from now. Understanding our music allows us to understand our history.
You can see Peter Brice perform at Galway Bay every Wednesday night starting at 8:00.
Images courtesy of David Joyner via Flickr and Galway Bay