Between mid-November and the dawning of the New Year, everyone and everything around us seems to be "turned up to 11". All the parties, people to see, lists to check off, and traveling can leave us feeling like we are bouncing off the walls. This year, add another reason to feel that way. The Annapolis Arts District & Inner West Street Association present the first ever Chocolate Binge Festival and Holiday Light Canopy on Sunday December 6, noon to 5pm.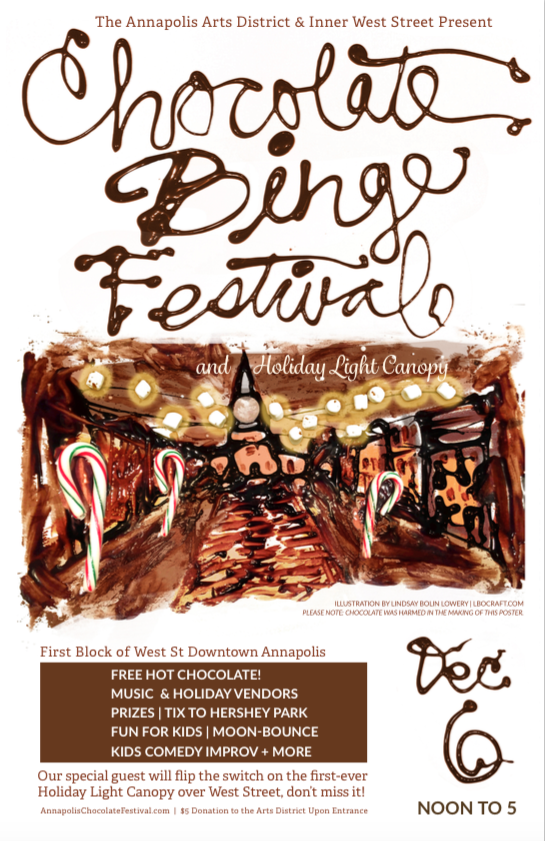 Chocolate Binge Festival
Just like it is during the First Sunday Arts Festival, the first block of West Street adjacent to Church Circle will be closed to traffic to host this all-ages celebration of one of the most loved confections across time and space. The many restaurants along the street will be showcasing their finest Chocolate-centric specials, like "chocolate sushi" and Mexican "mole", to get your sweet-tooth started. Chocolate artisans from the region will be sprinkled throughout the street, making it simple to sample—or gorge on, depending how far you take the "binge" thing—decadent and unique culinary creations.
Thirsty? Wash down your chocolate with... well, chocolate. Free hot cocoa will be up for grabs to keep you feeling toasty while you get your sugar fix. If you prefer your chocolate served a la toasted marshmallows and graham crackers, rest assured the classic s'more makes an appearance at this Binge Fest as well, with a marshmallow roast sponsored by the Annapolis Fire Department.
Luckily, that sugar high can be put to use for holiday shopping. A number of local street vendors, artisans, shops, and galleries will make it easy to find handmade and one-of-a-kind gifts for your loved ones, sans mob-scene tramplings or overnight sidewalk camp-outs. There could be risk of a dance mob however, knowing the great musical acts such as Fast as Lighting and the always impressive local 20-member Gospel choir, which will be entertaining on the various outdoor stages. This fun, relaxing vibe is what we're all really looking to find this season.
If the kids just can't contain their energy, there will be a moon bounce on site to help spend the reserve. For brave youngsters who think they're funny, there will be a kids' comedy improv. The little kid in all of us will be shining through, however, when the guest of honor (who will it be?) ceremoniously pulls the giant lever on the inaugural holiday light canopy illuminating West Street's first block. It is sure to be a dazzling site.
By the end of the day, your chocolate-covered fingers could be grasping some fun prizes, like tickets to Hershey Park, if you bring your fashion game-face to the Ugliest Sweater contest. (This is the Arts District, so you may have to step up your competition...)
No matter what holiday you call your own this season, we can all stake our claim in the unity that is the love of chocolate.
A $5 donation to the Arts District is requested upon entrance. Hope to see you there.