Chris & Karin Best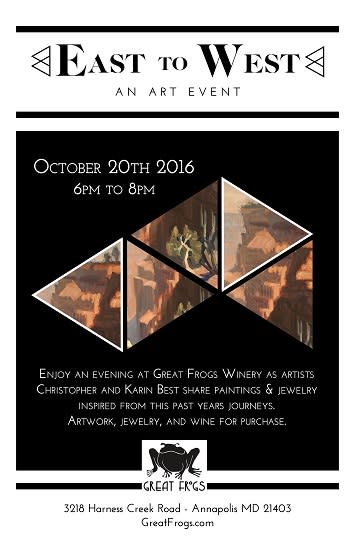 Last fall, husband and wife, painter Chris Best and silver jeweler Karin Best of Kajs Jewelry, transitioned into full-time art making in their new studio space.
"Making that decision freed us up to think more about the type of life we want to live," said Karin.
The couple spent part of this year travelling throughout the United States and then to Karin's home country of Sweden. This time travelling inspired their current work and encouraged them to take risks in both life and work.
"This trip idea started off in the joking-slash-dreaming phase, which transitioned into 'Why not?' and then into 'It's now or never', which finally won," explained Karin.
"These trips challenged us to take calculated risks, like sleeping in the bed of our new/old truck in below-freezing temperatures, to traipsing through bear country looking for gems or mind blowing rock formations. The trip itself was an education, and we hope to share that education with the public through our art. Life is open to calculated risk taking and our art is only here because of the risks we've been able to take. We hope the people who see these works will feel challenged to step outside of the familiar, and take maybe one calculated risk that engages them with a new aspects of God's creation."
Shop and view their art at the beautiful Great Frogs Winery (3218 Harness Creek Rd, Annapolis MD 21403) on Thurs., October 20 from 6:00 to 8:00 pm.
HERE Pop-Up
Amy Fresty & Ellen Lunay, the ladies of HERE. a pop-up shop, are back again with their 3rd Annual Fierce. Fall. Fashion. Show at Metropolitan Kitchen & Lounge (169 West St., Annapolis, MD 21401) next Wednesday and Thursday, October 26th and 27th. Usually popping up for 10 days in and around Annapolis, MD., this celebration of curated fashion and goods will take over the second floor of Metropolitan, in the Annapolis arts district, for two days only. It will feature on-trend clothing, jewelry, and accessories as well as home goods and art. The fashion event begins at 5 o'clock with live music, food and drink specials and culminates with a fashion walk down the red carpet at 8 pm.
Photos courtesy of Kenneth Tom,  Karin and Chris Best, Amy Fresty, Ellen Lunay