Every third Tuesday of the month David's, located just off the Live! Casino and Hotel's lobby, puts on a private selection series dinner. It entails a four-course chef crafted dinner paired around featured alcohol. This month featured Van Gogh Vodkas and it was nothing short of spectacular.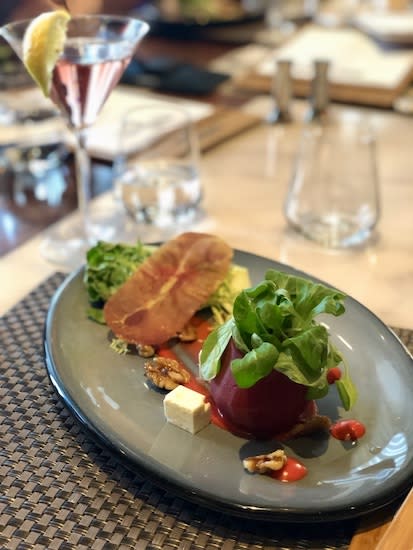 Image courtesy of author
After we were all seated in the exquisite dining room of David's at Live! Casino and Hotel, Chef de Cuisine Tarik Smallhorne started the dinner off with a deconstructed salad complimented by a Van Gogh Raspberry Cosmopolitan. A ruby jewel of a poached pear was the first thing to grab my attention. It was the color of wine and perfectly tender with a mellow sweetness due to being poached in the same vodka as the one in my cocktail.
Fresh greens in the form of baby spinach, frisee, and mache were artfully placed while candied walnuts, a few cubes of feta, and a crisped slice of prosciutto accentuated the minimalistic dish. I loved Tarik's interpretation of an otherwise basic spring salad.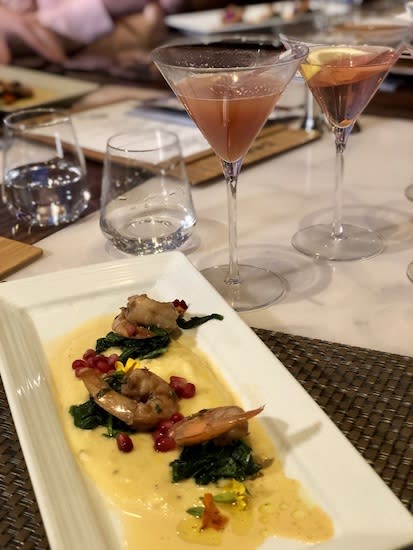 Image courtesy of author
The second course was marked by a Van Gogh Pomegranate Vodka martini. The flavor of a pomegranate can be tricky to emulate but it was lovely in this cocktail; present but not exaggeratedly sweet. Each sip went wonderfully with Van Gogh Pomegranate Vodka marinated shrimp over a bed of spinach crab polenta and Van Gogh Vanilla Vodka Beurre Blanc. This appetizer did not go quietly into the next course. On the contrary, it left its mark while still leaving me wanting more, just as any successful hors d'oeuvre should.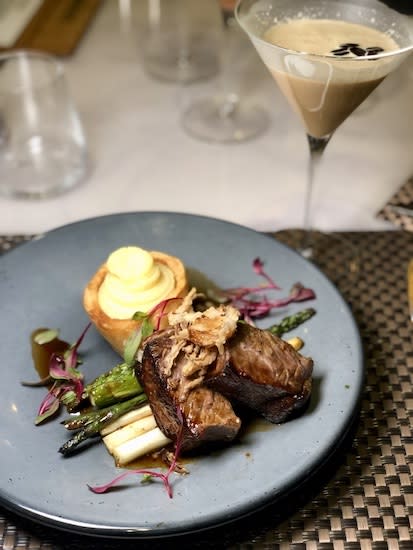 Image courtesy of author
The third course was a meat-and-potato lover's dream paired with a Van Gogh Double Espresso Vodka martini that barely made it through the end of the dish. Tender slices of Van Gogh Espresso Rubbed NY steak were accompanied by white and green asparagus, twice baked potatoes, and a Van Gogh Maple Espresso reduction. As someone who simply can't abide soggy vegetables, I couldn't help but appreciate the level of tender-crispness Tarik achieved with the asparagus, especially for a sizeable dinner function. Of course, the steak was juicy and flavorful. Tarik used an inventive technique with the mashed potatoes by placing them in a hollowed out potato half. By the end, nearly all the plates at my table were scraped clean, and everyone who filled the dining room that evening at David's at Live! started to settle comfortably into their seats.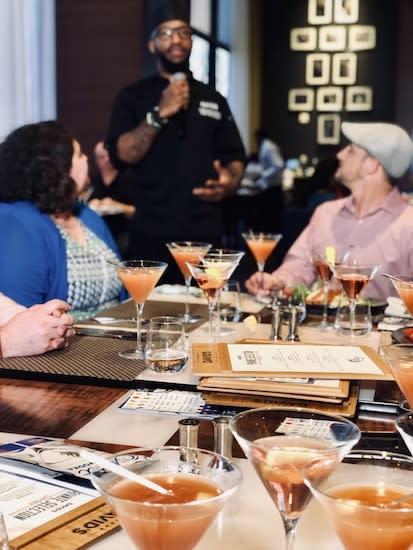 Image courtesy of author
Last, but not least was the final course centered around a Van Gogh Acai-Blueberry Vodka martini. A sweet corn pannacotta filled the same martini glass as it's a more lethal partner, along with an innocent looking shot glass of blueberry mint sorbet. It wasn't until the end that I found out how not-so-innocent the contents of that shot glass were, as it was infused with more of that delectable Acai-Blueberry vodka. I was in heaven as custards, flans, and pannacottas are among my favorite desserts.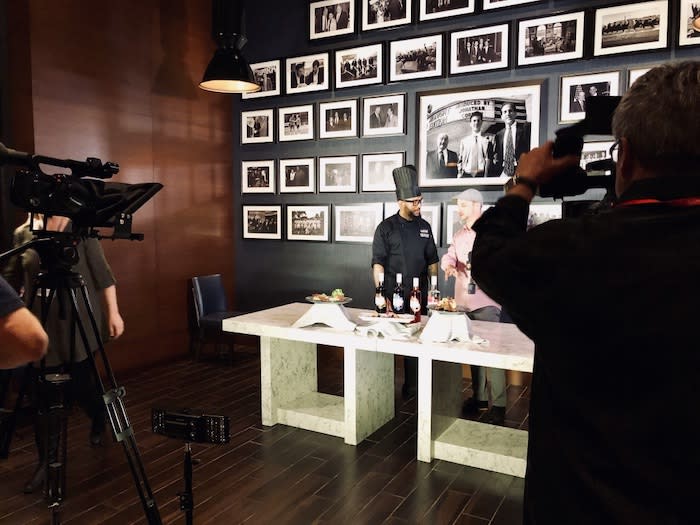 Image courtesy of author
After everything was said and done, our dinner party could not have been more content. David's at Live! had an atmosphere that made me want to stay there forever, and Tarik's ingenuity at incorporating the Van Gogh vodkas into a four-course dinner was a testament to his skill. I can't wait to see what he does at the next dinner which will be featured around rum. Tarik is originally from Jamaica so you can be sure to expect great things including conch ceviche, whole jerked bird, and beef curry. At just $75 a person, it's a dinner that you won't want to miss. Head over to David's at Live! Casino and Hotel for a night to remember.