Annapolitans are an outdoorsy bunch, preferring to be outside no matter what the season. Proof is the popularity of the famous Frost Bite races on winter Sundays, the year-round runners you see on the city's sidewalks and the known "fact" that it never rains on our golf courses or lacrosse fields. So if you enjoy dining al fresco, Annapolis has a variety of appealing options, weather permitting.
Indeed, Annapolis boasts an array of restaurants with outdoor tables. Herein, I provide—in alphabetical order—snapshots of several within walking distance of downtown or accessible by the City Circulator trolleys, Annapolis shuttle buses, eCruisers, or the water taxis that travel between City Dock and Eastport.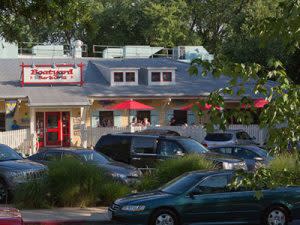 Boatyard-Bar-Grill
Boatyard Bar and Grill, 400 Fourth Street, Eastport. Local boaters like this place for its upbeat spirit and the diversity and quality of the food. Tables on the front porch have a view of the parking lot but are good for casual breakfast, lunch or dinner with your well-behaved dog. 410-216-6206.
Carpaccio Tuscan Kitchen and Wine Bar, One Park Place (adjacent to the Westin Hotel on Westgate Circle). Splashing waters from a fountain on a flower-filled patio create a cooling feature at this appealing restaurant, noted for its extensive menu of Italian specialties. In addition to daily lunch and dinner, it boasts a wonderful Sunday brunch. 410-268-6569
Carrol's Creek Waterfront Restaurant, Eastport. A stalwart of the Annapolis dining scene, Carrol's Creek is favored for its waterfront location and a view that includes the United States Naval Academy on the opposite shore. The food is reliably top-notch, as is the service, and its weekday happy hours and extravagant Sunday brunches rank among the best in town. 410-263-8102.
Davis Pub, 400 Chester Avenue, Eastport. This is a pet-friendly destination, where dogs (a lot of labs) and their friends gather at outdoor tables and get special treatment from the friendly servers who automatically bring them (the dogs, that is) dishes of water. 410-268-7432.
Harry Browne's, 66 State Circle. A sidewalk café facing the State House, a fabulous champagne Sunday brunch and a 33-year track record of fine dining make this place special. Say hello to owner Rusty Romo, a popular figure around town. 410-263-4332.
Carrols-Creek
Joss Café, 195 Main Street. Sushi fans are in for a treat at this first-rate specialty restaurant, where sushi chefs put on a great show at the prep counter—and where patrons can enjoy the enchanting back garden. 410-263-4688.
Metropolitan, 169 West Street. Ascend to this restaurant's rooftop lounge for cocktails-with-a twist and a unique view of the city's arts and entertainment district. 410-280-5160.
Middleton Tavern, 2 Market Place. The awning-covered front porch is a popular spot for people-watching at lunch or Sunday brunch. Well-behaved dogs welcome. 410-263-323. O'Brien's Oyster Bar & Restaurant, 113 Main Street. Sidewalk tables provide a ringside seat for the parade passing by this Annapolis landmark specializing in seafood. 410-268-6288.
Miss Shirley's Café, 1 Park Place. Breakfast and lunch are served inside or out at this popular Southern-style eatery near the Westin, Loews and Callahan hotels on outer West Street. 410-268-5171.
Pusser's Caribbean Grille, Annapolis Waterfront Hotel, 80 Compromise Street. Party central for the younger set, Pusser's deck is perched on the Annapolis Harbor overlooking the action on the boats moored below. Good place for drinks, light fare, Sunday brunch. 410-626-0004.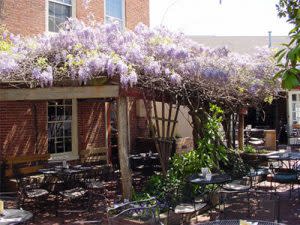 Rams Head Patio
Rams Head Tavern, 33 West Street. Known for its big-name bands, Rams Head's "secret" for idyllic al fresco dining is its spacious vine-sheltered back patio. Perfect for lunch or Sunday brunch. 410-268-4545.
Reynolds Tavern, 7 Church Circle. The spacious patio behind this historic building in the heart of Annapolis is the scene of lively weekend happy hours and daily lunch and dinner. 420-295-9555.
Wild Country Seafood, 124 Bay Shore Dr. Tucked away in an alley near the Annapolis Maritime Museum in Eastport, this "best kept secret" has a half-dozen outdoor tables where patrons can sample fresh fish, crabs and oysters harvested by owner Pat Mahoney Jr. and his Dad. Note: If too crowded, carry-out to nearby museum park. Seasonal hours so call ahead. 410-267-6711.
Photos courtesy of Boatyard Bar & Grill, Carrol's Creek, Rams Head Tavern, and Visitannapolis.org.