Find yourself enjoying the nautical vibes at the Annapolis dock and wondering where to nosh in a restaurant-rich area of town?  Whether you want breakfast, lunch, dinner or deli take-out, the options are many.  This month we focus on some of the lesser known places around the City Dock where you will find a variety of choices to suit your mood, the time of day and your budget.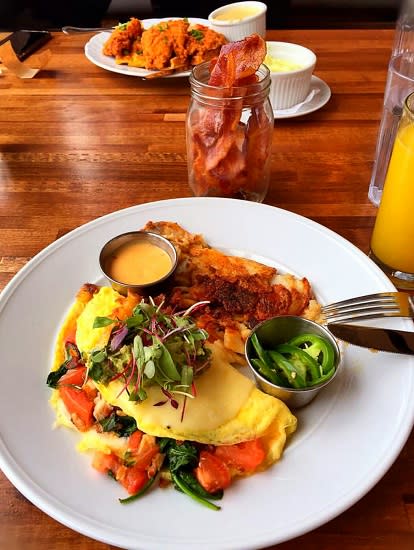 Iron Rooster, 12 Market Space, Annapolis MD 21401. Open daily 7 am-10 pm; 410-990-1600. This unique restaurant has made its mark as a destination for bountiful breakfasts served all day in a family style atmosphere that includes servers who greet guests like long-lost cousins.  The chef-owned establishment is also popular for lunch and dinner, creative libations like its Iron Crush (blood orange vodka and fresh OJ) and a $6.99 kids' menu. Expect a wait on weekends.
Pips' Dock Street Dogs, 118 Dock Street, Annapolis MD 21401. Open Tues-Thurs 11 am-9 pm, Fri-Sat 11 am-10 pm, Sun 11:30-am-8 pm. 410-990-9009.  Local resident Ryan Lamy named his business after his daughter's nickname and started selling his legendary all-beef Sabrett franks as a street vendor in 2009, moving inside to his current location in 2011.  Pips' is one of those "best kept secrets" downtown, though middies know it well for its dogs, Angus beef quarter pounders, custom-cooked cheese steaks, 25 varieties of mustard and hale-fellow-well-met welcome.  "We're not fancy, but we're friendly," says Lamy.
Mission Barbecue, 142 Dock Street, Annapolis MD 21401. Open Mon-Thurs 11 am-9 pm, Fri-sat 'til 10 pm, Sun 11"30 am-8 pm. 443-221-47131.  Recently opened in space long-occupied by Stevens Hardware, this newcomer in the latest in a chain of barbecue-centric establishments nationwide.  Have your barbecued brisket, turkey, chicken or pork with a choice of sauces on site or take advantage of its take-out service (plates, cutlery and serving utensils included) for $11.99 per person for 10 or more.
Sofi's Crepes, 1 Craig Street, Annapolis MD 21401. Open daily 10 am-5 pm. 410-990-0929. This little gem sits shyly on a side street a block off Dock Street, but is well-worth discovering if you are in the mood for excellent made-to-order sweet or savory crepes for breakfast (bacon/egg/avocado), lunch (classic Reuben ingredients) or teatime (crepes Suzette with orange marmalade and a touch of Grand Marnier) – these among the many choices of fillings. Sophie's has just a few tables, so plan to enjoy your crepes in the nearby park.
Armadillo's Bar and Grille, 132 Dock Street, Annapolis MD 21401. 410-280-0028. Open daily 10:30 am- 2 am.  This is "party central," ready to rock all day – but especially every night, when two D.J.'s on weekends and a solo on week nights make sure everyone is having fun. Armadillo's has been there "forever," specializing in casual bar fare that exceeds expectations – especially its legendary lump meat crab cake brushed with lemon butter.  Dining rooms on two floors have recently been refurbished and the outdoor tables overlooking the harbor are prime spots for watching both boats and people.
Note: All of these restaurants accept major credit cards.
Photos courtesy of VisitAnnapolis.org