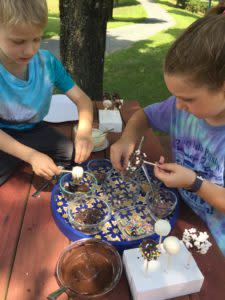 Kid's love the do-it-yourself cake pop kit from Lisa's Cake Pops. Photo courtesy of author.
There's no shortage of dessert inspiration these days; from Nailed It! on Netflix to an endless supply of specialty cake videos on YouTube. The COVID-19 pandemic has likely inspired you to bake some creative dessert work of your own. Not to mention it's perfect for the whole family! Whether due to binge watching all of this delicious content or simply searching for a family friendly pastime, baking treats and sweets at home is at an all time high! 
Fortunately, the pandemic has led a number of Annapolis area businesses and restaurants to begin offering do-it-yourself dessert kits that are not only delicious to eat but also fun to prepare!
Here are just a few. 
Lisa Schneiderman began making cake pops in her California kitchen as a stay-at-home mom back in 2012. Lisa's Cake Pops (and Lisa) arrived in Maryland in 2015. Her business offered custom cake pops exclusively until last year, when Lisa began offering 15 different flavors of cake pops, including gluten-free chocolate and vanilla, daily from her nut-free facility in Severna Park. Then, thanks to COVID-19, Lisa decided to offer DIY desserts.
"At the beginning of the pandemic we realized people were looking for activities to stay busy and entertain their children and families, so we came up with a way to recreate our in-person cake pop decorating classes and birthday party experiences – in a kit," says Schneiderman.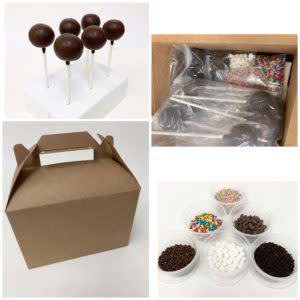 Lisa's Make-at-Home Cake Pop Kits are fun and family friendly! Photo courtesy of Lisa's Cake pops.
This easy, do-it-yourself kit comes with six single-dipped cake pops (either chocolate or vanilla), a very generous portion of regular or white chocolate melting wafers, and six different toppings! According to my neighbor's kids, they were nearly as fun to make as they were to eat.  
"The cake pops were very cool to make because there were so many toppings to put on them," said six-year-old Chester, who dubbed them "very delicious" and named chocolate frosting (the surplus of which he enjoyed on ice cream) as his favorite topping.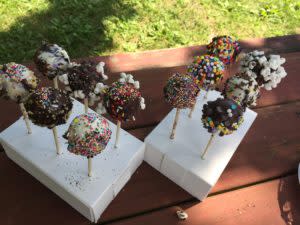 The finished product! Photo courtesy of author.
"They didn't look perfect, but it was really fun to get to be a dessert maker," echoed nine-year-old sister, Nora. "All of the different toppings made them taste great – especially the Oreo crumbs." 
It's no surprise that the kits have quickly become one of Lisa's top sellers. As she says, "I think it's because they are a lot of fun to decorate and the possibilities are endless. I think a lot of people are innately creative, and they get excited about getting to express it – plus almost everyone likes cake, frosting, and chocolate!" 
The kits, which cost $25, are available for purchase at Lisa's store or for online ordering at www.lisascakepops.com.  
Sandy Pony: Donut
Kits
If you're in the mood for a bigger yet just as delicious do-it-yourself dessert, Sandy Pony Donuts is another attractive option.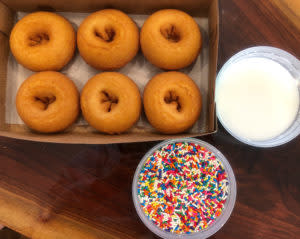 Add the glaze and sprinkles and you have a Sandy Pony Classic Donut! Photo courtesy of the author.
Sandy Pony was founded in Chincoteague Island five years ago, and now the business offers 24 uniquely named flavor combinations on their menu. From the Fruity Pebbles covered Yabba Dabba Doo-Nut to the honey glaze and bacon covered Porky Pony. You can find all of these delicious flavors at every Sandy Pony location. (Chincoteague Island, Bethany Beach, Deale, and of course Annapolis). Shortly after COVID-19, wife and husband owners Brea Reeves and Banjamin Wang decided to add donut do-it-yourself kits to the menu.
"Our customers get to watch us make donuts all the time when they come into our store, but many of them have asked about field trips so that kids can learn more about the process," said Reeves. "So when COVID-19 began, we figured why not give them a do-it-yourself donut kit to take home with them? It's not something you can easily purchase at the grocery store to make, and while everyone loves sweet treats, I think there's something more special when people, especially kids, get to say they actually made their own donut."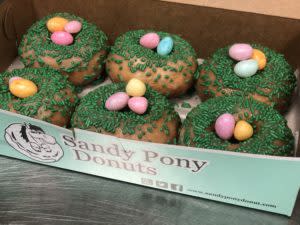 Sandy Pony Donut Kits are a simple, do-it-yourself treat! Photo courtesy of author.
Available at Sandy Pony's Annapolis and Deale locations, each kit comes with a half-dozen ($15) or dozen ($25) plain donuts, a container of glaze, and one or two topping containers. There's also a short tutorial video on Facebook demonstrating just how easy they are to make.  
Visit Sandy Pony Annapolis or Sandy Pony Deale for addresses and hours, and be sure to call ahead when ordering a kit. 
Iron Rooster:
Make Your Own
RoosTart
Kits
Moving on to another Annapolis favorite, Iron Rooster has been offering individual packages of RoosTarts (essentially massive Pop-Tarts) that put the name brands to shame in both size and taste! They have been available from The Rooster General Store in Annapolis for over a year!
However, the pandemic's arrival led to Iron Rooster's restaurant to introduce the Make Your Own RoosTart Kit in late April. 
Do-it-yourself RoosTarts from Iron Rooster is fun for the whole family. Photo courtesy of author.
These popular desserts are available in mixed berry, brown sugar (or one of each) the kits come with all of the ingredients required to make two Roostarts right in your own kitchen. The Kit contains cobbler dough, mixed berry or brown sugar filling, icing, and powdered sugar, plus rainbow sprinkles if you opt for the berry! Perfect for dessert or a special breakfast treat!
There's even a step-by-step video on Facebook and YouTube showing not only how easy they are to make, but also how delicious they look coming out of your oven! Factor in the added bonuses of the fresh baked taste and how wonderful they smell, there's little doubt the do-it-yourself kits will remain popular far into the future.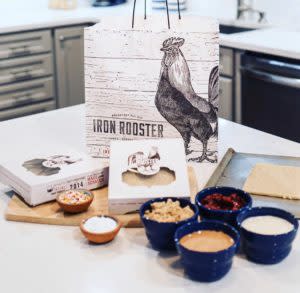 RoosTart Kits are available directly from The Iron Rooster. Watch their YouTube video for a quick and easy tutorial. Photo courtesy of author.
Though they're currently sold out for online ordering through The Iron Rooster General Store, the do-it-yourself kits, which cost $13.95, are thankfully available for carryout ordering here.  
Main & Market:
Cookie Dough Balls & Cupcake Kits
For those who want a perfect, fresh-baked cookie or cupcake, but don't necessarily want to spend time measuring and mixing ingredients; Main & Market has the answer! 
Main & Market is well known for its homemade baked goods; from breakfast breads to wedding cakes. The 27-year-old restaurant began selling chocolate chip cookie dough balls and cupcake do-it-yourself kits this spring.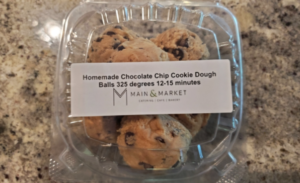 Main & Market has homemade, pre-measured cookie dough available at it's popular Bakery and Cafe. Photo courtesy of author.
"COVID forced us to pivot into lots of home deliveries and also made everyone think of new, fun things to do at home, so offering our cookies and cupcakes to be baked and decorated at home was a natural decision," said Main & Market Vice President Evie Turner. "A warm cookie always makes you feel better. Especially when paired with ice cream this time of year, and everyone (but especially kids) loves covering a cupcake with icing and sprinkles." 
Purchase homemade chocolate chip cookie dough by the dozen ($12) or half-dozen ($6). Each $22 cupcake kit comes with three yellow and three chocolate cupcakes, piping bags of both vanilla and chocolate icing, and four cups of sprinkles. They can be ordered over the phone, in person, or online at https://www.toasttab.com/main-market/v3. 
BON APPETIT!