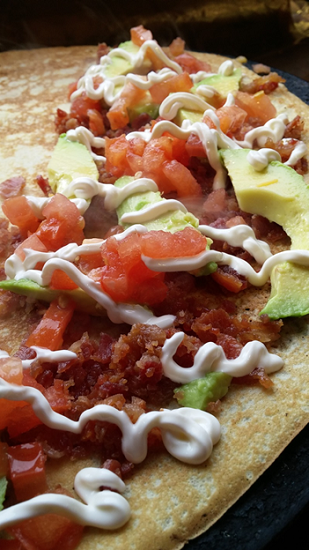 Vacations are times for breaking some of the rules that shape our behavior during the work week.  Sleeping late is okay.  So is night-owling. So is indulging in some of the foods that are usually in the "no-no" category.  We can aid and abet your indulgences by pointing you in the direction of a few little-known food secrets that are well-known to area students at local schools – and their parents.
Pretend you're in Paris by ordering a sweet or savory crepe a Sofia's Crepes, a tiny carry-out tucked into a corner of 8 Craig Street just outside the gate leading to the USNA Visitors Center.  Don't be daunted by the lines – orders are filled in record time by cooks who swiftly turn batter into edible containers for sweet or savory fillings.  Our last visit was on Labor Day, when a steady stream of uniformed Mids ordered from a menu where the Kevin Bacon ($8.25) features cheddar, turkey, bacon, tomatoes and Thousand Island dressing is the best-seller among the savories and the classic Crepe Suzette ($6.15) marries orange marmalade and Grand Marnier.  There are a few sidewalk tables that fill up fast, with seating options on the harbor wall across the parking lot.  Franchise owner Stephanie Barbe is a St. Mary's graduate and studied culinary arts at University of Delaware.  Sofi's (410) 990-0929 is open Mon-Sat 8 am-9 pm, Sun until 6 pm. Major credit cards. For the convenience of midshipmen, they deliver to Gate 1 of the Naval Academy.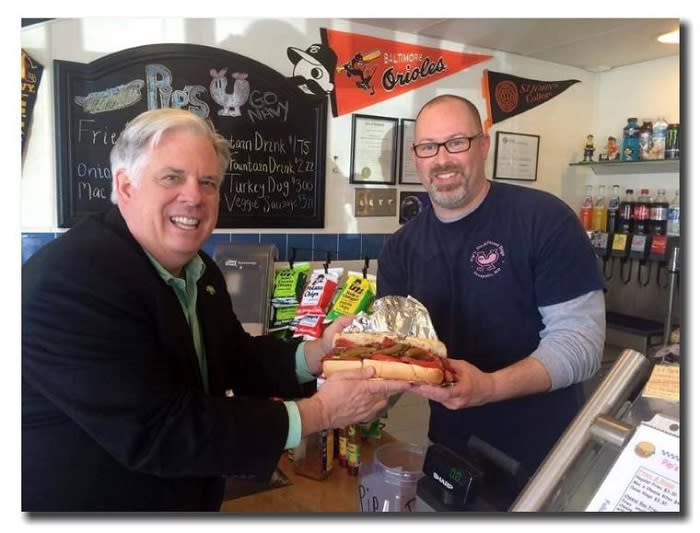 Pip's Dock Street Dogs is another little "secret" to share with visitors looking for a quick stop down by the City Dock. How about all-beef specialty hot dogs, quarter-pound hand-shaped burgers, cheese steak subs and service by the genial owner himself?  "We're not fancy – but we're friendly," says Ryan Lamy, who had a food truck before opening this tiny storefront in 2009.  He named it Pip's, the pet name his Mom called his baby daughter. The spanking clean establishment, with a few seats at a counter in front of a picture window and a few sidewalk tables, it has become a favorite of midshipmen – as well as Maryland Governor Larry Hogan.  Its stellar reputation is built on the quality of the meats (watch while the grill man sears the prime steaks, then slices them with the sharp edge of a spatula before loading them into the sub roll with slices of provolone and cheddar cheeses), the variety of embellishments for the dogs (#1 is the Coney Islander, slathered with mustard-of-choice and fried onions), the juiceiness of the big man-sized burgers, and the bite of the house-made chili. Pip's (410) 990-9009, at 118 Dock St., is open Tues-Sun 11 am-7 pm, closed Monday.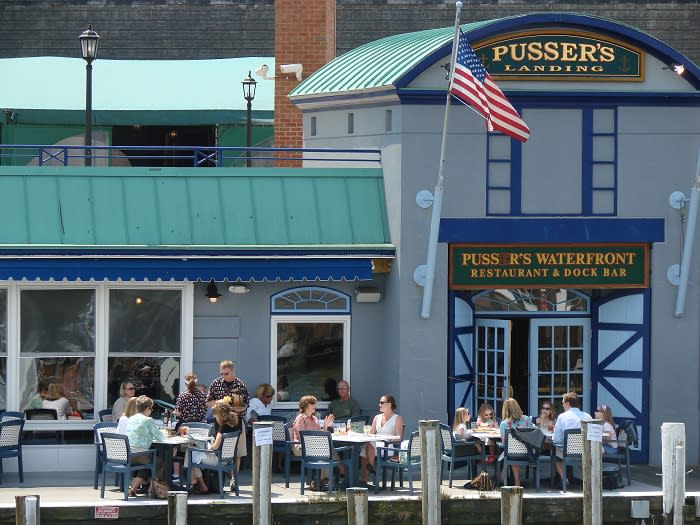 Pusser's Caribbean Restaurant, the restaurant at the Annapolis Waterfront Hotel on the opposite side of the Annapolis Harbor,  invites you to enjoy its September Special – preferably on its outdoor deck overlooking Ego Alley.  Dinner includes a choice of two half-entrees from a line-up of a shrimp skewer, braised baby back ribs, char-grilled chicken breast, flat iron steak or a char-grilled salmon fillet plus salad and cheesecake with sliced strawberries and raspberry sauce. All this for $18.95 – water view included.  Available Mon-Fri 5-11 pm.
Photos courtesy of Sodia's Crepes, Pip's Dock Street Dogs, and Pusser's Caribbean Restaurant