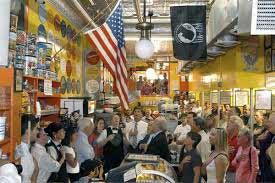 Patrons at Chick & Ruths Delly start the morning with the Pledge.
"Ask the locals" is the oft-given advice to folks from out of town looking for a good place to dine. But if you're an early riser searching for a favorite breakfast spot, many of the locals (referred to here as Annapolitans) may still be asleep and, therefore, unavailable to offer their expert input. That's where I come in. As a longtime Annapolis resident and restaurant reviewer, I am glad to be your "local", sharing an insider's perspective about where in our town you can find a phenomenal breakfast.
Breakfast is a special meal, served daily from 6:30 am with patriotic panache at Chick & Ruths Deli (165 Main St), where at 8:30 am on weekdays and 9:30 am on weekends, Ted leads patrons in the Pledge of Allegiance. It's a favorite among locals, especially politicians who have sandwiches bearing their names – as long as they remain in office, that is.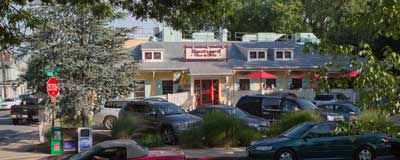 Patrons flock to the Boatyard Bar & Grill.
"A Nautical Cheers" is what Washingtonian magazine calls Boatyard Bar and Grill (Severn Ave and Fourth) in Eastport, open for breakfast daily at 7:30 am (love the muffins) and at 8:30 am for its hearty weekend brunches and a chance to see boaters stoking up for an early excursion on the water.
Down at the City Dock, Iron Rooster (12 Market Space) is a new "breakfast-all-day" (from 7 am-10 pm) destination, with enormous portions (lotsa' bacon), biscuits and gravy, five variations on the Benedict theme and super-friendly service. Caveat: Beware of the lines.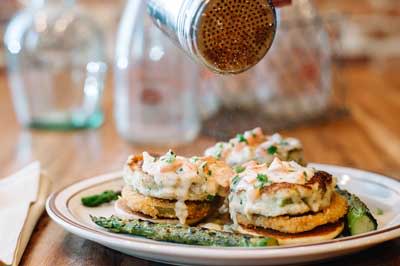 Breakfast at the Iron Rooster, photo courtesy of Nicole Barr.
A quiet and elegant setting for breakfast is the Treaty of Paris, downstairs in the historic Maryland Inn (58 State Circle). Popular as a setting for power breakfast meetings, the restaurant retains the formality of days past and breakfast (daily 7-11 am) is comfortably traditional. Everyone raves about the popovers. Brunch (weekends 7 am-2 pm) is an elaborate feast of savories (a carving station, seafood, salads) and sweets.
Another destination for early risers is 49 West (49 West St), a colorful coffeehouse just down the street from the Loews Hotel that offers breakfast from 7:30 am-2 pm. A jazz guitarist plays on weekends while patrons enjoy homemade waffles piled high with fresh berries and whipped cream or well-made breakfast sandwiches and omelets. Newspapers are provided in case you want to hold one in your very own hands instead of reading what's new online.
Miss Shirley's Café, (One Park Place) is a Baltimore transplant serving breakfast from 7 am - 3 pm and specializes in "Southern American" breakfasts that feature fried green tomatoes with crab garnish and "Hey Y'all Grit Fries with Bacon" in a down-home setting. Weekends have long wait times.
Welcome – and bon appetite!