ADULT BEVERAGES AVAILABLE FOR TAKEOUT, TOO (THANK YOU GOVERNOR!!)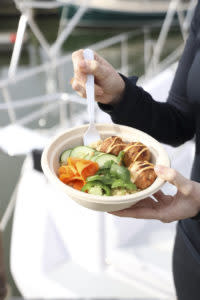 Bread and Butter Kitchen. Photo courtesy VAAAC
By now we know the drill…And, this too shall pass. Meanwhile, HERE is a good list of restaurants whom are doing their best to adhere to all the CDC regulations and being available to us.
Blue Rooster Café 410-757-5232 Order online and have it ready for you HERE
Boatyard Bar & Grill 410-216-6206 Full menu available, plus daily specials and platters. 11:30am - 8pm, 7 days/week. Call 410.216.6206. Online shipping of crab cakes, crab soups and dip available. Gift cards are available at the restaurant or online.
Brian Boru Irish Pub 410-975-2678 Check website for regular updates!
Chart House 410-268-7166 Limited menu - please call or email chan@ldry.com for details. Menu is not yet posted on website.
Galway Bay Irish Pub & Whiskey Bar 410-263-8333 Check website for regular updates!
Harry Browne's 410-263-4332 Limited menu available on our website.
Iron Rooster 410-990-1600 All locations open for carryout, gift cards also available online.
Jimmy John's 410-280-3561 All locations open for delivery, carryout, catering and online ordering. Stay healthy and safe.
Killarney House Irish Restaurant 410-798-8700 Check website for regular updates!
Lewnes' Steakhouse 410-263-1617 Limited menu is posted on our website.
Luna Blu 410-267-9950 We will be open for carry out, curbside pick-up and delivery directly through the restaurant.
Miss Shirley's Café 410-268-5171 All Miss Shirley's Cafe locations are open for Delivery through Doordash, Grubhub, UberEats & Postmates + Online, Phone & Walk-In Carryout orders with extended hours from 8 am - 7 pm! Hours subject to change - check website for updates. Gift cards also available for purchase online, for future dining experiences.
Osteria 177 410-267-7700 Curbside pickup out of the side door on Conduit Street.
Pirates Cove Restaurant 410-867-2300 Check website for regular updates!
Reynolds Tavern and 1747 Pub 410-295-9555 Curbside pick on Franklin. Limited Outdoor picnic tables.
Soul 410-267-6191 Free kids meals with take-out orders. Delivery available at Grubhub.
Sam's on the Waterfront 410-212-6712 Check website for regular updates!
Vin 909 Winecafe 410-990-1846 Full menu available 5 to 8:30 p.m.
Yellowfin Steak & Fish House 410-573-1333 Curbside pickup outside the front door 3:30-7:30 Monday - Saturday. Menu is on the website-please call ahead. On-line ordering through our web site. Delivery orders through GrubHub. Gift card promotion: purchase a $50 gift card and receive 20% bonus ($10) added to the gift card. Gift card purchases in person only.