A high-heeled running race—for men. Live body painting. All kinds of music. These are just a few of the things that I witnessed, laughed at, and enjoyed last weekend at the Annapolis Fringe Festival in downtown. The event, held on a fall weekend throughout West Street's art district, has grown in just a few short years to become the must-see, over-the-top arts and entertainment event of the year in Annapolis.
The Fringe Festival originated in Edinburg, Scotland—in my neck of the woods, as I'm a recent transplant from Ireland. First held in 1947, it's become world famous for its "freestyle" performance arts, theatre, dance, music and visual arts. It attracts thousands of people every year and has launched careers for many artists—on both sides of the Atlantic. Here in Annapolis, the Fringe Festival started just a few years back and is growing bigger every year, along with the arts scene in town. I was happy to be a part of the Fringe fun last Saturday night.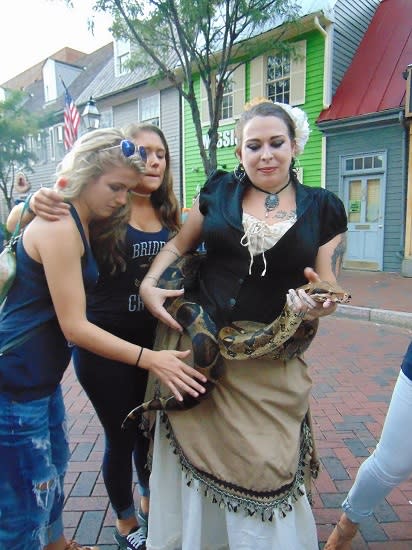 I arrived to find the first block of West Street (alongside Church Circle) blocked off to traffic and transformed into a fantastic world of art and entertainment. The evening kicked off with the annual High Heel Race, as a number of glamorously dressed gentlemen in high heels competed against each other by sprinting up West Street in very uncomfortable women's high heels, an entertaining sight for sure. While waiting for this race to start I witnessed a lady dressed in gypsy attire draped by a python snake. She assured me the snake was no light weight, but that practice has allowed her to carry it at her leisure. She later performed a snake charming act which was both mesmerizing and scary to see. I also watched an artist spray painting a trampoline that was suspended sideways with what appeared to be a spooky three-eyed man in black and white. It almost looked like a photograph; it was that realistic. Right beside this piece of art work was a one-man-band performance. He played drums and strings at the same time and sang rock tunes; he was really excellent.
In addition to impromptu happenings in the street, performance stages were scattered throughout the event. One, at 60 West Street, featured a Burlesque show in which three girls performed their own unique renditions of the satirical art form, which was entertaining. There was also a really impressive and authentic-sounding local Americana/blues duo called Swampcandy whose sound is big enough to call a band. They performed at the Stan and Joe's parking lot with loads of energy. While many of the performances were taking place there were lots of other exciting sights to see including live body painting, Bolivian dancers, a car collage project, a Diva Drag show, marching bands and even a silent disco where people wore headphones and bopped to music that only they could hear, which looked like fun.
During the event many restaurants and bars opened up their doors and brought their seating outside so customers could dine Al Fresco while enjoying the Fringe street performance around them. The cool temperature made it ideal for outdoor wining and dining.
Inside, several venues hosted diverse and original theatre shows, dance performances and musical presentations for which you could either purchase tickets or, in some cases, attend for free. Whether free or for a fee, the performances gave audiences exposure to many up and coming artists.
Overall, the night was full of surprises and sensory stimulation. With so much going on I was afraid I would miss something. I think Annapolis did a great job staging the event this year and I would love to see more of the performers, so I will be keeping an eye out for some of my favorites from the festival around town—and I will definitely stay tuned for news of next year's Fringe Festival. You should too.
Photos courtesy of Sinead Harold