According to Happy Trails Beer News, "A firkin is a unit of measure and also the size of a particular kind of keg used for cask conditioning; one quarter of a barrel, 72 pints, 9 imperial gallons. Firkins can be wooden or metal."
"Darin, would you like to visit Union Brewery with the owner and GM of Federal House and create your own Firkin?"
This is how it started! If you're a beer lover and are not familiar with Federal House, you should be! While putting together our Cocktail Trails post a couple months ago, we decided to add in a list of great places to find quality craft beer in the area. Federal House was one of those locations. Located at 22 Market Space, in the heart of Downtown Annapolis, Federal House is a cozy restaurant and bar with tons of historic charm.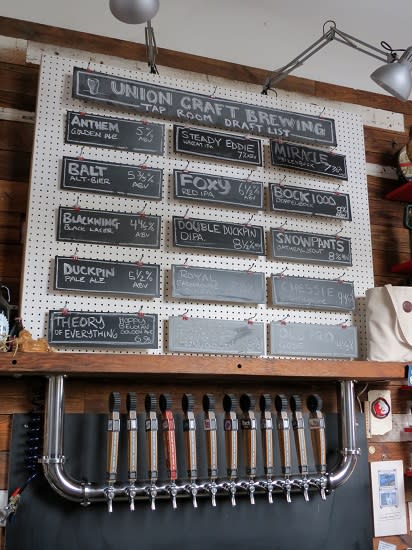 According to owner Jeremy Black and general manager Vikki Green, the decision to steer into the craft beer direction wasn't an easy one. Thanks to Vikki's love of a good craft beer and a dedicated staff, they collectively opened their arms and embraced the wide world of craft beer and it has been a success. With 25 draught beers, Federal House rotates six of them regularly to introduce unique and rare beers to patrons.
You all know me as a cocktail blogger, but beer was my first love! As the craft beer scene exploded, I became a big fan of breweries like Abita, Allagash, and Magic Hat. Making sure I showed love to my local breweries, I explored and became a local fan of Jailbreak (Laurel, MD), RAR (Cambridge, MD) and Union (Baltimore, MD). When Vikki extended the invite to visit Union Brewery, create my own Firkin AND name it, I jumped at the chance.
Federal House employees (also known as Fed Heads) began creating recipes for their own Firkins in February of this year. A rotating list of craft breweries in Maryland uses a base list of ingredients that creates the beer of your choice, and that beer is then sold at Federal House.
<Insert me, screaming and jumping! Fireworks in the background.>
A DOSE OF MARYLAND PRIDE
The day has come and we are off! Up 97-N and into Baltimore, we chatted the whole way about being a local and our favorite beers. Jeremy and Vikki mentioned how amazing the Union crew is, and they were exactly right. Walking directly into a small bar area, we were greeted by Union Account Manager, Shawn Whetzel.
"You all ready for some beer?" he asks from behind the bar.
"Yes, we are!" I squealed.
Shawn made us feel right at home and walked us through all of the beers we tasted, telling us the back stories of what influenced their taste and what his personal favs are. We sat down and tasted about six beers on tap—four of them being the base beer I would need to pick to create my Firkin. I tasted, and I chose! There was an immediate winner! But we'll get back to that.
While sipping, we were greeted by Co-Founder and Director of Operations, Adam Benesch. The great part of meeting these guys was their excitement for the beer and for our experience there. Adam walked us through the brewery, taught us about the process and talked about their love for using ingredients that are both local and international. Their main goal is quality, and you can taste it in all of their beers. There is a certain local pride I felt walking through the brewery with him. As a Marylander and entrepreneur myself, it was nice to see a very cool story of business success and humbleness in your my backyard.
LET'S ROCK THIS FIRKIN!
We get back to the bar and the time has come! Shawn goes behind the bar and asks me if I've made my choice. I had! To create your Union Firkin, you must first choose your base beer. You then build upon it with Hops and Funk (aka flavor).
I chose Blackwing Lager as my base. 4.8% ABV, made with Perle Hops. Roasted Coffee Beans and Rich Chocolate. I skipped the Hops and added vanilla bean and oak chips for flavor. My excitement grew when I saw Adam get excited about my choice. "The oak chips are a great choice!," he says. To pick a word to properly describe my emotion at this point: STOKED! I've gotten the A-OK from the Co-Founder and am feeling good about life.
Before we even arrived at the brewery, I had a name in place! One of my best-est-est friends Marie has always had a knack for giving me good nicknames. In homage of my love of burlesque dancer and designer, Dita Von Teese, Marie gave me the nickname Deeder Von Teese. (DD, Deeder and Sweet Deets are among some other good nicknames from Marie). So, Deeder Von Teese was born into a beer that combines some of my favorite flavors: coffee, chocolate, vanilla and oak. In about 3-4 weeks, Deeder Von Teese will be served at Federal House and I'm hoping it's delicious!
THANK YOU FED HOUSE & UNION BREWERY
The best part about this experience was meeting good people and talking shop! I was able to spend time with two owners who take pride in their work, product and staff. Chatting about the importance of details and quality was great! At Union, everything from their merchandise to their beer labels was well-designed, and eating lunch at Federal House gave me a new appreciation for everything that goes into creating a great dining experience, like the shape of the glass or the choice of plate. Thank you all for such a great experience! I was a fan before, but I am even more of a fan now.
Photos courtesy of Darin Gilliam