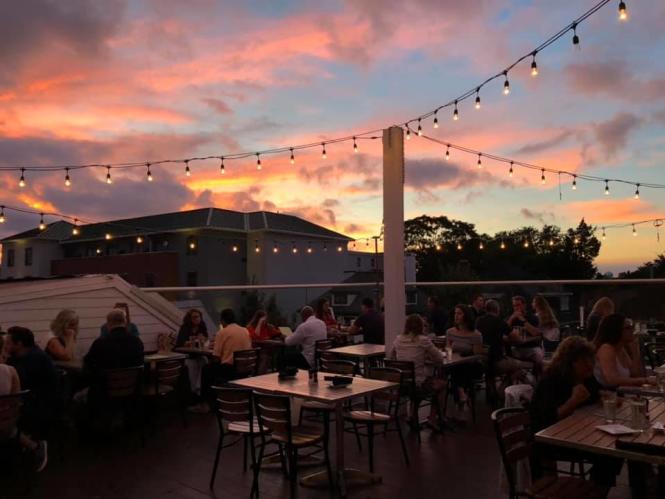 Cocktails on the roof of
Metropolitan Kitchen & Lounge
is a must on these balmy summer nights! Image courtesy of Metropolitan.
Nothing beats the summer heat like a shady bar and a cool drink. Annapolis has loads of adult libations to choose from, but if you're looking for ideas, these stand-outs are a great place to start.
Ice-cold oysters and ever-changing small plates are on the menu at this cheeky treasure box on West Street. Just like they mix things up on their food menu, they mix up their cocktails, with seasonal takes on favorites. "The Coach Colin's is a seasonal, sparkling cocktail and one of our staples at Sailor Oyster Bar," says general manager Sean Clancy. "The summer 2021 version consists of vodka, cranberry, lime and orange liqueur, topped with soda—making it a bubbly Cosmopolitan over ice." What's in the name? That's an inside joke he's happy to share. "Like many of our drinks, its name is a dedication to one of our regulars. When it was discovered that our friend Colin (the captain of a local rugby team) didn't like being called Coach, the name was solidified. Next time you're in, have one, then say, 'Put me in coach! I'm ready!' to Colin. He'll probably be here."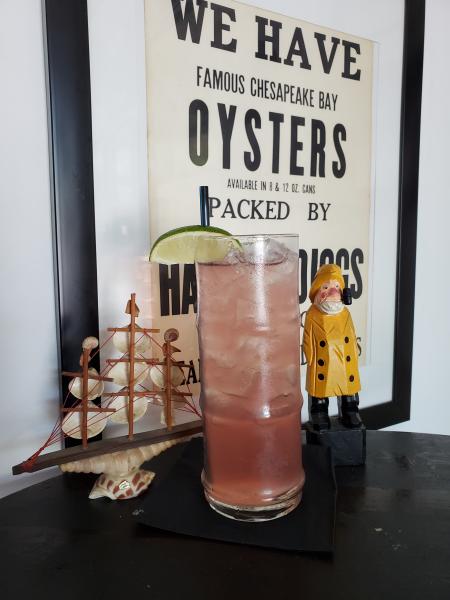 Oysters and craft cocktails are a specialty of Sailor Oyster Bar. Image courtesy of
Sailor Oyster Bar.
Located on the corner of West Street and Cathedral Street, this modern eatery features New American cuisine made with sustainable, local ingredients, served in small portions designed for sharing. It's the kind of place where there's always something new on the menu, alongside a slate of favorites they can't remove because their customers wouldn't have it. That's the case with their gimlet, which upgrades the classic vodka and lime juice cocktail with sugar cane and lime foam. "It has been on the menu for 10+ years," says owner Erick Sowers. "It's a crisp, clean and very refreshing drink that all can enjoy. Using only fresh squeezed juice helps make this stand out as our specialty, and a go-to drink for all."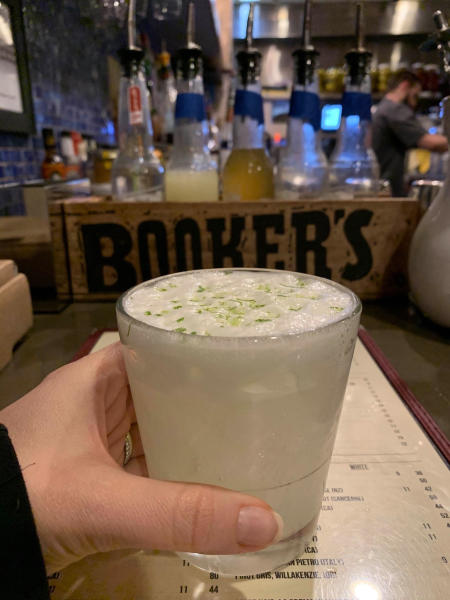 The Level Gimlet is so popular, if they ever took it off the menu, they would have a riot on their hands! Image courtesy of Level.
Nothing says summer like cocktails on a rooftop deck, and this West Street restaurant has one of the best ones in town. Their creative cocktail menu is created by bar manager Frankie Seuss, who puts his own twist on classic combinations. Take the Refashioned. "It's a modern twist on the old-fashioned and whiskey sour," he says. "Made with our fresh house-sour mix, this drink features the flavors and aromatics of the classic old fashioned yet it's light enough to drink outside in the summertime like a whiskey sour."
Sip Metro's 'Refashioned' craft cocktail on their rooftop patio and take in the Annapolis views. Image courtesy of Metropolitan.
Rum and boats go together like, well, rum and boats. So this Caribbean cocktail is a natural enjoyed overlooking Ego Alley from the deck of Pusser's Caribbean Grille. The original recipe was handed down from the BVI's Soggy Dollar Bar to Pusser's Rum founder Charles Tobias in the 1970s, and brought to Annapolis in 1994. They blend Pusser's Rum with pineapple juice, orange juice and an ounce of cream of coconut, and serve over ice with an orange slice, cherry, and freshly grated nutmeg. You can customize it by how much rum you'd like—2, 3 or 4 ounces—and add a souvenir mug with the Pusser's logo.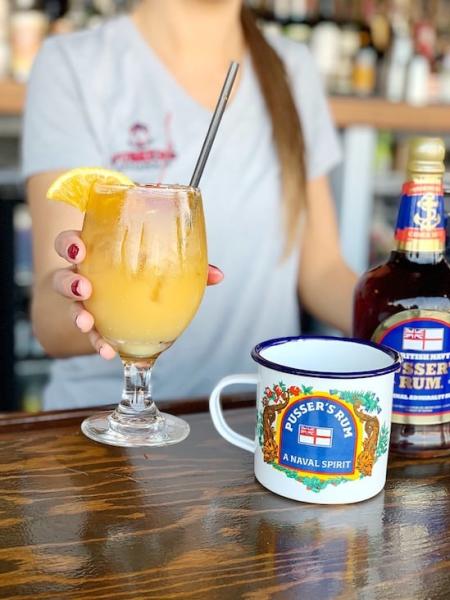 You can't come to Annapolis without stopping by this waterfront watering hole for a tasty Painkiller. Image courtesy of Pusser's 
When it comes to what makes a perfect margarita, everybody has an opinion; that's why there are so many variations on the menu at every Mexican restaurant. But I've never seen a version like Vida's, which blends their Best Margarita Ever mix with their sangria, made with white Chablis and red Burgundy wine, plus pineapple and sugar cane. The result is a flavorful, fun sangri-rita that pairs perfectly with their array of tasty tacos and says summer in a glass. Bonus: It's on special, along with their other house cocktails, on Wednesdays with $30 pitchers, or Fridays before 6 pm and all day Sunday, when it's $7/glass.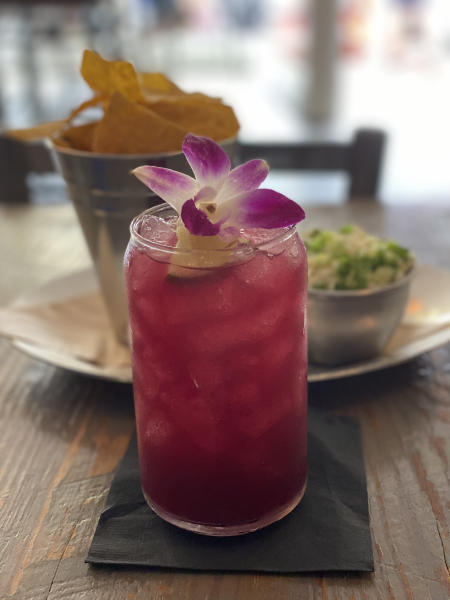 Vida's Purple Drank will surprise you, it's like a tangy twist on Sangria. Image courtesy of Susan Moynihan.