With spring just around the corner comes the beginning of outdoor dining season, and there's much to look forward to this March surrounding the world of food in Annapolis. It's even Maryland Wine Month! Take a browse through this quick rundown of food-related things happening throughout Annapolis this month.
Maryland Wine Month
March of 2017 is the first-ever Maryland Wine Month! Uncork the month and enjoy The Wine Month Challenge, a Winemaker Series, and events and activities happening at wineries all across the state. Three great Anne Arundel Wineries celebrating this month include Great Frogs, the Vineyards at Dodon, and Thanksgiving Farm.
Miss Shirley's Cafe
Spring sunshine has shed its light, and with warmer weather comes Miss Shirley's NEW Spring Menu, which will debut at all locations on Thursday, March 30th!
This Spring, Corporate Executive Chef Brigitte Bledsoe (recently nominated as a finalist for Chef of the Year in the Restaurant Association of Maryland's 2017 Stars of the Industry Awards) and her culinary team have kicked it up a notch with some savory & sweet starters that are sure to Wake Up Your Taste Buds! Spice things up with a few House-Made Shrimp Gritters. This new starter consists of 5 Gritters filled with Blackened Shrimp & Pimento Cheese, encrusted with seasoned panko breading and fried, garnished with local Huckle's Late Harvest Jalapeño Aioli. Be sure to visit their website on the 30th for a peek at these tasty treats!
Green Restaurant Week
This March, St. Patrick's Day isn't the only reason to go green. Anne Arundel County and the City of Annapolis have teamed up to offer Green Restaurant Week beginning Sunday, March 12, running through Saturday, March 18. Green Restaurant Week celebrates the Anne Arundel and Annapolis restaurants certified with environmental best practices through the Restaurant Stewardship Program.
The event, which runs from Sunday, March 12, to Saturday, March 18, includes participating restaurants such as Azure, Blackwall Hitch, Boatyard Bar and Grill, Brian Boru, Café Mezzanotte, A Cooks Café, Galway Bay, Herrington on the Bay, Killarney House, and Preserve. Guests can enjoy specials on food and drink dedicated to Green Restaurant Week from each participating restaurant. Specials vary, but a sample list can be found on the Anne Arundel Economic Development (AAEDC) website. To confirm specials, please contact each restaurant separately.
Blackwall Hitch
The tasty Eastport restaurant, Blackwall Hitch, is cooking up everything from new menus and live music sets to happy hour specials and a St. Paddy's Day event.
March Chefs Table Winer Dinner: Tuesday, March 7th, Blackwall Hitch is hosting their monthly Chef's Table Wine Dinner featuring custom courses paired with wine. $75 per person. Call 410-263-3454 to make you reservation.  Here's a breakdown of the four-course meal:
[gallery link="none" size="full" columns="1" ids="3809"]
Cream of Morel Rich earthy Morel Mushrooms sautéed with Shallots & Prosciutto blended smooth then served with Poached Oysters & Salsif topped with a Cream Volute Paired with: Cakebread Cellars Chardonnay, California
Baby Heirloom Beets & Lobster Slow-poached Baby Beets served with Butter-roasted Lobster, White Balsamic & Toasted Pistachio Paired with: Louis Jadot Pouilly-Fuissé, France
Scallops & Sweet Breads Pan-roasted Scallops & Veal Sweetbreads, served over French Green Lentils, Butter-poached Cipollini Onions & Tomatoes finished with Crispy Capers & Marjoram Paired with: Bonny Doon Clos de Gilroy, California
Strawberry & Elderflower Macerated Fresh Strawberries in Elderflower Liquor & Crystalized Ginger served over Buttery Short Bread topped with a light Chantilly Crème Paired with: Jackson-Triggs Vidal Icewine, New York
St. Paddy's Day: This St. Patrick's Day, Blackwall Hitch is serving up a traditional Irish meal with libations inspired by the Emerald Isle on March 17th.
Boatyard Bar & Grill
March 9 – Full Snow Moon Party: Every month the Boatyard throws a Full Moon Party with live music, Mount Gay Rum drink and Blue Moon beer specials. The March Snow Moon features the Jess McQuay Band on Thursday, March 9 at 7pm. Happy Hour from 3-7.
March 14 – The Maritime Republic of Eastport's Irish Night: Up the Republic! On Tuesday, March 14 at 7pm the Eastport Oyster Boys return with musical guests and general shenanigans and the Honorable John P. Barry presides. Happy Hour from 3-7 with yummy food and drink specials. http://www.boatyardbarandgrill.com/events/upcoming-events
March 17 – Maguire's Irish Pub: Each year, for one night only, the Boatyard transforms into Maguire's Irish Pub: the legendary Jeffrey P. Maguire becomes barkeep and owner on St. Paddys day, Friday, March 17. Enjoy our delicious Irish themed-menu then dance a few jigs to the Jess McQuay Band at 7pm.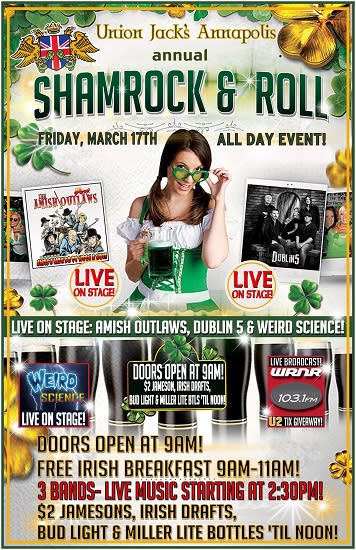 March 28 – Angler Night: The final Angler Night returns Tuesday, March 28, hosted by CCA MD and Chesapeake Magazine. Join other passionate anglers to swap tales and catch Confluence Film's Providence. Film begins at 7pm. Happy Hour from 3-7 with yummy food and drink specials.
Union Jack's British Pub
Get in the Irish spirit at Union Jack's Shamrock & Roll all-day event on St. Patrick's Day. Starting at 9 am, the event includes a free Irish breakfast served from 9 am - 11 am, three live bands (Amish Outlaws, Dublin 5, and Weird Science) starting at 2:30 pm, and $2 Jamesons, Irish Drafts, Bud Light and Miller Lite bottles until noon. General admission is $10. Get your tickets online today!
Photos courtesy of Blackwall Hitch and VisitAnnapolis