Annapolis Restaurant Week is a tasty time to visit Maryland's historic capital city. 2020 marks the 12th year of this annual celebration, organized by the Downtown Annapolis Partnership and hosted by more than 40 area establishments. Special prix fixe menus are good from Saturday, February 29 through Sunday, March 8: breakfast ($12.95), lunch ($13.95) or dinner ($34.95). A complete list of participants may be found online HERE
Scrolling through a list that reflects the diversity of the Annapolis restaurant community, you'll find establishments appropriate for family outings, business breakfasts, lunch meetings, date nights and just about any special occasions on your calendar.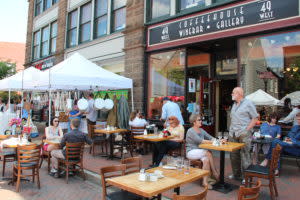 49 West Coffeehouse. Photo courtesy of VAAAC
Start the day right…
49 West Coffeehouse, Winebar & Gallery, 9 West St., hits all the right notes for a happy morning meal: sweet service, steaming mugs of good coffee, crisp waffles with strawberries and cream, bacon/eggs/toast platters. Iron Rooster, 12 Market Space, draws crowds for its hearty breakfasts-all-day, hearty portions served at private or communal tables. Note: This restaurant honors the prix fixe prices Monday through Friday only.
Lighthouse Bistro, 202 West St., is a unique social enterprise known for good service and good food, among them fried chicken and waffles for breakfast. Miss Shirley's Café, 1 Park Place, is "breakfast central" as well as a popular lunch spot. The café is noted for its family-friendliness, generous portions and extensive menu. Gluten-free pancakes are available during restaurant week.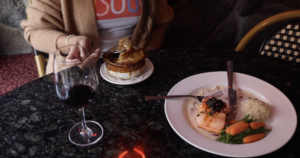 Cafe Normandie. Photo courtesy of VAAAC.
Lunch anyone?
Jean Louis' Café Normandie, 185 Main Street, opened in 1986 and has legions of fans who appreciate the classic cuisine, the central fireplace, the authentic bistro-style décor and the knowledgeable service. The 2020 Restaurant Week lunch features a choice of French onion soup or a country-style pate, followed by a choice if mains (think beef bourguignon, salmon with blueberries) and house made crème caramel, eclairs or fruit tartes.
Carpaccio Tuscan Kitchen, 1 Park Place, has a generous prix fixe lunch featuring soup or salad, entrée selections of a double pork chop, grilled salmon with crab bisque risotto or the kitchen's five-star eggplant parmesan, with chef's choice of dessert. Discover the fun of "Thai comfort food" at Lemongrass, 167 West Street, where the vibe is high, the food is a delightful surprise and the staff ready to help you decide what to choose from its eclectic lunch (and dinner) options.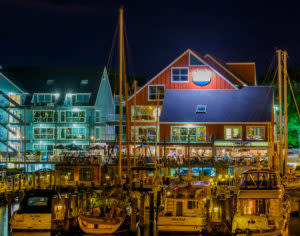 Carrol's Creek Cafe. Photo courtesy of VAAAC.
What's for dinner?
Some of our town's best-known fine dining establishments are clustered along "Restaurant Row" in Eastport. Prime among them is Carrol's Creek Café, an elegant waterfront restaurant at 410 Severn Avenue, good for lunch and dinner. For $34.95, the prix fixe menu a wonderful appetizer of sea scallops garnished with lump crabmeat glazed with a shrimp cream sauce. Dinner choices include a crab cake and top sirloin steak combo, a seafood-rich cioppino or a vegetable saffron risotto. Sweet choices include chocolate mousse flavored with Bailey's Irish cream.
O'Leary's Seafood, housed in a cottage at 310 Third Street, has earned a reputation for the finest and freshest fin and shellfish in town. On-site owner Will Peterson welcomes old and new patrons, many of whom consider this restaurant their own "best kept secret." Peterson and his chef are still crafting the 2020 prix fixe menu, which will be similar to the 2019 version.
Lewnes' Steakhouse, 401 Fourth Street, is an Annapolis landmark owned by a local family for many years. Its prix fixe menu offers first course choices of seafood bisque or its famous Greek Salad, entre choices of a 6-ounce petite filet, grilled wild-caught salmon, or Aegean-style shrimp, and dessert of a housemade brownie a la mode.
Ruth's Chris Steak House, 301 Severn Avenue, enjoys a positive presence in the Annapolis community. Its impressive prix fixe menu features three courses: Louisiana Gumbo or Caesar Salad as starters; petite filet, roast pork loin, or a double chicken breast as entrees; and chef's seasonal choices for dessert.
Chart House, 300 Second Street on the water, offers a choice of Caesar Salad or cream of crab soup to start; barbecue-spiced salmon, grilled mahi mahi or steak with mushroom sauce as entrees', and its famous mud pie for dessert.
There are numerous downtown options for dinner. Preserve, 164 Main Street, a unique model for sustainable food consumption and creative cuisine. Owners Jeremy and Michelle Hoffman, both CIA graduates, share an impressive work history that includes Union Square Café, Per Se, and Nobu Go with an open mind for dinner menu of mushroom perogies, baked catfish, and a vegan pot de crème. For a lively meat-centric experience, try the brand new Rodizio Grill, a colorful Brazilian steak house at 1079 Annapolis Mall Road. Rotisserie-grilled beef, chicken, pork, ham and lamb are on the prix fixe dinner list – carved tableside by the gaucho guys who add life to this unique experience.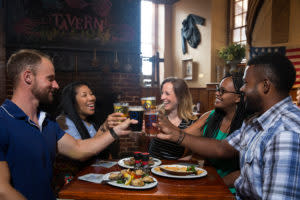 This review only skims the surface of the depth and diversity of the restaurants represented in Annapolis Restaurant Week. There's more to the story – but no more blog room -- so the rest is up to you!