With the cooler temperatures and shorter days settling in, you may be tempted to cozy up in a blanket and stay home. Adding to that homebody inclination, perhaps you're making a valid effort to stay within budget for the holidays. But I would argue that neither of these excuses is a good enough one to stay away from Annapolis right now—especially if you're a history lover. Here's why. There are plenty of free historic Annapolis attractions (and a little beyond) to keep you entertained, warm and on budget! So grab a buddy, bundle up, and head to one of these intriguing historic sites: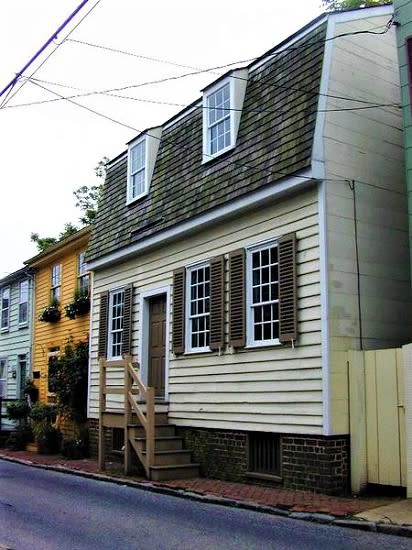 The Hogshead
1. Hogshead - Situated on one of the most picturesque streets in downtown Annapolis—Pinkney Street—you'll find a unique living history museum inside a restored early 19th-century, gambrel-roofed building. Hogshead is dedicated to showing what life was like for the "lower and middling sort" in early Maryland. Volunteers in Colonial garb (and in first-person character!) welcome you inside the home. Open weekends late March to early December. Learn More.
2. Banneker Douglass Museum - The state of Maryland's official museum of African American heritage is right here in Annapolis. Find the museum just off Church Circle downtown. The museum's building itself is historic and connected to African American history. Housed within the former Mount Morian African American Episcopal Church, the museum's beautiful space is on the National Register of Historic Places. Current exhibits include Jumping the Broom: Celebrating African American Weddings in Maryland and Lacrosse: A Maryland Sport. Open Tuesday – Saturday. Learn More.
3. Historic Annapolis Museum & Warehouse - At the bottom of Main Street, you'll find the Historic Annapolis Museum & Store. On the first floor, shop for Chesapeake Bay- inspired gifts, then step upstairs to explore the free museum. The current exhibit, Freedom Bound: Runaways of the Chesapeake, tells the stories of nine servants and slaves who tried to escape from forced servitude between 1728 and 1864. Each display tells the story of an actual individual. The exhibit continues in the nearby Waterfront Warehouse at 4 Pinkney Street. Historic Annapolis' next major exhibit, A History of Annapolis in 99 Objects, is expected to open in 2017. Open Daily. Learn More.
4. The Maryland State House - It seems almost like a local's secret that the Maryland State House is free and open to the public and chocked full of history exhibits. Even my elementary school-aged niece gets a thrill out of seeing George Washington's statue in the restored Old Senate Chamber. Stunning architecture, art and history convene in this active building where Maryland's government still works today. Self-guided tour information is available in the Office of Interpretation on the first floor. Open Daily, Photo ID Required for Adults. Learn More.
5. United States Naval Academy Museum - Walking the beautiful grounds of the Naval Academy is worthy of a trip in itself! If you appreciate naval history and ship models, step inside Preble Hall and visit the U.S. Naval Academy Museum. Two floors of exhibits cover the history of sea power and the development of the U.S. Navy. If you're looking for more Navy history, walk over to the Crypt of John Paul Jones (lauded as the Father of the US Navy) underneath the Chapel. Open Daily, Photo ID Required for Adults. Learn More.
6. Annapolis Maritime Museum - Dedicated to local maritime history and the history and ecology of the Bay, the Annapolis Maritime Museum is situated on beautiful waterfront Eastport and filled with interactive exhibits great for all ages. Special attention is paid to the oyster, everyone's favorite bivalve. You can even arrive by Water Taxi (when in season) to complete the nautical experience! Open Thursday – Sunday. Learn More.
7. National Cryptologic Museum - Affiliated with the National Security Administration, the National Cryptologic Museum is the nation's only public museum in the Intelligence Community. Located at Fort Meade, the museum offers an insider's glimpse at dramatic moments in the history of American cryptology and national defense. It may even inspire a future spy! Open Monday - Friday & 1st & 3rd Saturday of the Month. Learn More.
8. Maryland State Archives - Discover some history of your own! The Maryland State Archives is responsible for maintaining Maryland's priceless permanent records. Their holdings also include church records, newspapers, maps, manuscripts and photographs. Members of the public may conduct their own research at the Archives. A popular research topic? History and family research in Maryland. Note: The search room is currently closed for repairs and expected to re-open in early January. Tide yourself over by browsing the state's collection of historical photographs of Maryland. Open Tuesday - Friday & Most Saturdays, Photo ID Required. Learn More.
Photos courtesy of Katie Redmiles and the Annapolis Maritime Museum