It is a beautiful April evening, and you are out on the lawn at Park Place, Annapolis. You are one of 100 people stationed (six feet apart) by a glow-in-the-dark flag on the lawn with headphones on and a cocktail in hand. Welcome to Project Disco! You and your friend are both dancing; you to hip hop, and your friend to Oldies, and some of the music is from your favorite local bands. Your eyes are being treated to a lighting installation created by students from the UMD graduate program. Sounds like a perfect spring evening to me!  Heads up – it's coming, April 23 and 24! This is not only fun but add in the high-tech light installation and you have got a unique full-spectrum art event, featured by MC3.
What is MC3?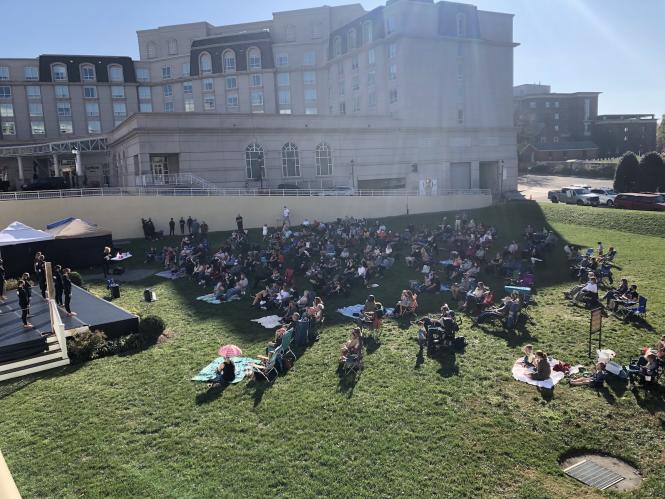 Guests enjoy a performance on the lawn at StageOne at MC3. Image courtesy of MC3.

 
From MPTA to MC3
Annapolis and Anne Arundel County is flush with art, top-notch artists, art galleries and organizations and most importantly – the spirit to embrace the arts by the entire community. We love this about our community! While there's always room for more art, it must be the right fit for the community.
For that reason, the vision for the Maryland Theatre for the Performing Arts (MTPA) has been revised and replaced with a new mission and a new brand: MC3 – the Maryland Cultural and Conference Center. As Executive Director Mattie Fenton says, "It is a melding of the business community with arts and entertainment."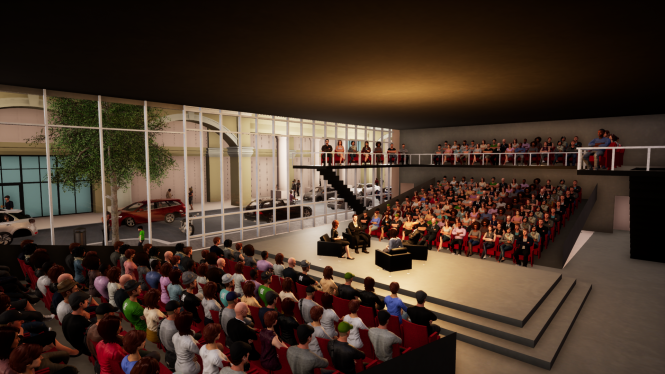 A theatre at MC3 as part of their StageTwo plan. Image courtesy of MC3.

 
Culture + Business
Mattie pulled together a strategic planning team, and posed the question: "What do our local artists, local businesses, and local arts organizations need, and how can MC3 be the answer to that?" After a year of work, they identified gaps they could fill and ways they could support the community rather than just add into the mix as another arts venue.  
Chairman of the Board, Michael W. Davis says, "Building community is very important; the arts play a big role; it has to. How else do you find commonalities among the various and differing parts of the community? It is an important element to building bridges and pulling the community together for growth."
The leadership of MC3 believes that providing a world-class cultural and conference space that meets community needs will enable local arts and businesses to capitalize on their assets and showcase their offerings of original and exceptional talent to a broader audience. Rather than offer a bigger, better performing arts venue to bring in outside, potentially competing performances, the new vision has a focus of attracting conventions and large meetings that Annapolis has previously had to turn away, as well as opportunities that fill some of the gaps that exist for artists in the area.
Taking three stages to fully realize the vision, they are currently in StageOne, with StageTwo and StageThree taking place over the next six years or so.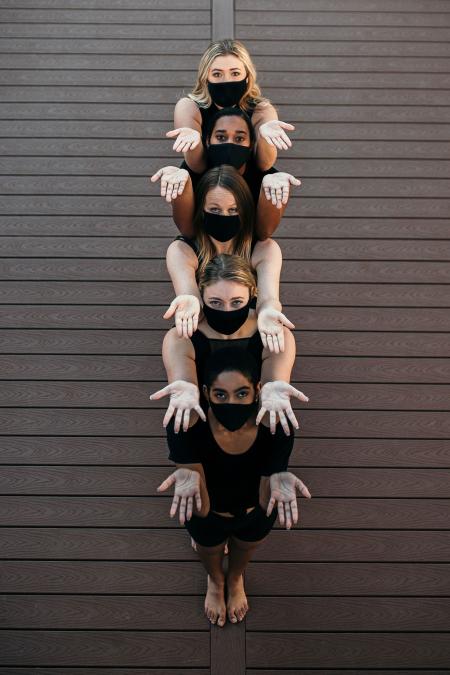 The dance company known as The Company at MC3. Image courtesy of Susan Creedon.

 
StageOne – Strategic Arts Programming
StageOne is not only a phase but also a location, known as the lawn at Park Place. The StageOne phase consists of arts programming, such as exhibiting art by local professional artists at the Gallery at Park Place (currently featuring art by David Brault), and a new, more deliberate set of programs that targets the needs of the community.
Veterans: They have partnered with the Warrior Music Foundation to incorporate programs to serve the veteran community.
The Company at MC3: With dialogue and input from area colleges and Anne Arundel County Public Schools, Mattie and Director of Programming Jemma Lehner formed a professional dance ensemble, "The Company @ MC3". The company is providing paths that currently do not exist for preparation and professional development for performing artists who are coming out of AP programs for dance, music and film. Mattie says, "We do free sessions for students in the school system that want to pursue dance in college. We work with them one on one to prepare them for their auditions and it's all free."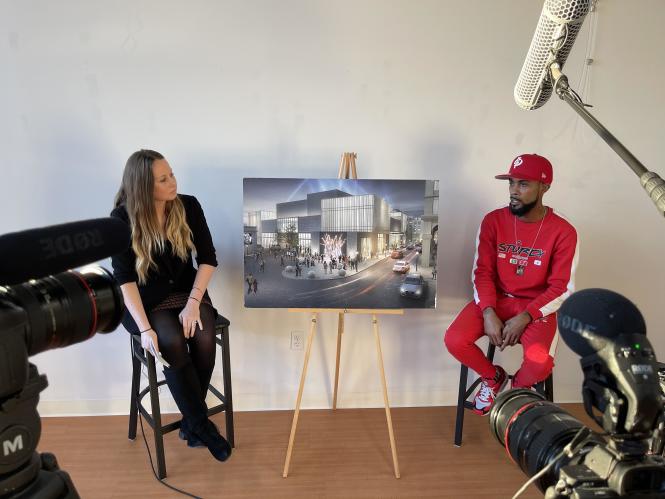 Mattie Fenton speaks with Cell Spitfire about his work on the mural project at StageOne. Image courtesy of MC3.

 
Maryland Day 2021 Event: One Annapolis Community Project
A great example of programming that celebrates the community and provides opportunities for local artists is coming right this Friday for Maryland Day Weekend 2021.
MC3 is bringing together local black artists to commemorate Carr's Beach, an Annapolis community that served as a space for Blacks to gather, perform and entertain from 1926-1974. This landmark historic area saw performances from some of the greatest black musicians of all time, including Billie Holiday, Count Basie, Ella Fitzgerald and more. The event kicks off with a Carr's Beach webinar at 5 p.m. Friday, and an open house at the Gallery at Park Place on Saturday.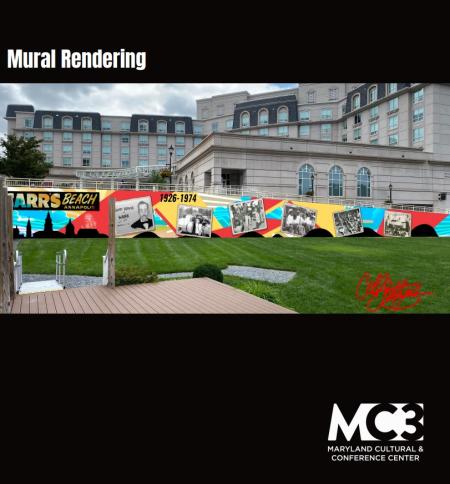 An artist rendering of MC3's upcoming mural project with Comacell Brown a.k.a. the artist Cell Spitfire. Image courtesy of MC3.  

Beginning April 6 (through the 10th or 11th) well-known local artist Comacell Brown will create a new Carr's Beach mural on the huge wall at the StageOne lawn at Park Place, leading a group of 20 students. There will be a lot of high-energy support and participation from a lot of local notables like Vince Leggett and Janice Hayes-Williams, and community organizations. No doubt the mural will be spectacular!

 
StageTwo and StageThree
Imagine Annapolis hosting events such as TED Talks, international webinars, and weeklong conventions in a state-of-the-art 21st century conference space, with breakout rooms and small meeting spaces. Complimented by a rooftop restaurant, retail shopping and abundant parking (which exists now, with 1100 spaces), it is within walking distance to the existing fabulous art offerings in the Arts District and downtown Annapolis. Attend a meeting at MC3, then head over to Maryland Hall for a performance by the Annapolis Symphony orchestra, or head downtown to see the regional, national and international art offered by the acclaimed art galleries downtown.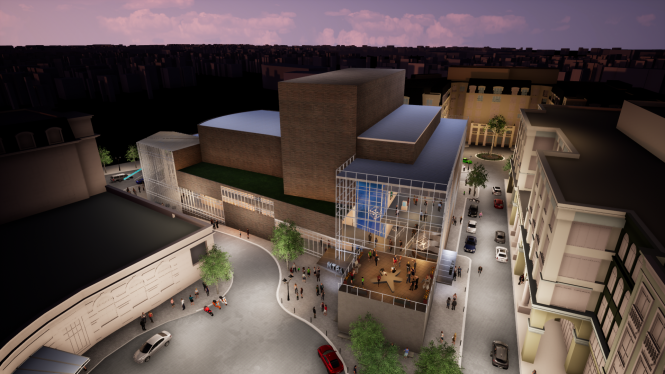 A artist's rendering of MC3's vision for StageThree. Image courtesy of MC3.

 

More visitors equal economic growth and greater exposure for the amazing businesses and arts in the area. We know that people that come here never forget Annapolis and often leave knowing they must return. Providing this opportunity to expand our audience would be a stellar win.

 

For more information, event details and upcoming program listings, visit the MC3 website here.