When I heard Galway Bay was chosen as the 2019 winner for Best Irish Whiskey Experience in the United States, I took it as an opportunity to learn and went on a field trip.
Tastings take place in the Naval Whiskey Room that was "launched" in 2018 and coincided with the twenty-year anniversary celebration of the establishment.  Their goal is to make available for those who like whiskey (or whisky) an opportunity to really taste it and find out what they like.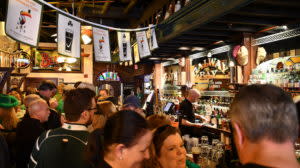 Here are some points of interest:
Irish whiskey is always spelled with an "e" in the word "whiskey"; scotch only uses the spelling "whisky."
The best way to start your tasting experience is to lift the glass and inhale the aroma with your mouth open to see what flavors you may notice. You can actually smell what it is going to taste like. Very cool. 
Irish whiskey can only be made in Ireland and the rules for the production of Irish whiskey date back to 1880.
By Irish law, all whiskeys must be aged a minimum of three years and only in barrels.
Drinking notes: Although a proper tasting of all the beautifully displayed bottles (close to 100) would be impossible for me to handle, I went on a need to know basis and asked Matt, the whiskey tender, to walk me down an abbreviated "water of life" snow emergency road access route. I tried four types NEAT and sniffed one. But first, I made sure I ate a hearty breakfast.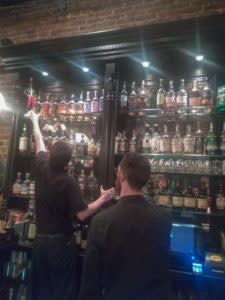 Types:
Single Malt Irish Whiskey: Made from 100 percent malted barley, this type is produced by a single distillery in a pot still. My tasting began with Quiet Man 8 Years from County Derry. It had a mild taste to it - exactly what I thought a good smooth sipping whiskey would taste like.
Blended Irish Whiskey: Blends account for 90 percent of all Irish whiskey production. I tried Jameson Blender's Dog from County Cork. This was very nice. I smelled light citrus notes and the taste was a bit sweeter. Overall, more flavorful than the first.

Had a palate Cleanser: Candied ginger chased by a few sips of still ice water between tastings. I should also mention that there are generally four ways to enjoy whiskey – neat, with two or three drops of still water, on the rock(s), or as a cocktail. Fascinating discovery – most people would assume that adding a few drops of still water would dilute the flavor, but it can actually have the opposite effect as some whiskeys have more oil components that the drops force to the surface and the taste becomes more intense. Ice just makes it cold and dulls the flavor. Cellar (or room) temperature seems to be the best way to taste and enjoy the flavors of the whiskey. Cocktails are good, but you cannot truly taste the Irish whiskey. If you are in the mood for a cocktail, order one made with vodka. I would not call it alcohol abuse, just an observation.

Single Pot Still Irish Whiskey: A blend of both malted and unmalted barley distilled in a pot still and is unique to Ireland. I tried Green Spot. Another great whiskey I am told and a wee bit pricey but very popular in real whiskey drinker circles. I could taste vanilla and nutmeg. Very nice. From County Cork.
Single Grain Irish Whiskey: Only a single grain is used in the distillate. I tried Kilbeggan. Named for the famed distillery that dates back to the mid-1700s is double distilled much the same way it is done in Scotland some argue, rather than triple. It sips nicely, light and smooth with nutty and toasted flavors. From County Westmeath.
Poitín: Hello Moonshine! I just sniffed a glass of Glory Pointín This product stands little to no time aging in a barrel and I would guess neither does the imbiber.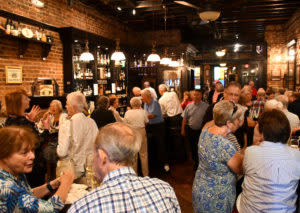 On to an Irish meal… quick.  I have been to Galway Bay many times and the food is always authentic, made with fresh seasonal ingredients and very delicious. They take pride in everything they prepare, serve, and exude Irish Hospitality in all forms. This is what I had:
Fried Oysters – Perfectly breaded, seasoned and deep-fried. Warm, juicy and sweet with a savory finish.
Irish Whiskey & Tomato Soup – It's so velvety good you have to try it alongside brown bread and Irish butter. Besides, I do not know where else you can find something this special.
Reuben – Again, perfectly seasoned and lean sliced corned beef with succulent sauerkraut and Irish mustard sauce on grilled rye bread.
Charred Orange Honey Glazed Salmon – Mouthwatering and fresh tasting as if it were just line-caught. A simple preparation served with rice and mushy peas is also a tasty must-try dish.
Finished with homemade eggnog pumpkin pie with fresh cream and cinnamon and a Jameson Irish Whiskey coffee but said NO to the homemade whipped topping. I just could not eat anymore.
Author's Note:  Galway Bay Irish Pub awarded Best Irish Whiskey Experience in the U.S. for 2019 by Irish Hospitality Global, Merrion Square Dublin, Ireland.
5 Out Of 5 Irish Jigs
Hours of Operation
Mon–Thurs 11AM-12AM Fri-Sat 11AM-1AM Sun 10AM-11PM Sun Brunch Served 10:00–1:30pm