Last week at 110 Prince George Street, I looked at the brick facades with black window trim, stately doors, and ornate iron railings, and felt excited to re-enter Gibson's Lodgings again after so long. More than 26 years ago, my husband and I had chosen to spend our wedding night at this downtown historic inn near City Dock, abutting the U.S. Naval Academy property. The next morning, after we awoke to the cadence of the midshipmen marching, we were seated in the dining room for breakfast. Sipping coffee, guests around the table took turns telling where they were from geographically. When we announced our marriage and that we lived right here in Annapolis, everyone seemed surprised. The truth is that we love Annapolis and it was where we wanted to celebrate. What a perfect chance to experience this beautiful B&B.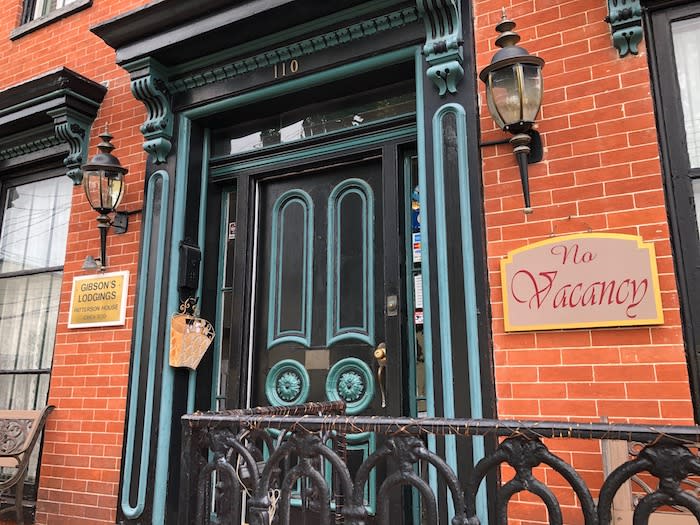 Image courtesy of the author
Who Are the Guests?
Jo Anne Musgrove, manager of Gibson's Lodgings provided general insight about the variety of visitors that stay at this 20-room inn made up of three houses with a mix of types of accommodations. There are tourists who want to explore the city of Annapolis and all that it has to offer. For families of midshipmen who travel to attend sporting events and other special activities that are scheduled all year round, it's a very convenient location. Vendors and participants of the popular fall boat shows make room reservations from year to year - some for as many as 30 years running. There are family celebrations such as reunions and weddings at Gibson's. In fact, the entire facility is booked for an upcoming wedding. Conferences and retreats are often held in this lovely environment which includes conference room facilities.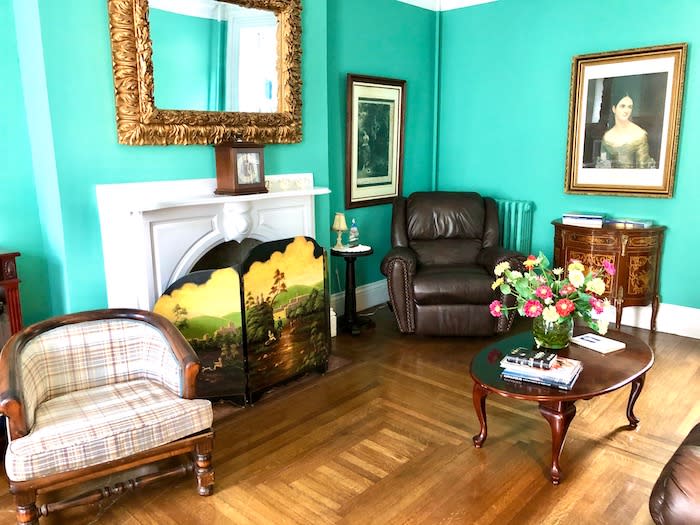 Image courtesy of the author
The Breakfast
Continental breakfast is available in two inviting eating areas at the Inn complex. Both include large tables and seating for visitors to meet and mingle. Recently, a new menu was introduced featuring three types of fresh homemade quiche daily; vegetarian, bacon or sausage, and Italian. There's a make-your-own waffle station, as well as fresh seasonal fruit, pastries, bagels, hot and cold cereals, and of course, orange juice and coffee. Conversation usually revolves around "What brings you to Annapolis?"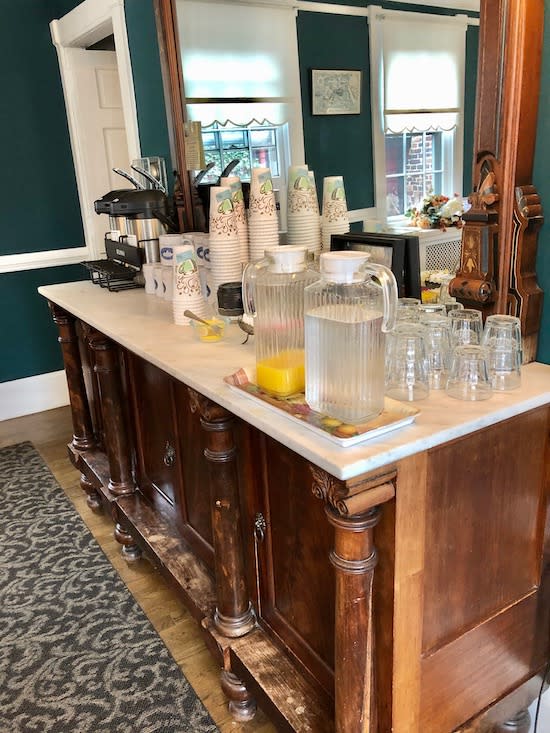 Image courtesy of the author
Specials and Surprises
When available, guests are offered a free upgrade from twin to queen rooms. Jo Anne recalled a time when two gentlemen were checking in while their wives were shopping on Main Street. She offered them this upgrade but to her surprise, they were reluctant to make the decision until their wives arrived, and they were absolutely delighted!
Jo Anne suggests contacting Gibson's Lodgings directly when making a reservation and asking for the 'guest relations team' to take advantage of seasonal promotions and discounts. Free parking and lots of other amenities for guests are available.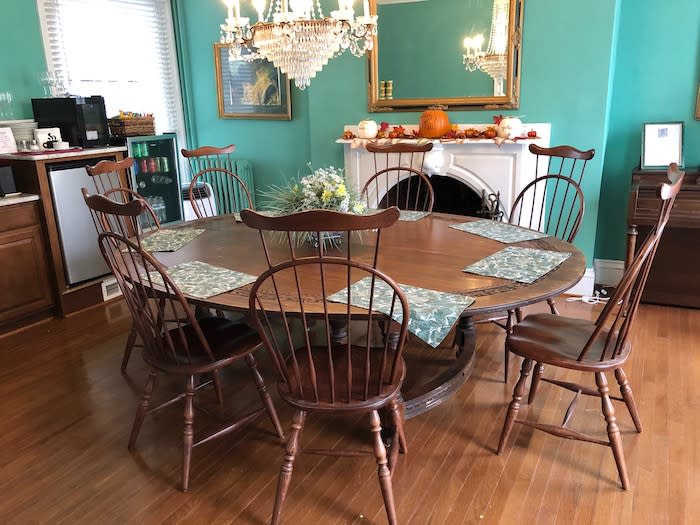 Image courtesy of the author
With the winter holidays approaching, Gibson's will soon be decorated with no fewer than six Christmas trees. Add that to the gleaming hardwood floors, period furnishings, and striking wall decor to create a beautiful backdrop for a memorable getaway.
Gibson's Lodgings Annapolis 110 Prince George St, Annapolis, MD 21401 (410) 268-5555