What a wonderful time I spent last weekend at the Greenstreet Gardens Fall Festival. Back in my home country of Ireland we refer to fall as autumn, and we don't celebrate it on such a big scale like here in America. So I was super excited to experience my first 'American Fall' festival in the Annapolis area.
Greenstreet Gardens is a huge garden center situated in Lothian only 18 miles from Annapolis. On the way there, I enjoyed the lovely scenic drive with lots of corn fields and horses frolicking in the many large fields in the countryside location. The sun was splitting the trees when we arrived at the festival even though it was a bit nippy with a chill in the air, which only added to that fall feeling.
I entered through the main entrance of the garden center, which led directly to the back where all the fall fun begins. One of the first sights I spotted was a huge pumpkin patch, probably the largest one I have ever seen in my life. It was spectacular, with pumpkins of every size, shape and shade of orange.
Right beside the pumpkin patch you can have your face painted, ride on the cow train up and down the hills, have some light refreshments, and watch the goats and miniature ponies graze beside you. You can also purchase some animal food and hand-feed the farm animals here.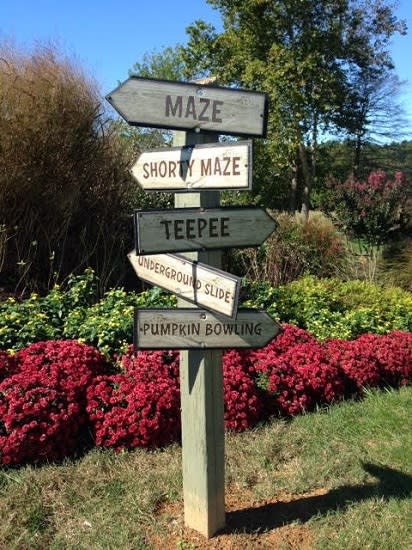 The main festival is located a little bit away from the entrance. To reach it, you take a hay ride up over the main hill to the corn maze. This was an exciting experience as you are bundled on to the back of a tractor and, sitting on bales of hay, you're transported up the hill on a trail through an enchanted Halloween-inspired forest. On every bend of the journey, you encounter elements of surprise, like hanging bats flying overhead and pumpkin-headed scarecrows.
At the main festival grounds, there is so much to see and do. Exiting the hay ride, little ones can enter the festival through the underground slide, which zooms them down a short pipe and pops them gently out at the other end located right near a gigantic bouncy pillow, where lots of children were jumping up down and just having the best time. Beside this is a kiddie obstacle course made of rubber tires. Next to this is an impressive teepee, which you can enter and sit down on large bales of hay. Or, you can sit on the giant oversized chair just beside the teepee, a great choice for photographs.
At the very end of the hill you find the main attraction—the six-acre corn maze. It's really impressive and can be enjoyed by both adults and children. You can spend as long as you like in here, getting lost within this maze of wonderful corn. My friends and I had fun racing through to see who would get to the end first. For younger children there is a 'Shortie Maze', a mini version of the main maze so little ones can have fun and get to experience the same as their older siblings. The day we went was dry, windy, bright and sunny. But it had rained in recent days so we were wise enough to wear our boots as it was muddy in some parts—something to consider when you go.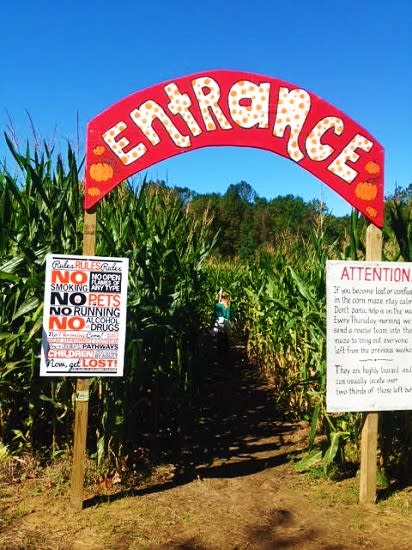 Before departing check out the indoor, 3-D Halloween maze which takes you through a glow-in-the dark 'spooktacular' experience. Just before you enter you are provided with a pair of 3D glasses. Then begins a self-guided tour through dark, cave-like corridors. Along the way, you're greeted by creepy ghoulish ghosts that pop out at you when you least expect it. If you're looking for a fun fall family weekend activity, look no further than the Greenstreet Fall Festival. Against a scenic fall backdrop, your kids can explore a ton of activities. If you need a rest, there are plenty of picnic tables for grabbing a bite—you can bring your own food and drinks. The festival runs through October 30th, every Saturday and Sunday from 10:30am to 5pm. A costume festival in honor of Halloween takes place on October 29th at 11am, so mark that one on your calendars also. The garden center itself is really nice with plenty of flowers and plants to purchase and even a gift shop to purchase something special for your garden or household. I thoroughly enjoyed my first Fall Festival experience and I would highly recommend the Greenstreet Fall Festival for the entire family.
To learn more about Greenstreet Gardens, click here.
Photography courtesy of Sinead Harold